Published on:
15:33PM Mar 09, 2011

Rock's back in the picture!
Okay... the guy featured in episode 5 of Outdoors on the Farm was Rock Katschnig, an Illinois farmer. He winters in Ft. Meyers, Florida, with his wife and he's made some outdoors and hunting connections in the Sunshine state, too. Last week, we taped an episode for the second season of Outdoors on the Farm. We talked with a produce farmer about how he works to manage some of the "wildlife" around his place while protecting the cash crop in the field. The "wildlife?" Wild hogs.

This farmer employs two guys full time to keep hogs and other wild animals out of his fields. The potential cost of not controlling the hogs? "Hundreds of thousands of dollars," said the producer. "If we didn't have a plan in place to control hogs, we probably wouldn't have a vegetable crop on this farm."

WOW!! I'll wait until the show airs in the second season to tell the whole story... but here's a picture of how it ends! (My first wild hog!!)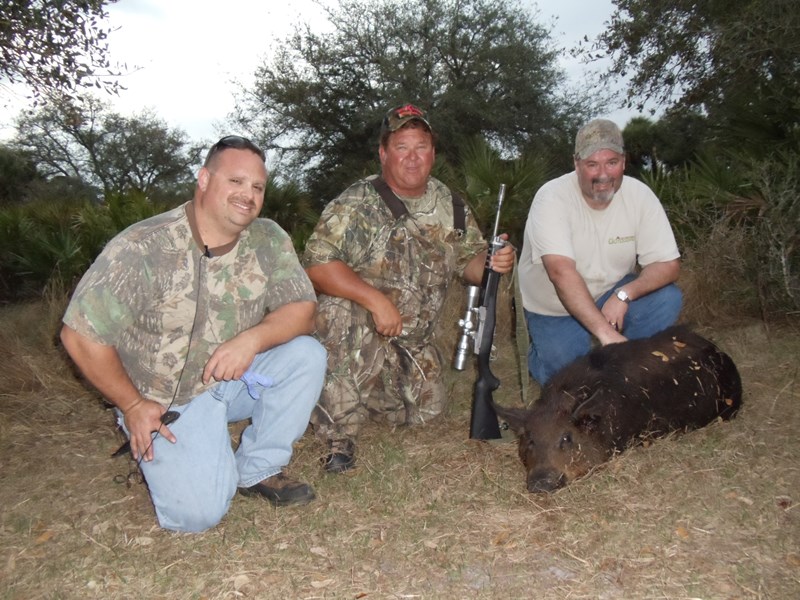 Don't forget...
If you can't watch on RFD-TV every Thursday at 7:30 a.m. CT or Saturday at 10:30 a.m. CT, you can always watch the shows here on the web site.
And most importantly, keep on having fun outdoors on the farm!