Published on:
09:54AM Nov 21, 2019
As stories began to circulate that any hope of cementing a Phase One deal with China could be pushed out into 2020, it sent the corn and bean trade into another bought of depression and prices responded by dipping into lower lows yet again.  Keep in mind that, if this were to be the case, the next scheduled hike in tariffs on Chinese imports is scheduled to go into effect on December 15th.  Well, that was yesterday, and as has been so often the case during the past 20-months, this morning, we have a slightly more optimistic story to grab our attention.  According to a report in the WSJ, China has invited the dynamic trade negotiating duo of Robert Lighthizer and Steven Mnuchin to Beijing next week to try and hammer out a deal, so hope springs eternal. I wonder if this means they will be having Peking duck instead of turkey for their Thanksgiving meals?  I have yet to see if anything has been finalized, but we need something to wring our hands over tomorrow anyway.
I  should make a note of the fact that the wheat market has been, for the most part, spared this ride on the trade negotiation roller coaster, and appears to be on the way to its fourth higher close in a row.  As I have commented in the past, in yester-years, we always looked for wheat to lead corn out of the mire and, while I cannot say that is the case this time, nor can we even completely confirm this market has rounded the corner. That said, keep in mind that bottoms most often occur when the news is the most negative and, the bears assume that everything will just keep going their way.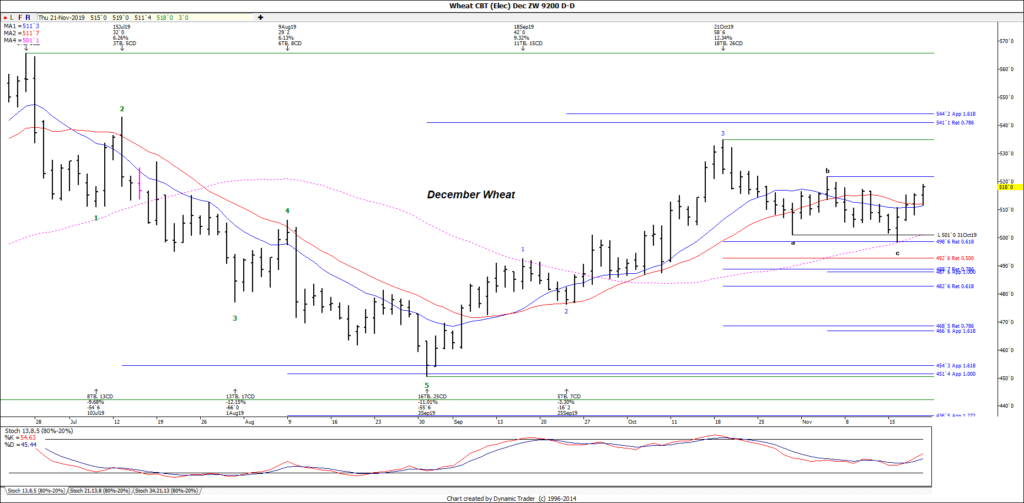 Weekly export sales have been released this morning and numbers are encouraging for nearly everything.  For the week ending November 14th, we sold 437,700 MT or 16.08 million bushels of wheat.  This was 83% above last week and 29% above the 4-week average.  Unknown destinations were at the top of the list with 134.2k MT, followed by Mexico purchasing 98.1k and then Japan on for 58.3k.  Corn sales improved nicely, coming through at 788,000 MT or 31.03 million bushels. This was 36% above last week and 49% above the 4-week average.    A familiar group of names on top with Mexico purchasing 386.6k MT, followed by Colombia with 124.9k and then Japan taking 82.3k.  There were also sales of 45.9k MT for the 2020/21 crop year, which was split between Mexico and Canada.  Soybeans came in 22% above last week and 39% above the 4-week average with total sales of 1,516,700 MT or 55.74 million bushels.  China was the number one buyer with 568.6k MT (37%), followed by Germany with 198k and then Egypt at 122.2.  Pork sales were solid this week as well, with 54,400 MT, but note that 34% of these were from a late reported sale to Japan, and China accounted for just under 10% of the total.  On the sluggish end of the scale was meal, with sales down 43% for the week and 12% below the 4-week average.