Published on:
08:54AM Jan 23, 2020
I have made mention in previous letters of the potential problems that may await us concerning the quality of corn produced in the upper Midwest this year.  Be it in the form of lower yields due to test weight, more breakage, and FM that always occurs when corn is harvested at higher moisture, storability, and of course, the overall nutritional value.  It would appear some of these problems have now come to light but in Asia.  Asian end-users will often source corn off the PNW as transportation via the west coast makes the product more competitive than via the gulf.  Much of this corn originates from the upper Midwest and Northern Plains states, where some of the most significant issues with planting and harvest occurred this year, and the lower quality no.3, and no.4 grade corn has feed manufacturers looking elsewhere for quality.  They have particularly turned toward Ukraine. By the 20th of January, corn exports from Ukraine for the crop year have jumped by 27% over the previous, reaching 14.2 MMT.  Currently, it is estimated that they have another 13 MMT available for the year.  As you would expect, this has provided a boost for corn prices in Ukraine, which stands around 3% higher than a year ago.  The quality issues do not appear as troublesome for U.S. corn at the gulf, but for the Asian markets, the additional transportation does.  The unfavorable weather of 2019 will continue to haunt us for some time.
On the topic of Asian demand, China has released December import numbers for grains.  For the month, they brought in 730,000 MT of corn, which was up 76% compared with the previous December and for the calendar year, imported a total of 4.79 MMT, up 36% from 2018.  Barley shipments finished out the year strong with 240,000 MT for the month, up 67% from December 2018, but for the year as a whole, imports were down 13%.  Finally, in sorghum, during December, imports were up a whopping 1,079%, but for the calendar year, still down 77% from 2018.
If there is going to be a commodity trade surge now that the U.S. and China are playing nice with each other, it has certainly not shown up in the Baltic Dry Freight Market.  After having reached the highest point since 2013 last September, this market for dry ocean container has sunk like a ship hit by a torpedo.  Part of this is seasonal as if you notice, lows for the year are often recorded early, and there are undoubtedly additional factors, but it would appear no one is anxious to lock in freight.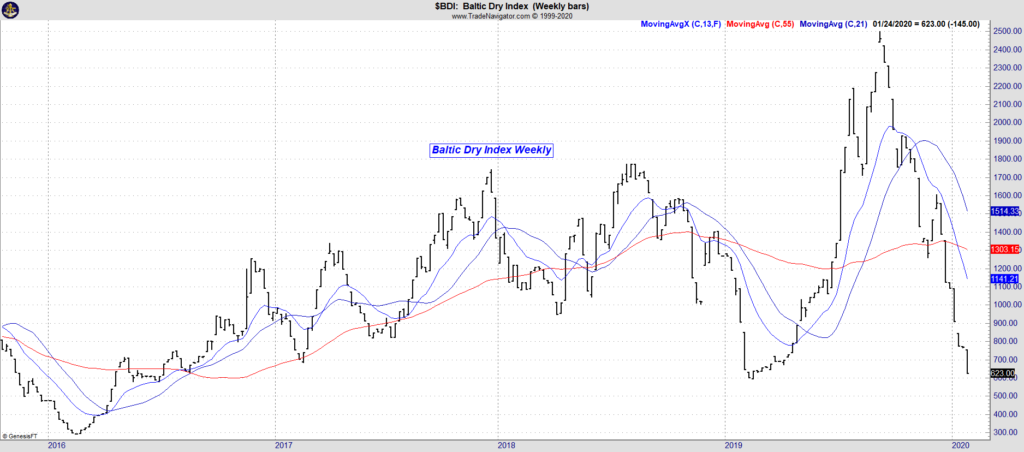 The International Grains Council lowered their 2019/20 global wheat production estimate by 1 MMT to 761 million this morning but in turn raised their corn estimate 8 MMT to 1.111 billion MT.
Seeing Federal offices were shuttered on Monday for the Martin Luther King holiday, weekly export sales will be released tomorrow morning but there was a sale of 143,948 MT of corn to Guatemala released this morning.
Overall grain and soy markets are trading a little defensively this morning as are the macros.  Energies are lower, metals are lower, equities are lower, and the U.S. Dollar is lower.