Published on:
11:11AM Jun 03, 2020
Is this for Real?  Sorry for the bad joke, or dad joke as my children would be fond of saying.  Regardless over the past couple of weeks, we have witnessed a reversal in the Brazilian Real, or maybe I should call it Reais, that appears to have ended the five-month meltdown against the dollar, for now at least.  May recorded the first higher monthly close this year.  Realistically, this currency has been in a nine-year downtrend against the dollar, but more on that at a later date.   Just how far this recovery can extend is yet to be determined but it would appear there should be room to reach back to at least the $.20 mark and maybe even $.21.  Keeping this in perspective though, prior to this year, the record low was $.2362 and at the last major peak in 2011, it was trading at nearly $.65.  Talk about a Queda da graça (fall from grace).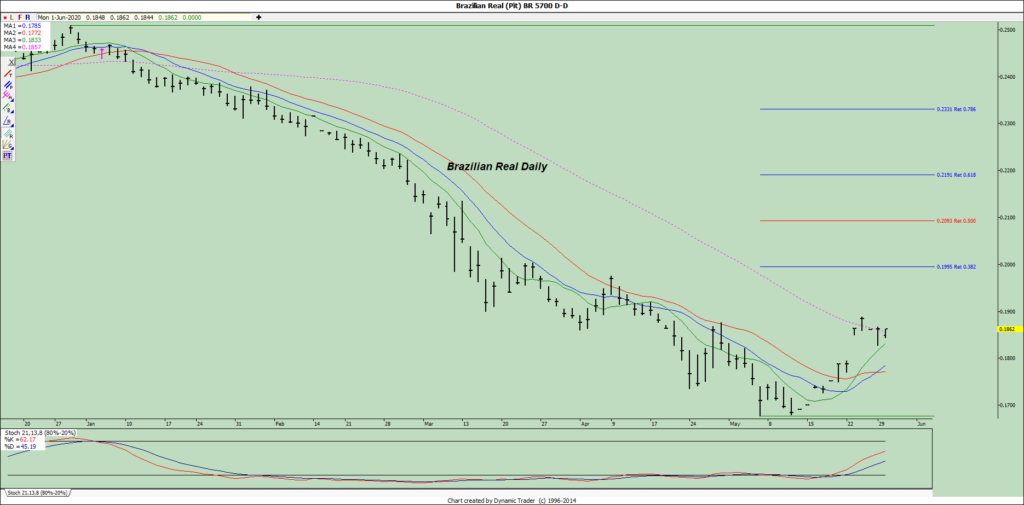 Granted, supply availability has just as much if not more to do with it, but the rally in this currency has helped US beans become price competitive for the fall months, which may also help explain why Chinese state-owned companies, evidently as well as others, have thus far defied a directive from Beijing that they stop purchasing ag products from the US.  A bargain is a bargain.  As we reported yesterday, there was confirmed a sale of 132,000 MT of beans to China for the 2020/21 crop year, and now this morning, there has been reported sales of an additional 186,000 MT of beans to unknown destinations.  Of these, 66,000 are for the current crop year and 120,000 for next.  Rumors have been that China has been poking around for up to 11 cargoes of beans in total.  Of course, if US/Sino relations take a turn for the worse in the days and weeks ahead, this could all be for naught, but let's hope for the best. As of this morning, both nations have blocked airlines from resuming service connecting the two.
During the month of May, weather conditions obviously improved in the Black Sea region, which is now being reflected in crop estimates.  The private consulting group ProAgro has bumped its total grain production estimate from 72.52 MMT up to 74.43 MMT.  This would still be down from last year's record 75.1 MMT, but a far cry from some of the extreme numbers at the 65 to 68 MMT range that had been bantered about by the Ukraine government earlier this year.
Energy markets have not extended the recent rally on the news, but Russia and the Saudi's have reportedly come to an agreement to extend production cuts for another month.  This could be a buy the rumor, sell the fact type scenario but keep in mind that Brent crude has already rallied over 150% from the April bottom and could just be reaching the overbought stage for now.