Published on:
09:34AM Sep 03, 2019
The extended weekend evidently did little to improve the mood in the grain and soy markets as we have begun this new month with pressure once again.  Keep in mind that with the exception of wheat, we are lower within existing trading ranges so realistically it is little more than continued sideways action.  Realistically, it should not come as a shock to see prices remain in a funk as there is little in the news to stir the emotions of any would-be buyers.  The U.S./Chinese trade discussions remain at an impasse, with new tariffs kicking in over the weekend.  China has not filed a complaint with the WTO.  The general weather outlook for much of the growing region of this country appears benign for now. Do keep in mind though, that it is not unusual to see lows (or highs) posted early in a month particularly after we have witnessed a well-defined pattern coming into that period and I think few would argue that the trend in August was lower. 
One of the few noteworthy stories circulating this morning is not exactly going to lift anyone's spirits either as it turns out that during the month of August, Brazil exported a record 7.65 MMT (a little over 301 million bushels) of corn. This outpaced the 5.33 MMT of beans that were loaded and comparatively, was 2.6 times more than the 2.9 MMT they exported during the same month a year ago. In addition to this, they exported 314 million liters of ethanol, which was the highest monthly total since October 2013.  No doubt, Brazil has been able to reap benefits from the U.S./Chinese trade war, and large crops, but the strong dollar has been a bonus for their export trade as well.  Currently, the Real is sitting around the lows recorded in late 2018 and again back in early 2016, which are at the lowest levels traded yet this century.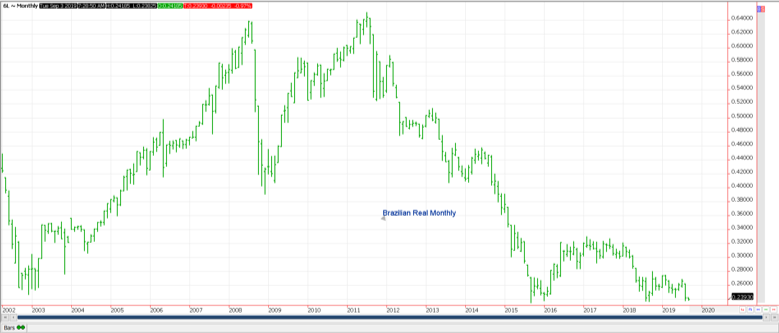 In light of the dismal demand situation we are currently confronting, it would seem that the only other items the market can look forward to are weather updates, with the heightened concerns for an early frost and the September production and supply/demand estimates (ugh).  While I certainly do not have a crystal ball to determine the outcome of either, but there could be a better certainty of predicting an early frost than there will be to predict what the USDA may come up with this month.  The USDA report will be issued on the 12thand the full moon in September (for those looking for the early frost) will be on the 14th.