Published on:
17:55PM Apr 16, 2015
I just returned from a weekend at the Mecum Gone Farmin' Tractor Auction in Davenport, IA. This auction attracts top-quality restored tractors. Nearly every tractor there is beautifully restored, prompting jaw-dropping all around. But among the beautiful restored tractors—one original tractor stood out---this International 826 gold demonstrator.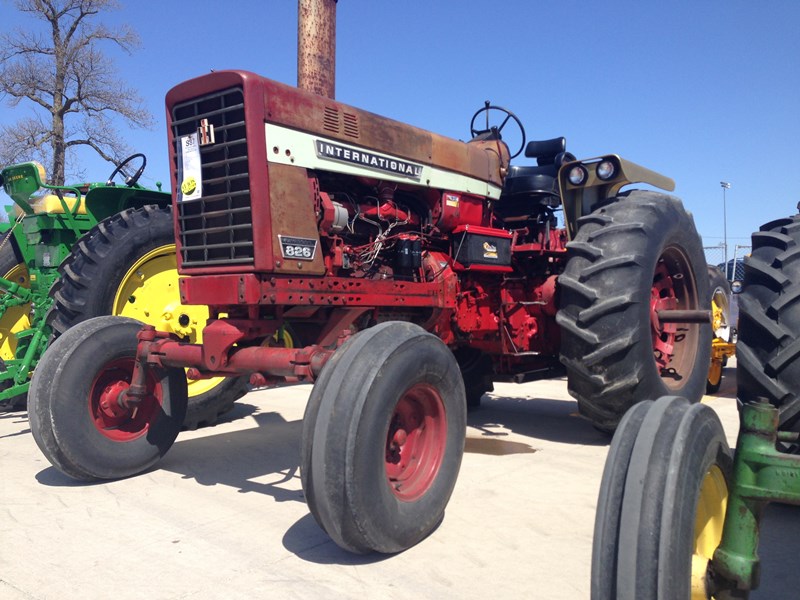 Dealers used these tractors to give farmers a first-hand view of IH's new products, taking the tractors around to prospective customer's farms to show them off. These tractors are hard to come by, and a hot seller at auction sales.
IH did two significant series of demonstrator tractors - the white/cream letter series tractors in the 50s, and these gold demonstrators in the 1970s. These tractors got their special paint job at the factory, and they were supposed to be re-painted by the dealer when they were eventually sold. Because no records exist (at least to my knowledge) of exactly which serial numbers were used as demonstrator models, uncovering the original paint is the surest way to know if the tractor you're looking at is indeed a demonstrator. Sometimes the coat of red paint wears off to reveal the gold underneath - that's the case with the tractor pictured here. Other times, the dealer didn't do a complete paint job and the gold can be seen underneath the hood or on the inside of the fenders. And while it didn't happen too often, some farmers fell so completely in love with their demonstrator tractors that they wouldn't even let them leave the farm for their fresh coat of paint! Corporate headquarters discouraged this, but every now and then you'll find a demonstrator tractor that slipped through the cracks.
Auction info states that this tractor was consigned by the original owner. It sold for $11,500 plus 4% buyer's premium.