Published on:
14:45PM Jan 08, 2015
Quick Guess: Do you know what item this IH logo is on? Be specific!
This turquoise set was also offered with the IH logo along with an International Harvester Refrigerator. The bottom tray is a shelf for the refrigerator, and the box, while some say was for bread, others believe it was used for ice cubes. You could flip your shelf over and set the ice box in the center of the shelf where the indentation lies, put your drinking glasses all the way around and it becomes a serving tray. The box is fairly common—but the tray/shelf is hard to find, especially as a set like these are.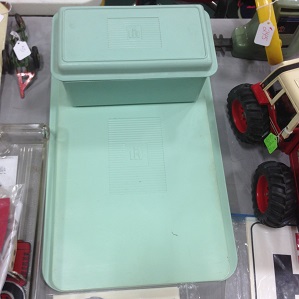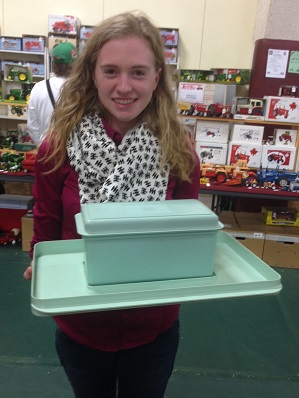 Maybe these kitchen tongs with the IH logo would be found in the same kitchen as this tray/ice box combo in the 1950's. These tongs are in a generic kitchen-type box, however, IH tongs were also available in a box that had Irma Harding's picture and logo on it. Not pictured—International Harvester also made another gold-plated utensil for melon balls and grapes.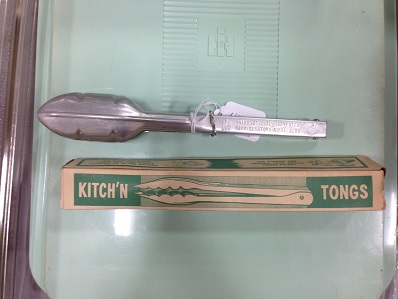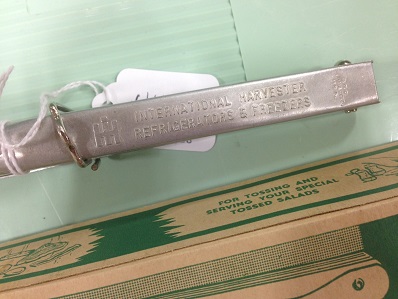 Do you own any kitchen products with the IH logo or Irma Harding name? Which one is your favorite? Later this week I will share a few more Irma Harding products with you from my own collection.
Connect on Facebook
Follow on YouTube