Published on:
09:12AM Sep 18, 2019
With no additional attacks, or counter attacks occurring in Saudi Arabia, the crude oil market took a big sigh of relief yesterday and returned about 50% of the gains it had posted on Monday.  In my neck of the woods at least, that did not stop fuel prices at the pump from jumping about 20-cents a gallon though, but I am almost sure they will drop back just as rapidly.  What is that you say about a bridge you want to sell me?  Regardless, this combined with little else supportive in the news scene, allowed grain/soy markets to soften yesterday and thus far this morning appear quite directionless.  There is nothing particularly distressing about this action, and it certainly does not negate the reversals that we witnessed last week but could be suggesting we need to spend a little more time developing a foundation as we await actual harvest data for the crops this year.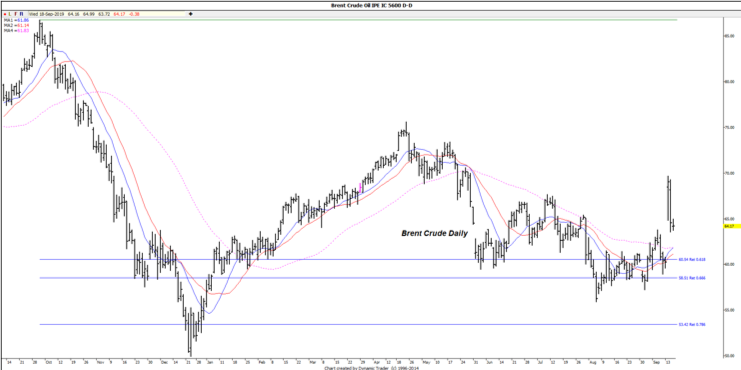 One story of note this morning is not particularly positive though, and that is the report that the second case of ASF has been confirmed in South Korea. Very few details were given, but as have been proven in other Asian countries as well as several in Eastern Europe, this disease is difficult to contain.  You can be assured that the hog industry in the America's is paying close attention to not only how South Korea handles this situation but how we can continue to keep this outside of our shores.  Too often, we neglect to truly appreciate how two major oceans provide a significant defensive barrier for us from many different would-be invaders.  
Dry conditions continue to persist in Brazil and in response, Brazilian farmers have kept planters parked.  In the state of Parana, there has been no recorded progress, and last year at this time, 9% had been planted.  Keep in mind that a delayed planting pace may not only impact bean potential but could also delay the safrinha corn crop.  Last year, both were planted early, and both produced record crops.   
While it seems that a day doesn't go by when someone mentions or tweets something about the Federal Reserve, as for the second time this week, they are set to intervene with an influx of capital in an effort to stabilize the repo market (short-term funding for banks).  This has been the first time this has been called for or at least carried out since 2008.  On top of this, the FOMC is meeting and is expected to cut the Fed Funds rate another 25-basis points.  Of course, a surprise would be either, a.) they cut the rate deeper, or b.) they did not cut at all.  That said, the Fed is all about creating stability whenever possible.  As you can see, the financial markets alert became a bit too exuberate in anticipation of the next move and pushed sharply lower (higher rates) last week but has stabilized once again.