Published on:
08:48AM Aug 01, 2019

New month, new attitude toward the grain and soy markets?  Too early to pose that as anything but a question but at least we find relatively stable markets after suffering through another WWF worthy smackdown yesterday. Granted, the bear predictions have become even more emboldened after the past several days, but I would dare say this action would be indicative of the type of washout you witness toward a bottom as the last disappointed bulls abandon ship.  Do note that on the combination corn/wheat/bean chart, we have returned to the same level that prices were trading at the end of May when markets acknowledged and underlying an irreversible shift in the fundamental picture and it would stand to reason that this should now be a level of value.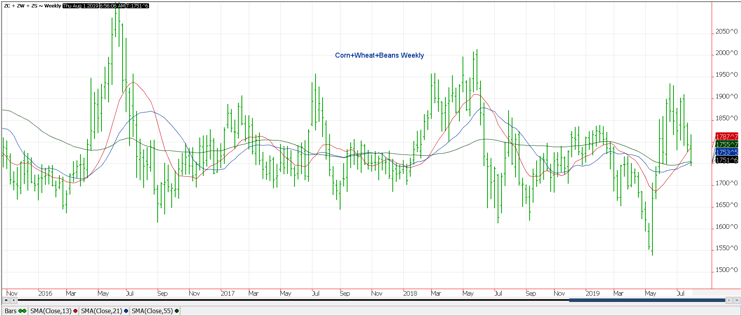 Obviously, the only agreement that emerged from the U.S./Chinese trade meeting was that we should meet again in September for further negotiations.  Not that I am a cynic or another, I would almost be ready to wager that a September meeting will conclude with the same type of result. I am not expecting to see a resolution until sometime in 2020.  
There was other news from China yesterday.  After declaring weeks ago that the AFS epidemic has been contained, it was reported that a new outbreak has occurred in the Hubei province. We have heard numerous times that with government urging, some operations have tried to repopulate, only to experience another breakout.  Rabobank had stated this week that it could require as long as five years for China to work through this problem, and that could be an optimistic assessment.
As expected, the Federal Reserve lowered interest rate 25-basis points yesterday, which ironically enough, disappointed those I the equity markets.  Does this conjure up imagines of a spoiled child who is depressed after getting the present they said they desperately wanted for you as well? Actually, the disappointment came post-meeting when Chairman Powel was not "dovish" sounding enough in the remarks he made concerning future cuts.  Let's see if I understand this.  The Fed believes the economy is strong enough to continue to expand without artificial stimulus, so that is bearish for equity markets.  Hmmm, I think that meets the criteria of living in Bizarro World where everything is just the opposite of what it should be in the real world.  Unfortunately for commodities, there was once market that interpreted this news as bullish and the was the U.S. Dollar, which pushed into new highs for the year and has extended this morning to the highest point traded since May of 2017.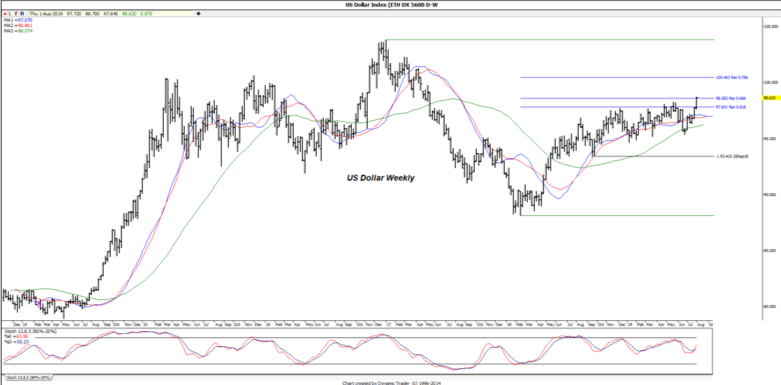 "There's gold in them there hills," and by hills, I mean global central banks. I what would almost seem another Bizarro World scenario, particularly when it is applied to the action in the dollar, it turns out that lead by China, Russia, and Poland, during the first six months of this year, global banks have purchased a record $15.7 billion of gold.  The reason why? They are diversifying away from U.S. Dollars.  Year on year demand for physical gold is up 8%, and ETF holding have reached a six-year high.  All of this would seem to suggest that banks are a bit uncomfortable with the global situation right now. 
Another week of generally disappointing export sales, but at least no negative numbers this time.  For the week ending July 25th, we sold 143,100 MT or 5.63 million bushels of corn. The was 18% above last week, but 43% below the 4-week average and the trade was expecting something in the 300 to 800k range.  Mexico was the top purchaser with 145k MT, followed by Japan at 74.8k and then Taiwan with 15.9k.  Needless to say, there were cancelations from various destinations.  Beans sales came through at the same number of 143,100 MT, which translates to 5.26 million bushels.  This was at least with trade expectations.  Japan was the top buyer with 67.8k MT, followed by China with 66.8k and then Mexico at 61.8k.  Meal sales were robust again though with 113,500 MT with the primary purchasers being Canada, Unknown, and Mexico. Wheat sales were in line with trade expectations at 383,100 MT or 14.08 million bushels.  Regardless, this was 42% below last week and 2% below the 4-week average. Topping the list was Brazil with a purchase of 85k MT, followed by the Philippines with 71.9k and then Japan taking 51.3k.