Published on:
09:24AM Jan 28, 2020
Do you get the impression that people have seen one (or two or three) too many end of civilization apocalyptic type movies and television shows? Personally, I am not a fan of the genre, but I understand that at the root of many is some type of virus that has been released, wittingly or unwittingly, which sets off a global panic as it spreads.  By no means am I belittling the potential seriousness of the coronavirus, and for those already impacted, it is undoubtedly no Hollywood make-believe story, but the reaction witnessed across all markets yesterday would appear to have been pushing the extremes of rationality.  No doubt, the devastation wreaked upon the hog herds throughout much of Asia last year has heightened the fear factor for some type of global pandemic (if it can happen to pigs, why not humans?). Still, again, yesterday's reaction would appear to have been a touch excessive, in my mind, particularly in the ag sector where we are not looking at a 10-year bull run (equities) with out-of-this-world valuations.  In times like this, it is always good to keep the larger picture in mind and note that on the combination corn-wheat-bean chart, the break would appear to be little more than continued sideways grind in a multi-year trading range.  It is almost ironic that for weeks leading up to the January 15th Phase One Trade package signing ceremony, China was being viewed as the long-awaited salve for aching markets, and since that date, it has been anything but.  This would seem to suggest we have too many eggs in one basket.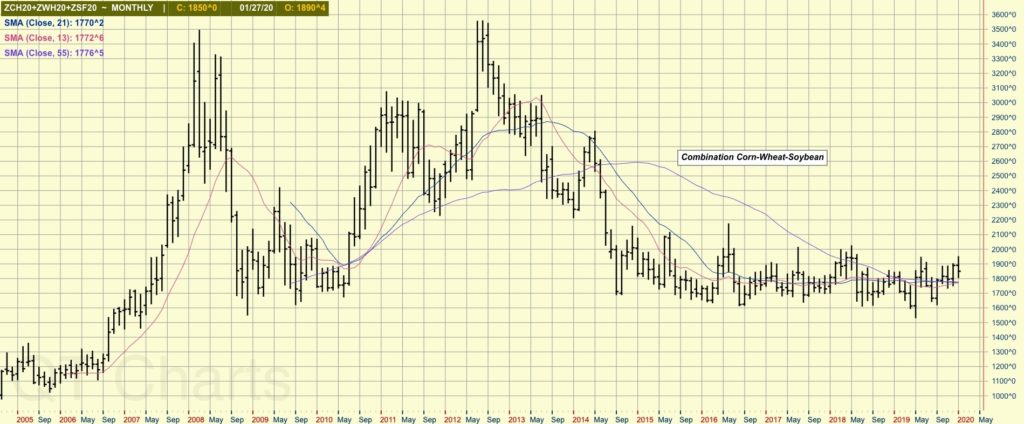 Brazil farmers continue to inch forward with harvest, and it is estimated that 4.2% of beans are now done.  This was an increase of 2.4% for the week and remains well off of last year's pace of 13%.  This has done little to alleviate concerns about planting the safrinha crop.  Full-season corn in Rio Grande Du Sul is estimated to be 22% complete with less than stellar yield thus far.
One might assume that many in Brazilian agriculture are feeling a bit blue after the commitments that China has made to purchase U.S. products, but that may not be entirely true.  It has been pointed out that as it stands, that nation still maintains a competitive advantage with the depressed Real and for the fact that on average, Brazilian beans contain protein levels between 46% and 48% compared with beans from the U.S. around 42%.  The sentiment appears to be that whatever Chinese business is lost to the U.S., they will be able to replace in other parts of the world.  It is interesting to note that that Brazilian farmers have already sold 40% of their expected production for this year and have already begun making sales for the next crop year.   One final note concerning Brazil this morning, meatpacking giant JBS has signed a memorandum of understanding with Hong Kong-based WH Group to supply China with up to $717 million of fresh beef, pork, and poultry this year.  The WH Group owns Smithfield Foods.
South African farmers are looking for a better year in 2020 and intend to increase corn planting by 9%.  They are expecting to see a total of 2.5 million hectares planted, up from 2.3 million, which is an increase of around 494,000 acres.
Last but not least, the USDA did announce a sale of 124,355 MT of corn to Mexico this morning.  Not a huge sale, but every bit helps.