Published on:
09:19AM Jun 04, 2020
Albino moose, red pandas, snow leopards.  All creatures that are known to exist but not often seen by many.  It seems that this morning, we can add another to the list of things rarely seen; the illusive corn-wheat-beans simultaneous advance.  Granted, in days of yore, this was a common sight as it roamed freely through the concrete jungle at 141 West Jackson in Chicago, but as of late, many believed the creature had become extinct.  We need to be careful, though, as not to frighten it just yet, as it has barely emerged from its hiding place, but with a little coaxing, it does appear to be ready to show a bit more of itself in the days and weeks ahead.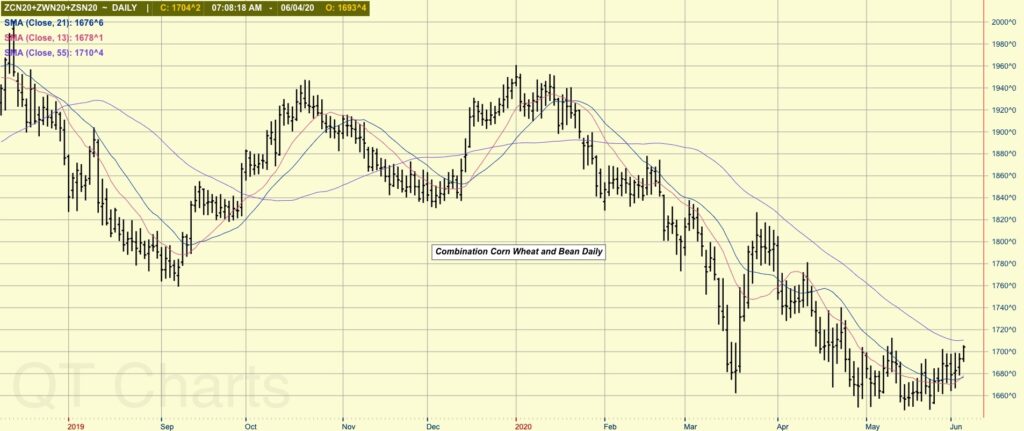 As you have undoubtedly already surmised, yes, it is a slow morning for news, but indeed, it would appear that we may have an overall advance in the grain/soy sector beginning to take shape.  Still in its infancy and little in the way of weather concerns as of yet to provide much stimulus, but at this time of year, it may not take much of an "issue" to trigger short covering, particularly in markets like corn where large specs are already leaning heavily to the short side.  For producers, that also means it is time to be prepared to take advantage of advances when they come.
As with most Thursdays, we do have the weekly export sales report to look at, but it would appear there is little to get excited about.  For the week ending May 28th, we sold 637,500 MT or 25.1 million bushels of corn.  This was 49% higher than last week but still 19% below the 4-week average.  Japan was the top purchaser with 248.9k MT, followed by Colombia taking 214.7k and then South Korea in for 143.3k. New crop sales were negligible.  At first glance, beans sales were a bit of a letdown, coming in at 495,200 MT or 18.2 million bushels.  This was down 23% from last week, 36% below the 4-week average. China was still the top purchaser with 201k MT, followed by Egypt taking 189.4k and then Indonesia with 62.5k.  Of course, we know that the U.S. is most competitive on the global stage for late summer/fall, and new crop sales came through at 607,400 MT or 22.3 million bushels. Unknown destinations accounted for 54% of these of 329k MT, and China took 264k.  Soymeal sales were also solid at 558,900 MT.  Old crop wheat sales were down 14% for the week, coming in at 179,500 MT or 6.6 million bushels.  It is worth noting though that China accounted for 74k of these. New crop sales totaled 437,300 MT or 16 million.  Here we found the Philippines as the top buyer with 110k, followed by Nigeria at 83.1k and then Yemen with 70k.  In addition to the wheat and bean purchases last week, China also bought 70.1k MT of sorghum, 5,500 RB of cotton, 348,200 whole cattle hides, 700 MT of pork, but canceled 700 MT of beef.
We do have a spate of economic data released this morning.  Weekly initial unemployment claims continue to slide but were still a bit larger than expectations at 1.877 million people. Tomorrow we will see the May jobs numbers release, and economists are looking for another 8 million jobs to have been lost during the month with an unemployment number reaching close to 20%.  Also released this morning were April import and export numbers.  Imports versus March declined 13.7% while export dropped 20.5%, which equated to a seasonally adjusted increase in the trade deficit by $49.4 billion. Surprisingly enough, U.S. equity markets did NOT rally, but it is still early, so I suspect someone is trying to devise a way to make lemonade out of these lemons yet.