Published on:
08:44AM May 18, 2020
If we can ignore the Chicago and KC wheat markets for a moment, it would appear that we have a renewed, albeit minor, sense of optimism weaving its way through a broad cross-section of markets this morning.  Undoubtedly fragile at this moment, but you can almost sense a psychological shift from a negative fear of the unknown to a slight optimism that we have the worst coronavirus damages behind us, and cities, states, and countries have begun to emerge from the ashes.
This is probably nowhere better exemplified than in energy markets.   WTI crude oil has already built upon the solid showing from last week with a push to the highest point traded since mid-March. While that is barely above $30 a barrel and still 50% below where it stood at the beginning of the year, the upward trend as of late is unmistakable.   Still, 30% under a year ago, oil demand in the U.S. rose 3% last week, and with global supplies contracting, you have the right ingredients to mix up this batch of higher prices.  Granted, there is a limit to how far we can push at this time without kicking additional production into gear, but part of this will also hinge on the pace of the economic recovery.  As you might expect, this is also welcome news for the ethanol industry as, since the beginning of the month, production has increased to 617,000 barrels per day from around 537,000 at the end of April.  Inventories have also shrunk during that same period.  As I suggested initially, any recovery at this point has to be viewed as fragile, and will undoubtedly be marked with hiccups here and there, but witnessing a shift from contraction to expansion appears to be improving most everyone's perspective on trade and life.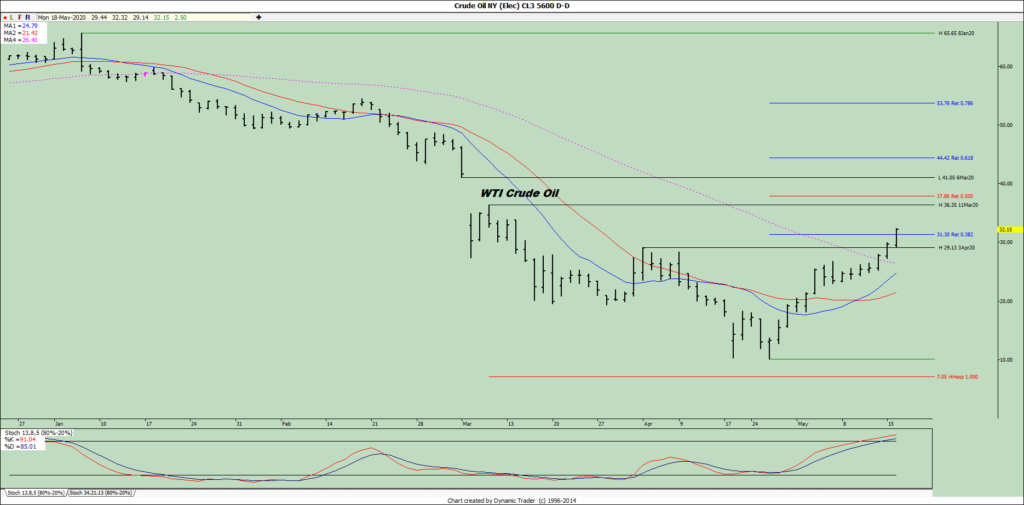 It would appear that China's recent surge in buying U.S. ag products may not necessarily be out of a sense of commitment to fulfilling the Phase 1 trade agreement, but rather as an insurance policy for additional coronavirus interruptions in the future.  The government has reportedly asked grain and food companies to step up purchases and inventories.  According to one source, the main concern at this time centers on the spreading epidemic in South America and how that could disrupt the supply chain. You could say China has grown concerned that too many eggs were coming from a single Brazilian basket and are making plans to ensure the flow of supplies if the handle on that one breaks.  It is also worth pointing out that China and Australia have reportedly been in discussions with each other concerning ag trade after their recent spat concerning COVID.
Large speculators have continued to pile on the shorts in the grain markets. During the week ending May 12th, they sold nearly 4,900 contracts of Chicago wheat, bringing the position up to a short of almost 37,000 and sold 3,500 KC wheat where they stood with nearly 18,000 contracts short.  They reserved this heftiest selling volume for corn, though, where they sold a net 21,291 contracts, with the overall short position closing in on 268,000 contracts.  Interestingly enough, managed money increased their percentage of that holding as they sold 23,900 contracts and represent 80% of the short position.  That same sentiment is not held in the bean trade though, as large specs purchased almost 19,000 contracts during the week and have returned to a net long position.