Published on:
09:17AM Jan 29, 2020
For the third time now in the past four weeks, bears have made a run at the corn market, pressing March futures south of the 3.80 mark and within a day, if not on the day, each time the market has rejected their attempt to muscle prices lower and have snapped back into the 3.85/3.90 price parameters. As I mentioned last week, even though there appears to be a group unwilling to listen, I believe this a classic example of a market, trying to tell us something, and in this case, telling us we should not be trading below this current level. Maybe this third time will have been a charm. All that said, it has also been telling us there is no reason to push beyond the 3.90 level just yet. There was one bit of encouraging news late last week that could help eventually pry the lid open on this box.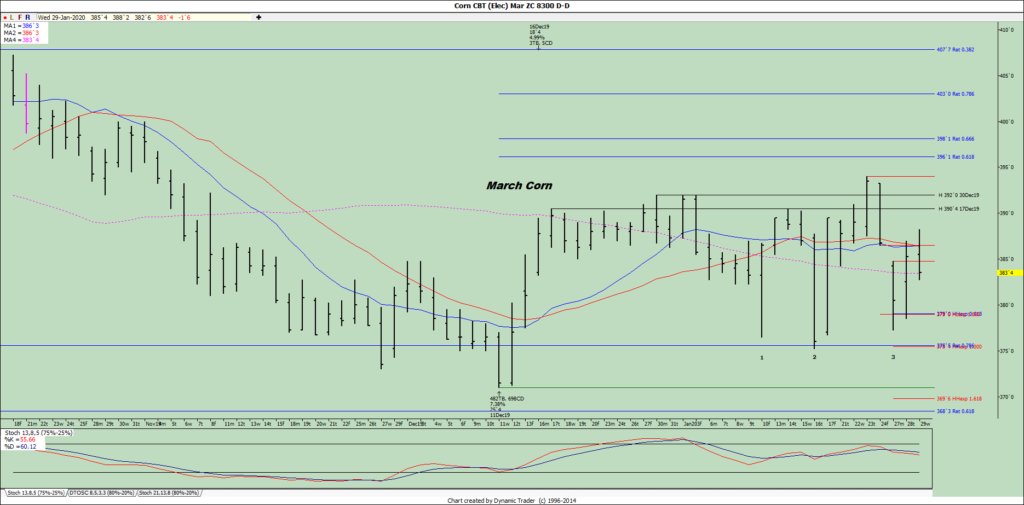 As you are undoubtedly aware, the ethanol industry has been unsuccessfully lobbying the Trump administration to put the brakes on the EPA's extremely generous use of small refinery exemptions, which have nearly quadrupled during the past three years. After the White House sided with EPA and refinery groups late last year, the ethanol industry did not just lay down and give up, but rather took it to the courts and have enjoyed some initial favorable rulings. Last Friday, the 10th circuit U.S. Court of Appeals ruled against three biofuel waivers that had been granted to two refiners in 2017. They wrote that the EPA overstepped its authority to grant waivers. If the decision stands, this would mean that there are at least 26 more waivers in question for just that year. The Rin's market bounced 20% on the news. The court also noted research that refineries could pass the cost of blending onto consumers and questioned why the waivers were needed at all. Needless to say, these are words of blasphemy to the refining and petroleum industry who are not accustomed to losing, and will fight back with appeals. It is worth pointing out that one of the two companies that this ruling pertained to was CVR energy, which is primarily owned by billionaire Carl Icahn, who initially held an unpaid advisory role on regulatory reform for President Trump as well as being a significant financial donor. Do understand, I recognize that every party and politician plays these games, but what it says to me is we need drastic reform in campaign finance. Of course, when the individuals and groups that profit the most from this are the same people who would have to implement the change, it does not seem very hopeful.
The coronavirus scare is certainly not over, but the impact appears to be focused more on the potential effect it could be having on the Chinese economy. I have already seen dire predictions this morning that says the GDP of that nation could drop to 5% this year, which would be a full percentage point drop. For all concerned, hopefully, this virus will be contained sooner than later. I read this morning that thus far, the fatality rate for the virus is around 3%. This compares with around 9% for Sars and 34% for Middle East Respiratory Syndrome or Mers. The same article also noted that in China, long lines were waiting to buy surgical masks and also pointed out that particles from this virus are too small to filter out by such. Still, it was doubtful that would stop anyone from purchasing and wearing them.
I swear that at least once a day, I have read a comment suggesting that grain markets are disappointed that we have not witnessed a massive influx of new Chinese business since the signing of the Phase One trade deal. I guess most missed that the agreement takes effect 30-days after signing, which would make it February 15th. Now, if we do not see an uptick in business after that date, there could be something to begin fretting about.