Published on:
14:16PM Dec 11, 2017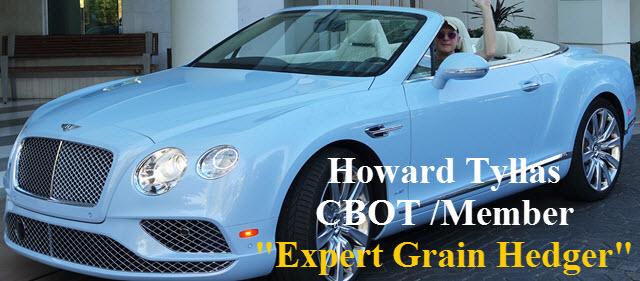 Howard Tyllas Daily Numbers and Hedge Ideas 1 week trial offer for $50
Attention Corn & Soybean Producers:
One week trial offer for $50 on learning about the best way to hedge. Inmyopinion, my strategy is the best I have seen since I became a member in 1976 trading corn and soybeans for my own account.

Are you tired of listening to the same BULL ****, and services that do not have a plan if the market goes down instead? Hedge means to take risk off the table, and my service has all producers 100% hedged and they do have most of the upside unhedged (if we can rally for whatever reason). Hedge with a Pro and option expert who has been trading grains for 40 years.
This service mission is to make producers and end users self directed, and not need information provided by any service. All of my subscribers were seeking to hedge in a better way than all the services they had in the past were providing. When I bought my membership/seat in 1976, nobody would help or educate me to what works for them, and what does not. I learned from the losers what does not work by listening to what they said and how they traded. They taught me what NOT to do. You, like my subscribers have already learned what not to do, now you want to learn what works well for you, no matter up, down, or sideways market.
As I have said every year "Think what you want but always have a hedge on". Bull or bear, we use the same strategies, but each self directed person reflects what they think in the strike prices they select and use. No herd following here. It is the opposite, when everyone is buying and the price is near significant resistance, we are improving our hedge by capturing more income when cheap to do so, and on price breaks when everyone is selling and the market is near contract lows, we are improving our hedges buying back our upside when cheap to do so.
Hedge means to take risk off the table, not add to it. How is it possible for a hedge service to reccommend buying back your corn when above $4.00, please tell me how that is a hedge? We were hedging and improving our hedges then.
Simple easy to understand option strategies give my producers the odds greatly in their favor, and gives them control of the protection they need and the upside potential they want. Mindset is also on the forefront every year, live and hedge in the half full instead of the half empty. Learn how to read the charts clearly and easy, to help locate long term significant support and resistance, to help determine how much protection you need, and what upside objective is reasonable to achieve.
12/16/16: Grains: I sold more at my $10.35 resistance number. Funds bought 9,000 soybean contracts, and sold 9,000 corn and 5,000 wheat contracts. Not much movement for that much buying in soybeans, the market seems to be picking up more willing sellers at this price level. For the last few weeks the soybean bracket line is providing solid support, my thoughts are the long term trend is down and sooner or later we will work our way lower. Same support and resistance today. You have seen in this service for 9 years the same thing when it comes to sideways markets and my bracket lines; corn is another perfect example again this year. Like any time frame on the chart, when it comes to a price that has been resisting time and again, or a price that has held support time and again, do not try and cheerlead for it to not hold. The odds are they will hold more times than not.
For 9 years I have said, when the market goes to a chart level you can take advantage of, do so. Prices are fleeting, so when the opportunity presents itself and the odds are completely in your favor, execute your plan. With a corn carryout the last report of 2.5 billion bushels, it is hard for me to believe corn is above $3.20. Maybe in todays world grain is being considered by countries as more valuable than gold, to keep their people from uprisings. I think if we had a shortfall in 2016, double the current price is where we would be. It is even harder to believe that even with the dollar at 13-year highs, grains are stubborn to press lower.
No coincidence to see the wheat downtrend line act as perfect resistance once again, and provided hedgers and traders a perfect place to sell risking little to see if it will hold, and have a good start at nice profits.
12/15/16: Grains: Kept my short position. Funds sold 6,000 soybean contracts, and bought 4,000 corn and 1,000 wheat contracts. What the funds do, the market does that day.Soybeans stubbornly hold the bracket line support, and just need to look at the chart to see a nice bounce every time the last 3 weeks. This is why I am not aggressive being short, and prefer to when that line goes. 200 DMA is another significant to buy against or take profits on shorts, but when that goes we will be watching the bears take control.
Buying corn and wheat this week while selling beans is what the funds have done, and the market followed. You do not know if that liquidation will continue, or they will resume pushing their positions. You will never know what the market will do, but you must know what you are doing and why.
November 2017 4 way hedge I like the $10.20/$9.60 put spread which settled at $.28 3/8, and sell the $10.60/$11.80 call spread which settled at $.27 , so this 4 way costs $.01 1/8 plus 4 commissions. If the market goes off the board at settlement of $10.16 it would be worth $.04.
YOU are the casino when you get odds like this, you have $.60 put protection, and if it goes up to $10.60 you will get $.34 7/8 of $.40. Also get long your ground/bin unlimited above $11.80 included in my hedge, and that $11.80 costs $.19 today, so you get plenty of odds in your favor. There is no better way to get the protection you need and the upside you want. YOU select the strikes that 100% reflect the protection you need and the upside you want. We all use the same strategy; it is the strikes that YOU select that suit you, and no need to run with the herd.
12/14/16: Grains: Covered all but the minimum at the close taking profits, I will sell resistance numbers again if it should get there. Funds sold 6,000 soybean contracts, and bought 3,000 corn, were flat on the day in wheat. Markets look like they are starting to grind to a halt, and I am being cautious when I say, even the soybean market will be going nowhere and if it does it will be to the downside. I would think now that it is mid-December, the "what if" is fading in SA, and SA looks like we did when half way planted and all the weather concerns that I am immune to. Oh yes, I will fade any weather-related rally at resistance levels I bet on will hold.
This year the funds threw a monkey wrench in what price is a high price according to the charts. I continue since 2012 thinking and saying prices will continue to go down as long as major producing areas see decent production.
My targets are still under current prices, and for producers, it means you continue to need some kind of protection even if with $.30 to $.60 put spreads and selling $.80 to $1.40 call spreads. You know for yourself it is foolish to gamble with your entire farm income because you think that prices will stay the same or go up from here. You allow reasonable upside when you hedge, and can always morph to more or less of a hedge as time goes on and opportunities arrive.
Remember, you normally bet AFTER a move is made, like buying back some or all of your call spreads when it is cheap to do so, and little remains to be gained. Control, you have control over your hedge, what control does the unhedged have? What they have lost in the last 4 years is pitiful, not easy to live with, and would take a huge rally just to get some of that money back. But you know that my way you get at least 65% of any rally no matter if it makes new all-time highs. How can the unhedged compete with that, they cannot, there is no better way to hedge, and I would pay handsomely if I could find a better way or improve what I do, and I would share it with you.
Broken record says, hedge 2017 no matter how small, and you will have a happy holiday. You make your own decisions, and can hedge only 50%, but whatever you do, HAVE A PLAN if it goes up or down, and make sure you execute it.
12/13/16: Grains: Took profits at support, still short a little. I will sell more at resistance numbers should it get there. Funds sold 9,000 soybean contracts, and bought 4,000 corn and 3,000 wheat contracts. Lets take a look at the opportunities that present us now. No matter what you had as a hedge for the January options, you either rolled and took advantage of the low price to get your upside back and take profits on the put side, or you still have some or all of it still.
Some already rolled up the long January $9.60 or $9.80 or $10.00 put to a higher strike to capture new income, or still have the long put you morphed from the November options. No matter, if you still have some or part of the January options, this is what you can do now. If you are short the January $10.20 (or higher strike) calls, you can buy that back and sell a February call (roll the call). The January $10.20 call settled at $.18 , and the February $10.60 call settled at $.28 5/8. By doing so you collect $.09 7/8 income and also get $.20 more upside potential to $10.40. You sold time and they pay you for it, and you also get $.20 upside back. That is the call side of the hedge. On the put side, if you have a January $10.00 put it settled at only $.02 7/8 and expires 1 week from this Friday. You can keep that for a cheap way to be short looking to pick up at least the $.02 7/8 you risk, or just sell that and collect the money making your next hedge (morph) even cheaper and more profitable.
Now you can buy the February $10.40/$10.00 put spread for $.15 3/8. The $.02 7/8 from the January put makes it even cheaper. It all depends on the strikes you have to work with, and how bullish or bearish you are on the day you morph. You always reflect what you think on the day you do something. You might think differently 1 week later, or 1 week ago, but the reality is always on the day you do something. Corn and wheat use the same strategies, and just like soybeans, you should go shopping by looking at settlement prices, and find what best reflects your thoughts, and gives you the best bang for your buck. Grains usually go into a coma 2 weeks before the holidays, but this year anything can and will happen thanks to the funds.
Your job as a hedger is the same as me as a trader, take advantage of the price swings when at an extreme, where the odds for what you do are always in your favor.
12/12/16: Grains: Funds bought 9,000 corn and 8,000 soybean contracts, and 5,000 Wheat.
Not a day goes by that what the funds do that day, the market reflects the activity. $10.61 was the high last week, $10.21 the low, and the middle of the two is $10.41 . The closer we get to that high would be a sell, and the closer we get to that low is a buy. I see no reason for this market to be trading above the bracket line which resisted further advance since the second half of July. Funds have their own reasons, they should know what they are doing and why. Day by day they are always correct, but in the long run reality has a way of settling in. They want to stay long, reflected in the widening of the March/January spread which settled at $.11. This reflects them selling their January and rolling to be long the March contracts.
Without the extreme fund position, widening to $.11 would be considered bearish. But with the funds desire to be long, it is a function of their rolling forward. You can talk all you want about corn, talk the fundamentals until you are out of breath, but the charts tell the reality clearly. It is basically going nowhere after coming down and forming the current sideways market defined by the bracket line support and bracket line resistance.
Wheat is the poorest performer of the group, and the funds never give up on their short position. If it can close above the downtrend line at $4.21 it would then set up a corrective rally that could take us to the high of October about $.25 higher, but if the downtrend line holds, another retest of the contract low would be next. Hedgers take comfort knowing they have some protection as well as some upside potential. Our hedge allows less stress especially when corn and wheat act and look the way they are, and take some of the risk away if and when the fund soybean story comes to an end. Imagine what soybean prices would be if the funds exit their longs and start accumulating a short position. Your put spreads tell your exact protection, and your call spread tells where you do not make or lose money if the market gets inside your short call spread, and the call you are long in that spread also tells you where you have unlimited upside once again.
Every price not in the call or put spread, is what you are still unhedged, and options are rights and not obligations, so when the market comes down enough you can buy back part or all of the call spread and get long those prices too, as well as banking some profits. If it rallies, you can capture more upside by raising your long put. Many things you can do in time, and you always are free to exit all or part of your hedge if you fell the need. You have some control, the unhedged have no control, and never sell rallies because they look for more, and never sell when it goes down until they are forced to financially.
The unhedged make themselves the victim of whatever the market will do. If they do have a plan to lets say sell if it gets $.50 higher, they usually move the goalposts higher and sell only a small amount, and they never have a plan if it goes down instead. Even if it does rally and they sell, how well has being unhedged worked out since 2012? Even if corn and wheat rallied now, you already banked income on the way down, and will make more money since your last 3 way hedge. Gambling inside the strikes you select is one thing, all or nothing being unhedged is not business at all, it is a total gamble. 2017 hedges I recommended long ago, new subscribers should have a plan to do so.
No matter old or new subscribers, I recommend being at least 50% hedged, that way you cannot be more than half right or wrong, but it is having a hedge that is important. 50% hedged should be a strongly protected hedged selling away enough upside to make it free, because the other half is completely long. When you decide to hedge the other half, you can sell away less upside and have more upside potential.
2 weeks until Christmas, and another year where you have much less stress because you are and have been hedged. You all remember what it is like to be unhedged, prices are not far from contract lows (and soybean vulnerable to the downside from these decent high prices) and you are more worried about what the market will do, than enjoying the holidays. When soybeans rallied, I got short a little a few minutes before the close. I am willing to take some profits if at supports today.
Want to know what I think for tomorrow and going forward? Subscribe!

The markets covered daily are 2017 & 2018 Soybeans, Corn, and Wheat.
My numbers are sent on part 1 before the night session begins. Commentary follows a few hours later on part 2. (via your email)
Find out why my USA and Foreign subscribers keep renewing this service for years.

Howard Tyllas Daily Numbers and Hedge Ideas is designed to help you plan your hedging strategies, and speculators for day or longer term trading.
Howard Tyllas Daily Numbers and Hedge Ideas $279.00 monthly
Put yourself in a position to make money, use the daily numbers service!
Email:[email protected]

http://www.futuresflight.com/
Tel. Office 1-702-405-7245 Cell 1-312-823-9189