Published on:
16:01PM Dec 13, 2018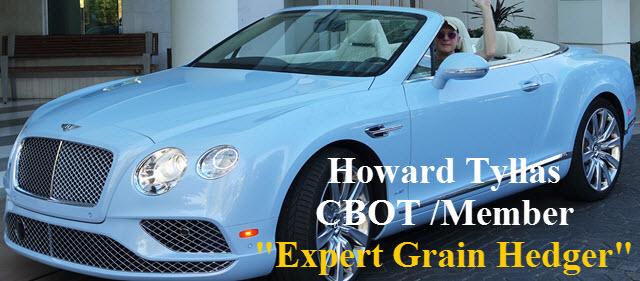 You can subscribe now for $199 per month and can be canceled at any time. This is the first discounted price since the service started, act now.
Howard Tyllas Daily Numbers and Hedge Ideas $199.00 monthly
Attention Corn & Soybean Producers:
One week trial offer for $50 on learning about the best way to hedge. In my opinion, my strategy is the best I have seen since I became a member in 1976 trading corn and soybeans for my own account.
January 2018 Soybeans
9.29 1/2 FG near Bracket Line Resistance
9.23
-------------9.15 Pivot
9.06
8.94 FG
5 day chart... Up from last week same day
Daily Chart.. Sideways
Weekly chart Down
Monthly chart... Down
9.38 is the 200 DMA
ATR 14 Balanced 78%
For 12/12/18: Bracket Line Resists,
uptrend is key support for the bulls to keep
control.
12/12/18:
Grains: Funds bought 5,000 corn, and 6,000 soybean contracts, and sold 3,000 wheat on Tuesday.
Grains are firm tonight on light volume. Whatever the report said, it continues its firm tone. Price movement tells you there was nothing there to propel either camp to push the market in their favor. Upside is limited by current resistances, yet the bears seem powerless. Massive supplies are weighing on the bulls, hard to sell sand at the beach. SA is well underway, and since the price action does not show concern of a shortfall down there, does not bode well for the bulls. Our time is limited to export before SA is ready to sell its crop.
All fundamentals do is to justify staying in a losing position. After you read the report did it tell you how much reward you should seek (upside objective) and how much risk you might endure if the market goes down instead? That is what you need to know, and only the charts are helpful in discovering what the price could be in the future.
Most calls settled lower, taking out premium. The winners do not win and the losers get killed. Look at how cheap options are that expire next Friday. It tells you the market is going nowhere fast.
Charts remain the same and will offer more clues as the market adds more bars, for now corn and soybeans are closer to resistances, and wheat is wallowing in the lower bracket. I still recommend hedging or selling corn and soybeans against their bracket line resistance.
Next major report is the Final Report in January, and until then looks for more sideways action, and do not look for the next trend to start until at least that Final report is known.
Want to know what I think for tomorrow and going forward? Subscribe!
The markets covered daily are 2018 & 2019 Soybeans, Corn, and Wheat.
My numbers are sent on part 1 before the night session begins. Commentary follows a few hours later on part 2. (Via your email)
Find out why my USA and Foreign subscribers keep renewing this service for years.

Howard Tyllas Daily Numbers and Hedge Ideas are designed to help you plan your hedging strategies, and speculators for day or longer term trading.
Put yourself in a position to make money, use the daily numbers service!
Email:[email protected]

http://www.futuresflight.com/
Tel. Office 1-702-405-7245 Cell 1-312-823-918
Futures trading involve the substantial risk of loss and may not be suitable for all investors. Past performance does not mean future results.