Published on:
17:31PM Jun 19, 2018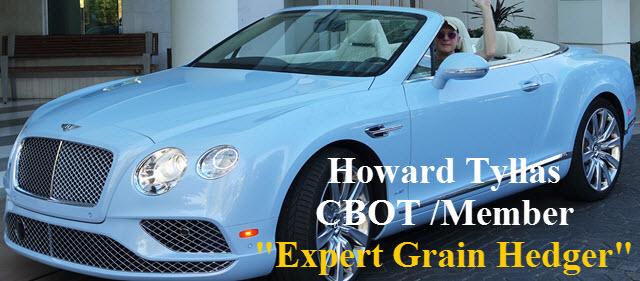 Futures trading involve the substantial risk of loss and may not be suitable for all investors. Past performance does not mean future results.
Howard Tyllas Daily Numbers and Hedge Ideas 1 week trial offer for $50
Attention Corn & Soybean Producers:
One week trial offer for $50 on learning about the best way to hedge.In my opinion, my strategy is the best I have seen since I became a member in 1976 trading corn and soybeans for my own account.
Are you tired of listening to the same BULL ****, and services that do not have a plan if the market goes down instead? Hedge means to take risk off the table, and my service has all producers 100% hedged and they do have most of the upside unhedged (if we can rally for whatever reason). Hedge with a Pro and option expert who has been trading grains for 40 years.
This service mission is to make producers and end users self-directed, and not need information provided by any service. All of my subscribers were seeking to hedge in a better way than all the services they had in the past were providing. When I bought my membership/seat in 1976, nobody would help or educate me to what works for them, and what does not. I learned from the losers what does not work by listening to what they said and how they traded. They taught me what NOT to do. You, like my subscribers, have already learned what not to do, now you want to learn what works well for you, no matter up, down, or sideways market.
As I have said every year "Think what you want but always have a hedge on". Bull or bear, we use the same strategies, but each self-directed person reflects what they think in the strike prices they select and use. No herd following here. It is the opposite, when everyone is buying and the price is near significant resistance, we are improving our hedge by capturing more income when cheap to do so, and on price breaks when everyone is selling and the market is near contract lows, we are improving our hedges buying back our upside when cheap to do so.
Hedge means to take risk off the table, not add to it. How is it possible for hedge service to recommend buying back your corn when above $4.00, please tell me how that is a hedge? We were hedging and improving our hedges then.
Simple easy to understand option strategies give my producers the odds greatly in their favor and gives them control of the protection they need and the upside potential they want. Mindset is also on the forefront every year, live and hedge in the half full instead of the half empty. Learn how to read the charts clearly and easy, to help locate long-term significant support and resistance, to help determine how much protection you need, and what upside objective is reasonable to achieve.
Chart and the numbers for Subscriber-only!
Commentary for Tuesday 6/19/18
Grains: Funds sold 25,000 corn, and 8,000 wheat, and bought 8,000 soybean contracts. About 20 minutes before tonights open, I heard about Trump saying is going to impose 200 billion more in tariffs on China. This would prompt taking a sell against the pivot (the exact high tonight) in soybeans, and taking a profit worth the risk. How the market will look at the news in open outcry might already be reflected in tonights range.
As you well know, news, market sentiment, momentum might be the drivers, but the charts are the destinations. Charts will tell you what too high and too low of a price is, and betting what chart level will hold is much better than jumping on board a train with no destination and no plan to jump off the train if another train is seen on the same tracks coming full speed at your train. Bulls that did nothing on the way down did not jump off the train and was fatal. I do not care what fundamentals bring the market to an extreme price for a day, swing, long-term, or initiator exit a trade idea, I want to do something. Running with the herd when the chart says not, is not a good idea.
Do you even remember the fundamentals that drove the market last month or two? Who cares then, or now, not me. Take the tariffs, so lets say we think the tariffs will cause the price to be less than now, do the tariffs tell you how low we can go, or should you just be random and pick a price. Only the charts will give you the information from past performance to aid you in the future to discover what support or resistance level might hold. Those support and resistance levels are the possible prices that might hold, no matter bet on it or not. The only fundamental that helps me, is what the funds are reported doing, their current position as seenonthe commitment of traders (COT) report every Friday.
They are like a gas tank, the gauge (position size)shows me when their tank is full or spilling over, or almost empty, and when they are running on fumestheyhaveno position. They really got into the corn bulls face on Monday, and tonight they are kicking themagainwhenthey are down.Atthis stage, after reducing what you could cheaply, you sit back as we discover how low is low. If youhavenotreduced enough, do so today because it will be even cheaper than before.Ido not want to catch a falling knife, and now I want to take my shots at support numbers for a daytradeonly.
I am more interested and would bet more on the extremes for now which is the gap in soybeans at $8.70 , and even more interested in taking buy signals at $8.44 . Maybe we will not see those levels before the correction begins, then you look for what did support now and some chart bars to followseeinghigherhighs and higher lows, to form what looks like might support for now. Daily numbers resist, and the first objective for the bulls to hurdle.You know I want to buy $3.40 corn. I cannot take home a buy even for a swing trade,
As a trader I want to go home flat every day and take out ofthe market what it gives me. Precise daily numbers makes the task easier.Wheat bulls have the gap at $4.84 for support coupled with the 200 DMA of $4.83. As long as we are above the 200 DMA the bulls are still in control, below the bears take over. If we get to my extreme numbers before the July 4th weekend, I will buy using 4 ways to protect my idea that we will get some kind of corrective rally after the 4thto make the reward worth the known risk. If those chart levels do not hold, I would exit the idea. If the unimaginable happens, that is what the 4 way is for, it does what a sell stop cannot do.No matter the price even now, initiating a 4 way hedge reflecting what protection you need from here,and having some upside potential you want, is always better than no hedge at all. Think what you want(reflected in the strikes you select) but always have a hedge on
6/18/18:
FCS estimates are not out yet, I will include on part 2 tonight. If you look at settlements you already know the funds sold across the board, it is just a question of how many contracts were sold.
Grains: Funds bought 6,000 corn, and 5,000 wheat, and sold 15,000 soybean contracts. If their estimate for Friday is correct, this is the first price divergence from what the funds did that day.
Soybeans got whacked, but even with their corn and wheat net buying for the day both closed lower. Was it speculator or producer selling that overwhelmed the funds on Friday, or both? As of todays close FCS pegs the funds are now short 53,238 corn, 42,895 soybean, and long 19,135 wheat contracts. Funds are now short 96,183 corn and soybean contracts now. What a difference a week makes! FCS was very inaccurate this week on the COT report that states, FCS underestimated soybean selling by16,282, corn selling by about 61,000 contracts, and wheat selling by 13,000 contracts.
The COT reflects positions as of the close on Tuesday, and reported every Friday after the close. If we had only known the funds were really aggressive sellers on Tuesday, I would have been more aggressive than in my service or contract size I used. Now that we do know they have a serious short position, we know they want the market to go down, helping the wind in my bear sails. They will provide the energy to discover lower prices, and what price level will stop the bloodletting. I want to give some of my thoughts now for you to think about, and more to come on part 2. Now that you have learned (or are learning) the tools to give odds in your favor in every aspect, my job will always be,to keep you in reality. I know I am not what you want to hear since 2012, that my charts tell me the risk o flower prices overwhelms the rewards to the upside. The risks are too great compared to the rewards.I would rather have hedged all the way up, and be happy if the market went higher (no worry about needing more protection then, and maybe getting my crop back if it gets above my long call of the call spread sold),and anyone who sold it higher than I earned it.
But what about what they did not hedge, soybeans just trashed $1.90 in a flash, and still exposed to more risk, really brings down their average price of the sells at a higher price.Why does it seem everything out there really does not have a plan to control risk, never is completely hedged, seldom sell rallies, and half the time lifting their hedge to get long again at the worst chart levels? Because that is what the herd/99% do.
If someone is wrong a large percentage of time year in and year out, they are just as good as following someone who is successful the majority oftime, just do the opposite of what they do. If they are always wrong and you do the opposite, you should always be right taking theothersideof their trade. I do not do the opposite of what they do; I think they are doing the opposite of what I do. I do not care what the herd or funds do, but I use them to give me trade opportunities that would not be seen without them.When you have numbers like mine to work with, it makes day trading easier, betting on chart levels holding using a stop to protect. Friday was a buy early, and corn went to the resistance number to take a sell as well as the soybeans came back to sell against the pivot.
For a hedger who wanted to buy today, or sell,the numbers provide a good place to do so that day if the price location is reached.Long term charts do the same thing for you, provide good places to buy or sell.China is an end user and always wants to buy, producers are (or should be) always sellers, and the funds and speculators do not have a vested interest in being long or short, they just want to make money, they are also the middlemen.I am thinking, China is causing the market to go down, which they are profiting greatly, because even if they buy from second and third source buying who buy it from the USA (even the black market), and paying those middleman countries extra money to get the grain lets say another $.30 per bushel, but they are adding the cost to price that are $.50 in corn and $1.90 cheaper in soybeans.
Just as they buy when prices are at the 2018 high or the 2012 high, they will buy no matter the price to fill their needs. Do you really think they will not buy grainswhentheyneed it? When prices and charts show a bottom, or at the extreme price levels I have targeted, and the funds are short holding a huge position, I am sure we will be following a plan to buy then.Lastly for part 1, Next objective the bears have is $8.44 July soybeans,and using a 2.5 to 1 bean to corn ratio, that gives me $3.40 July corn. If we get near those prices, I will back up the truck and get long,especially if before the July 4th weekend.
I would be looking for a correction back to where prices are today.You should not ignore soybeans are at the $9 mark, and I consider this an opportunity to reduce cal lspreads now,and reduce all of it as it gets to the gap at $8.70 1/2. Sooner or later if soybeans stay under $9, you will be looking for an opportunity to morph your current hedge into a new hedge that will give you more protection as you seek a reward from a higher price than the day you morphed. What you can lose on the call spread if it goes lower is known and cheap, and if it rallies instead you will not need to pay more to get out while you sell a new call spread and/or buy a new put spread. You can consider selling the put spread when you are running out of protection and when the put spread reflects the intrinsic value.
The November soybean $9.80/$9.20 put spread settled at $.40 1/8 and the market settled at $9.30 so it is still doing its job.Ihave always said that the initial put spreads would not be enough if at harvest we produce abetterthanexpectedproduction, so it is your job to improve the put spreads in time when the price reaches a resistance level to be able to buy back the short put and give yourself unlimited downside protection cheaply.
I recommended doing just that when we were at several resistance levels, and I recommend having a plan/price to do so on the next corrective rally. Remember, in time if still at $9.30 the outright $9.20 put is worth less and you would indeed have enough protection. On Friday the $9.20/$8.60 settled at $.25 and not close to getting more protection. I am noti nterested unless less than $.12 or you morph and start over depending on your needs and wants. Let the daily numbers guide you day to day on what price is possible that day, and let the chart build with more bars to see if it looks like it will climb higher, or is breaking down further.
You should have reduced some call spreads last week, if not you should do so on Monday. Whatever you can lower the long call to a much lower strike cheaply; you should put that money in your pocket as you reduce cheaply. That way you take off upside exposure with little value to you with the time until expiration, and the reason being you are leaving the meat and potatoes that will feed you, and have a smaller call spread to allow to sell upside back on a rally for more income, usually by lowering the short call to a lower strike.Wheat uptrend line is still support and a buy if and when we get close to it, first near termresistance is $5.17,and if above there for 2 days it could test the bracket line resistance once again.
6/15/18:
FCS estimates are not out yet, I will include on part 2. If you look at settlements you already know the funds sold across the board, it is just a question of how many contracts were sold.Fundssold 35,000 corn, and 5,000 wheat, and sold 8,000 soybean contracts. They are long only 1,696 corn,andshort 11,823 soybean contracts now. They flipped their soybean position, and corn could be next.Without funds bullying the market, todays prices are the result of them more or less being flat corn and soybeans.
They could easily build another long position at these levels which are near term supports, or they could get short and look to punish the bulls until the bulls are forced to sell, and then it would be time for the funds to cover their shorts.This seems the right time this year to remind you that commodity markets are just like an auction house,anyone who buys thinks they will be able to sell for a higher price in the future, and the seller thinks what they are selling will be worth less money in time.
You could say when you are the highest bidder that you are the winner and now own the goods, but you must realize that unless you can use the product or sell for a profit, you are the loser, because you paid more than anyone else would for the goods. You paid the highest price at the time. Sure, the painting could be worth millions more in time,or lose millions. It is a gamble.The risk better be worth the reward, and you better not risk the family jewels on 1 painting, a car, real estate,corn, or anything you want to bet on. Soybeans posted its 5th straight new contract low tonight, not a good sign for the bulls. Looks like it is on a missiontotest $9.00 next week. People who pick their bottoms get stinky fingers.
No sign this price level will hold, chart does tell you what to bet on like $9.00 for a day or swing trade using a sell stop to protect.But you need a few daily bars for a better clue a price/chart level will hold and cause more of a corrective action. As far as resistance goes, you need to take that one day at a time using the daily resistance numbers,because the bracket line resistance is out of touch for now.
After soybeans held its support on Thursday, the market rallied to $.00 1/4 shy of the pivot to take a profit and/or get short. When you have great numbers to work with, gives you odds in your favor for entry, exit, and objectives that are attainable.Corn kissed the old 2018 low tonight at $3.62, but the funds if they are planning to get short will try to sell as much as they can when just above $3.62, and when the outside participants take it below there, the funds could get aggressive at any price to execute the amount of contracts planned for that day. $3.77 might not beseen for quite sometime,until something like pollination problems develop.
Wheat is on a mission targeting a test of the uptrend line support. The uptrend line support and the bracket line resistance provide the parameters for a sideways trend going forward.December 2018 $3.80/$3.40 put spread settled at $.17 if you are willing to sell a closer to the money call spread, or use the $3.70/$3.40 put spread settled at $.11 , and the $4.20/$5.20 call spread settled at $.11 3/8, so it costs collect $.00 1/8. These hedges are leaving more room for the upside than is reasonable given the chart, but I know as a producer and you did not hedge higher, you would want to keep the upside open as much as possible to keep the put spread cheap enough.
November 2018 $9.40/$8.80 put spread settled at $.25 , and the $9.80/$10.80 call spread at $.17 5/8, costs $.07 7/8 plus 4 commissions. November 2018 settled at $9.50.
The November 2019 $9.40/$8.80 put spread settled at $.26 5/8, and the $9.80/$10.80 call spread settled at$.22 5/8, making it cost $.04 and 4 commissions.November 2019 settled at $9.48 .
6/14/18: Grains: Funds sold 12,000 corn, and 6,000 wheat, and sold 20,000 soybean contracts. FCS estimates the funds are now long 36,696 corn, and 32,058 wheat, but are now short 3,823 soybean contracts.
Funds have sold soybeans 8 days in a row now, and 11 out of the last 12 days losing $1.15 in that period of time.Ihave warned many a time what would happen if the funds liquidated their long positions, let alone go short.Think what you want but always have a hedge on. Funds were a producers best friend and what dreams are made of, but now they are becoming the enemy and worst nightmare. I do not care what brings a market to a price; I just want to take advantage of it. I do not care if you hedged on the way up or down, but price not fundamentals is what you should always care about and relate to.
The first thing I stress in importance to be self directed, is to control risk. Making money is never a problem, but losing too much money on 1 idea is a big problem. Mindset is what frees a person to make decisions he can live with, or can lead to disaster if unable to live with your decisions. The trouble with not having a half full mindset, it tends to freeze the mind into doing nothing from the fear of being able to sell higher.The half full is glad with what their decisions are; the half empty is always looking for more.Corn is now only a day or two away from the funds totally abandoning their position and thoughts that prices will be higher in the future than it is now.
They could rebuild their position and start buying soon, or they will indeed flip their thoughts of lower prices will come. Outside of the daily numbers for support and resistance day by day, a longer term time table only has the 2018 low as significant support. As you have seen this week, any corrective rally will find the bracket line at $3.77 will be hard to breakthrough. Longtermtimeframeshows when the low of $3.62 goes it opens up the possibilities for lower prices at harvest. Let us just say the crop will be larger than thought, the significant support is found at the low of the last 5 years made on 8/29/16 at $3.01. You know I have projected $2.90 corn since 2012 and several times we were close enough to back up the truck and buy, as on 9/29/14 when traded $3.18 . The 10 year low made on 12/1/08 was $2.90 (when I started my service).
I think that $2.90 to $3.20 is the kill zone of the bears, just as $4 corn killed the bulls.
Soybeans posted 3 new 2018 lows in a row, and the action and new low tonight makes it 4. $9.00 (the buck) is the first significant support from here. Bracket line at $9.65 is the first significant resistance,and those two numbers could become the parameters for trading sideways until the July 4th weekend.
Wheat proved the bracket line at $5.38 is significant resistance now and years to come until broken (it does not hold anymore).
I know the more you are hedged the better off you are, and I know what is not hedged is becoming a problem. I know if you were bullish and did nothing like the unhedged, this current move was unimaginable to you and that means disaster. However, if you were hedged you greatly reduced your risk which is the reward for being hedged. Of course you would rather have seen a rally and be rewarded by the market if it closes up above the call you are short.
Obviously, the gurus and services got it wrong again, they focus on everything except the things that are highly important to you and I, the price and the risk we have from the last trade price going forward. What is my risk, what is my reward.
Lastly, remember, by having a hedge on it prevents bad behavior, like selling when you feel forced to. We are looking to get some upside cheaply and banking some income at the same time, unhedged is looking to sell. This year is no different than any year especially since 2012 if they ever outperform you being unhedged and able to sell at the high of the year, will never come close to making up for what they have lost.
Look what they just lost in 2 weeks. Do you think it is worth the stress and risk they are living with now? This is the first day of the rest of your life, use your knowledge, get odds in your favor whenever you can, and controlling risk is more important than catching a windfall profit. You are not a victim following the herd, but you could be your own victim by not having a plan. You must have a plan, especially now that you are self directed and have the tools to know what you are doing (or not doing) and why.
6/13/18:Grains: Funds bought 22,000 corn, and 13,000 wheat, and sold 3,000 soybean contracts.
After the report soybeans initially rallied, but as the day wore on people took advantage of the correction to sell, leaving soybeans closing only slightly higher on the day. Considering the rip corn and wheat was on, soybeans were a disappointment posting another new low for 2018. Sell rallies at a resistance rather than buy breaks except to reduce call spreads. Bracket line at $9.65 is the first resistance to sell.
Soybeans look headed to $9.00 before this run is over. High flying corn still settled $.00 lower on the week, and lower than it has been for months. How strong is that? Corn needs to close higher on the day to have a chance to get $3.86 or higher. It would not surprise me to test the 2018 low before this run is over. Both corn and soybeans could correct more, but eventually, I think new lows for 2018 will come before the 4thof July weather permitting. It is no coincidence the strong rally ended exactly kissing the bracket line resistance, the perfect place to sell. If that does not hold the 2018 high should. Strong support is found at the uptrend line. The gap at $5.05 is the first strong support. Price new 4-way hedges if hedges are needed, price reducing call spreads and if you can reduce greatly for less than $.05, you should start to reduce a little. Options will bleed premium from here unless near the money spreads. Some took profits on at least half their 2019 hedges which used 2018 new crop options. Now the 2019 options are getting more reasonable because of the time decay. In a few months, they will be more active, but they are reasonable now.
The December 2019 $4.00/$3.60 put spread settled at $.17 1/8, and the $4.40/$5.40 call spread settled at $.15 7/8, so it costs $.01 plus commissions to lock in $4.00 corn and possibly $4.40. Of course in time with market swings, you could take advantage of the extreme price swings. This 4 way is about $.04 cheaper than what it was in 2016 when at the same price. This is an example/recommendation, and you want to do it here or at a higher level according to your plan. Either hedge here, $.20 higher, or $.10 lower, that is a plan. But if you are running in the herd or listen to the slaughterhouse services, you only have a plan to sell higher, they never have a plan if it goes down which equates to Have a plan or the plan is to fail.
November 2019 soybean hedges do not look appealing, but you need to sell at least $1.20 call spread to get a decent put spread. The $9.60/$9.00 put spread settled at $.25 7/8, and the $10.20/$11.40 call spread settled at $.21 3/8, so it costs $.04 . November 2019 settled at $9.69.You should be hedged 2018 100% before you start to hedge 2019.
6/12/18:
Grains: Funds sold 33,000 corn, and 3,000 wheat, and 17,000 soybean contracts. With the corn and soybean contracts sold today, they cut their long position by half in 1 day. Another liquidation day like today makes them flat without a position or exposure.Think what you want but always have a hedge on.
The 4-way hedge provides you the ability to reflect what you think with the strikes you use. It does not matter what you think if you are unhedged you seek more of a reward, but expose yourself to risks that could become unbearable. It does not matter if we rally or go down from here, but if unhedged it does matter, more than you might think now. If you could not see what I was talking about the funds thirst and desire for buying grains because with the good demand all they need is the possibility of a shortfall in production to complete the groundwork for ananextremerally, and they have the money to steamroll the shorts.
I constantly tell you no matter the year, the funds provide opportunities that would not be realized if the funds did not participate in such a large scale of contract exposure. Watching high prices are one thing, capturing it is another. The problem the funds have is as the crop progresses normally, that takes away half of the reason of their trade idea, that there will be a threat of a shortfall, and now it is difficult to find people to sell to take their position over. Since 2016 you see they waste no time getting in or out of a position, imagine if they were still long 340,000contracts at current prices, to exit that would implode the market from here, instead of actually exiting from the artificially high price levels they created. Today is report day at 11 am, and looking at the corn and soybean chart you should already know that I would not go into it short.
For a producer though, I need to constantly protect the downside, and a hedge does not make you short, it takes some of the risks away from lower prices, and actually reduces your exposure. The only thing a producer can do is reduce the upside and/or buy back far out of the money short puts. Unhedged are looking to sell, you are looking to get your upside back cheaply and put that income in your pocket. If you spend $.05 or less for more protection or to reduce the call spreads, that is your entire cost until expiration. The unhedged lose more than that in a day, and have nothing to show for it.I could care less what the report has to say, I only care how the market reacts to it.
4 ways have provided you to be able to make rational decisions, not emotional and the stress that the unhedged have taken upon them.
Want to know what I think for tomorrow and going forward? Subscribe!

The markets covered daily are 2018 & 2019 Soybeans, Corn, and Wheat.
My numbers are sent on part 1 before the night session begins. Commentary follows a few hours later on part 2. (via your email)
Find out why my USA and Foreign subscribers keep renewing this service for years.

Howard Tyllas Daily Numbers and Hedge Ideas is designed to help you plan your hedging strategies, and speculators for day or longer term trading.
Howard Tyllas Daily Numbers and Hedge Ideas $279.00 monthly
Put yourself in a position to make money, use the daily numbers service!
Email:[email protected]

http://www.futuresflight.com/
Tel. Office 1-702-405-7245 Cell 1-312-823-918