Published on:
18:02PM Apr 10, 2017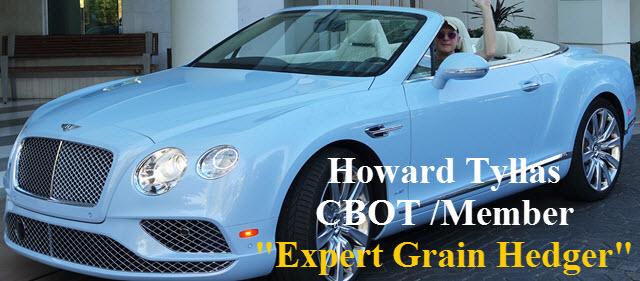 Howard Tyllas Daily Numbers and Hedge Ideas 1 week trial offer for $50

Attention Corn & Soybean Producers:
One week trial offer for $50 on learning about the best way to hedge. In my opinion my strategy is the best I have seen since I became a member in 1976 trading corn and soybeans for my own account.

Are you tired of listening to the same BULL ****, and services that do not have a plan if the market goes down instead? Hedge means to take risk off the table, and my service has all producers 100% hedged and they do have most of the upside unhedged (if we can rally for whatever reason). Hedge with a Pro and option expert who has been trading grains for 40 years.
May 2017 Soybeans
9.55
9.49
------------- 9.40 pivot
9.31
9.25
5 day chart... Down from last week same day
Daily chart……. Down
Weekly chart … Down
Monthly chart ….Down
10.11 is the 200 DMA
ATR 11 Oversold 13%
For 4/10/17: I continue to say "bracket line is resistance now, daily numbers support and resist".
Another NEW LOW FOR 2017 WAS MADE on Tuesday!
My daily numbers on Friday; my resistance was .01 from the actual high, my pivot acted as support and was .01 (only .00 in open outcry) from the actual low.
Commentary for Monday 4/10/17
Grains: Funds bought 4,000 soybean and 5,000 wheat contracts, and sold 12,000 corn on Friday. After adjusting for the Friday COT report, FCS peg the funds are long only 3,642 soybean contracts, and short 155,789 corn and short 141,323 wheat contracts. Even the funds are bearish now, and their way of being long is not getting short soybeans, yet. Now when the unhedged producers wake up, they find their thought of higher prices is not shared by the funds. The funds were the unhedged best friends, are now poised to become their worst enemy.
I have taught you that being self directed means to live in reality. The last price is real, and there is a risk involved in going after a reward of selling at a higher price. You have learned (or are learning) the many ways to get the odds in your favor, and the more things such as using the charts and having a sound strategy, the more success you will have no matter what you predict the market will do. It is not your job to forecast the future price, but it is your job to take risk off the table as you pursue more income. If you could predict and trade the market successfully in the long run, you would be a futures trader and the odds of that I think are 1%. But what you can do is execute all the things you have learned in my service, and doing that would make you the same as a successful futures trader. You know how to capture at least 66% of any rally without needing to pick the top, and have protection if it comes crashing down. If it goes down instead, getting 70% of what you protected is golden compared to getting nothing like the unhedged.
I have told you many times over the years, I never like to be long when the market is quiet, and with an ATR of $.11 in soybeans and half that in corn, if I was long I would not look for more than twice the ATR for a trade or hedge objective. 2 months ago everyone was bullish, but if you had no line in the sand if the market came down, you are starting to look like the deer in the headlights. For the unhedged, it is like the next day after a drunken night when they say "let me get well soon and I will never do that again". But some way and somehow, they find themselves in the same situation. It looks like the grain market will take time to get well.
I as a trader, when I look at where prices are now, I do not look at it as being cheap, but rather a good price compared to prices in the last 10 years. People are making a big mistake if they continue to compare prices to 2012, and the years that followed.
It seems to me that over the decades I have not seen too much change in the hedge services offered. They are more worried about the next service hedging for more money, than what happens to your income if it goes down instead. It looks like they are trading services willing to gamble (with your money) instead of actually taking risk off the table, and one example is they always seem to want you to buy "your grain" back after hedging it at a lower price. I would never recommend that, and the "want" of getting long again is already taken care of with the strategy you use (a call spread sold) which enables you to be long where you're long call strike is, if the price gets above there. You decided the upside you wanted when you hedged, and that was reflective in the strikes you selected. The power of control you have on your option hedge, allows you to buy back some or all of your upside in time, when it is cheap to do so. If instead the market keeps rallying, then you need that call spread that will then act as a put spread, and then have unlimited upside until the new call spread you decide to sell above the market. Improving your hedge depends on what the market does, and you take advantage cheaply AFTER the market has moved significantly, instead of betting a significant amount of money BEFORE the market moves.
One way or another, what is out there makes you dependant on what they provide, instead of what can actually help you hedge without needing anyone, or need for fundamental or weather analysis. Every year I tell you weather is a fool's game, you have seen that for yourself in the US with the too dry or recently too wet, and as I warned all along, it would be the same story in SA which looks like another record crop. Imagine if there was not too much rain, what if it was ideal, what would they have produced? I am glad that I do not pay attention to that crap, because as you know for you and I it all comes down to price. "How high is high, and how low is low", and what am I risking if wrong to get the reward if right.
I have done well this year playing the short side in soybeans this year, but as I have said, I am not pressing the short side here, but have no problem day trading the short side until it corrects its oversold condition. It now is in a small sideways bracket line range of $.25. I do not look for too much movement this week.
Sellers came out in corn on the rally to resistances, so the closer we get to those highs the more of a sell it is. $3.55 is support now, and if that goes that will become resistance and the contract low will be support.
Wheat is in a holding pattern for now.
It makes sense to me since the funds are committed to the short side in corn and wheat, to become sellers in soybeans too. If soybeans go down, it would pressure corn and wheat, and while in the short term they would be making money driving the soybeans lower, it would also be driving the price lower on corn and wheat profiting them greatly.
I greatly reduced my short crude oil position when it approached the uptrend line support, sold some on the way up, and on Friday sold more when at $54.00. Now I have half the position I had on the way down. (Chart below) This should help in your energy input plans.
Bottom line, "You do not know what the market will do, but you should always know what you are doing and why".
After the first 3 months of trade, I am up about 2% ($6,000) for the year now. Half was made in soybeans, half was made in crude oil. Margin in 2017 was never more than $15,000, mostly under $10,000 or 3% use of total equity.
Want to know what I think for tomorrow and going forward?

The markets covered daily are 2017 & 2018 Soybeans and Corn.

My numbers are sent before the night session begins. (via your email)
Find out why my subscribers keep renewing this service for years.

Howard Tyllas Daily Numbers and Hedge Ideas is designed to help you plan your hedging strategies, and speculators for day or longer term trading.
Howard Tyllas Daily Numbers and Hedge Ideas $279.00 monthly

Put yourself in a position to make money, use the daily numbers service!
Email:[email protected]

http://www.futuresflight.com/
Tel.1-312-823-9189,1-702-405-7245