Published on:
16:23PM Apr 11, 2017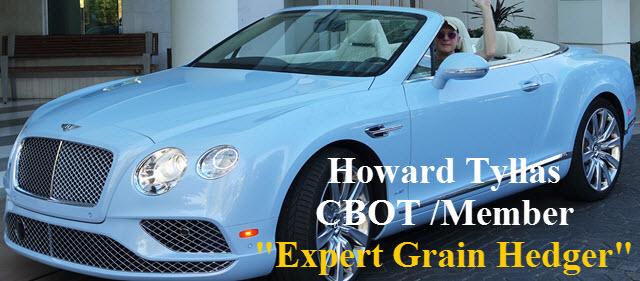 Howard Tyllas Daily Numbers and Hedge Ideas 1 week trial offer for $50
Attention Corn & Soybean Producers:
One week trial offer for $50 on learning about the best way to hedge. In my opinion my strategy is the best I have seen since I became a member in 1976 trading corn and soybeans for my own account.

Are you tired of listening to the same BULL ****, and services that do not have a plan if the market goes down instead? Hedge means to take risk off the table, and my service has all producers 100% hedged and they do have most of the upside unhedged (if we can rally for whatever reason). Hedge with a Pro and option expert who has been trading grains for 40 years.
WHEAT: U.S. wheat ending stocks for 2016/17 are raised 30 million bushels on lower feed and residual use which more than offsets a slight import reduction. At 1,159 million bushels, ending stocks are projected to reach a near 30-year high. Feed and residual use is lowered 35 million bushels to 190 million which reflects lower-than-expected disappearance for the December-February and September-November quarters, as indicated by March 1 and revised December 1 stocks from the March 31 Grain Stocks report. The import change is based on the pace to date with reductions for soft red winter and durum.
Global 2016/17 wheat supplies are raised 1.7 million tons due to higher projected beginning stocks and a 0.3-million-ton increase in production. The change to beginning stocks stems from a 1.4-million-ton reduction in 2015/16 domestic consumption, primarily in the EU. World exports are lowered 0.3 million tons led by 0.5-million-ton decreases each for Australia, Canada, Kazakhstan, and Russia. Partly offsetting are higher projected exports for the EU and Ukraine. Total global consumption for 2016/17 is lowered 0.6 million tons to 740.8 million with a 1.0-million-ton decrease in the United States, more than offsetting a small net increase for foreign countries. With supplies rising and use declining, global ending stocks are raised 2.3 million tons to 252.3 million.
COARSE GRAINS: This month's 2016/17 U.S. corn outlook is for increased corn used to produce ethanol, reduced feed and residual use and unchanged ending stocks. Corn used to produce ethanol is raised 50 million bushels to 5,450 million based on the most recent data from the Grain Crushings and Co-Products Production report which estimated the amount of corn used to produce ethanol to be record high during December-February. The pace of weekly ethanol production during March as indicated by Energy Information Administration data has also been above expectations. Offsetting is a 50 million bushel reduction in projected feed and residual use to 5,500 million bushels based on disappearance indicated during the first half of the marketing year in the March 31 Grain Stocks. With offsetting usage changes, ending stocks are unchanged from last month. The season-average corn price received by producers is unchanged at the midpoint with the range narrowed to $3.25 to $3.55 per bushel.
Global coarse grain production for 2016/17 is forecast 4.4 million tons higher from last month to 1,346.1 million. This month's foreign coarse grain outlook is for increased production, consumption, trade, and stocks relative to last month. Brazil corn production is raised primarily on larger projected second crop area. The latest government data indicate a higher-than-expected expansion of area in both the Center-West and North. Argentina corn production is increased on the latest harvest results indicating better-than-expected yields. Other major corn production changes include increases for Mexico, Indonesia, Pakistan and South Africa, with reductions for Paraguay, Ecuador and Russia.
Major global trade changes for 2016/17 this month include higher projected corn exports for Brazil and Argentina, with increased competition from these countries expected to impact the 2017/18 marketing year in the United States. Corn imports are raised for Mexico, with mostly offsetting reductions for Indonesia, Venezuela, Philippines, and Colombia. Foreign corn ending stocks are raised from last month, with the biggest increases for Mexico, Brazil, Indonesia, and Argentina.
RICE: U.S. rice ending stocks for 2016/17 are lowered 3.0 million cwt on increased exports; at 49.1 million cwt, these would still be the largest all rice ending stocks since 1986/87. The 3.0-million-cwt export increase is all rough rice, which is record large at 46.0 million cwt, but split with 2.0 million for long-grain and 1.0 million for medium- and short-grain.
Global 2016/17 rice supplies are raised 0.8 million tons on increased production. The primary increase is 0.6 million tons for Indonesia on favorable weather. The Pakistan crop is raised 0.2 million tons, while Burma production is lowered 0.1 million tons. Global consumption is raised 0.4 million tons led by a 0.3-million-ton increase for Indonesia reflecting the larger crop. Global imports are adjusted lower with cuts to Indonesia and Saudi Arabia. Exports are lowered slightly with reductions for Egypt and Pakistan offsetting the increase for the United States. With supplies rising faster than total use, global ending stocks are increased 0.4 million tons to 118.1 million, the largest since 2001/02.
OILSEEDS: U.S. soybean supply and use changes for 2016/17 include higher seed use, reduced residual disappearance, and higher ending stocks. Seed use is raised in line with the record plantings indicated in the March 31 Prospective Plantings report, and residual use is reduced based on indications from the March 31 Grain Stocks report. With exports and crush unchanged, soybean ending stocks are projected at 445 million bushels, up 10 million from last month. Soybean meal balance sheet changes include increased exports and lower domestic use. Soybean oil changes include reduced food, feed, and other industrial use, as well as, increased ending stocks.
Projected prices for soybeans and products are reduced this month. The season-average soybean price is lowered 5 cents at the midpoint to $9.55 per bushel based on marketings to date and lower expected prices for the second half of the marketing year. Soybean oil prices are projected at 31 to 33 cents per pound, down 1.5 cents at the midpoint. Soybean meal prices are projected at $310 to $330 per short ton, down $5.00 at the midpoint.
The 2016/17 global oilseed supply and demand forecasts show higher production, exports, crush, and ending stocks compared to last month. Global oilseed production is raised 5.4 million tons to 563.4 million mainly on a combined 5.0-million-ton increase in soybean production for Brazil, Paraguay, Uruguay, and Argentina. As a result, forecasted global soybean exports are increased 2.2 million tons to 143.3 million. Corresponding to higher exports, soybean imports are raised for China and the EU. Higher soybean production has also led to a 0.4-million-ton increase in global forecasted crush and a 4.6-million-ton increase in soybean stocks. Global soybean stocks are projected at a record 87.4 million tons, 10.3 million above a year earlier. Soybean meal production is raised 0.3 million tons aligned with higher projected crush, but with lower domestic use and import demand, soybean meal stocks are increased 0.9 million tons.
SUGAR: U.S. fiscal year 2016/17 beet sugar production is decreased 110,000 short tons, raw value (STRV) to 4.996 million. Sucrose recovery from sugarbeet slicing, reported by processors in the Sweetener Market Data (SMD) report for the period covering August 2016 and February 2017 of this year's sugarbeet harvest cycle, imply a final crop year recovery projection from slicing at 13.8 percent, slightly below last month's 13.9 percent. In addition, the projected slicing of sugarbeets stored in piles is reduced on the basis of a 20 percent increase in shrink, or the percentage loss of piled beets estimated by beet processors. The new shrink factor is 7.0 percent, up from last month's 5.8 percent. Sugarcane production for 2016/17 is reduced by 24,871 STRV mainly on the basis of reduced sucrose recovery expected by processors in Florida and Texas. Re-export imports for 2016/17 are increased by 150,000 STRV to 375,000, based on a survey of license holders' intentions. Sugar exports are expected to increase 50,000 STRV to 125,000. Ending stocks for 2016/17 are projected at 1.642 million STRV, implying a stocks-to-use ratio of 13.3 percent.
Mexico sugar production for 2016/17 is decreased 184,677 metric tons (MT) to 6.186 million in agreement with the new estimate made by the Comit Nacional Para El Desarrollo Sustentable de la Caa de Azcar (CONADESUCA) in Mexico. Deliveries for human consumption are likewise increased by 72,627 MT to 4.461 million and imports for consumption are increased by 15,000 MT to 25,000. These changes reflect adjustments based on observed production, deliveries, and imports made through the end of February. The ending stock forecast for 2016/17 is increased by 15,391 at 1.293 million MT, an amount projected by USDA to meet sugar supply requirements of domestic consumption and exports to the U.S. market for the first three months of the following marketing year. Although exports to the United States for 2016/17 are unchanged at 994,502 MT, total exports are reduced by 257,435 as residually determined shipments to third-countries are lowered.
LIVESTOCK, POULTRY, AND DAIRY: The 2017 forecast of total red meat and poultry production is raised from last month as higher beef and turkey production more than offset modest reductions in pork production. Beef production is forecast higher on the current pace of slaughter and heavier-than-expected cattle weights in the first half of the year. The pork production forecast is lowered slightly with second and third-quarter production reduced but almost offset by higher fourth-quarter production. The March Quarterly Hogs and Pigs report indicated that industry expansion is still underway although producers intend to slow farrowings this summer. Turkey production is forecast higher on recent hatchery data. The egg production forecast is reduced slightly on lower hatching egg production. The broiler production forecast is unchanged.
The beef import forecast for 2017 is raised as higher expected beef supplies from Oceania in the latter half of the year outweigh declines in the first half. No changes are made to beef exports. The first quarter turkey export forecast is reduced slightly from last month. The egg export forecast is reduced slightly on the pace of first-quarter trade. Pork and broiler trade forecasts for 2017 are unchanged.
The cattle and hog price estimates for the first quarter reflect March price data, but the forecasts for the outlying quarters are unchanged. Broiler price forecasts are raised as current prices remain strong. Turkey and egg prices are adjusted to reflect March data; forecasts for the outlying quarters are unchanged.
The milk production forecast for 2017 is lowered as reductions in milk per cow offset increases in milk cow numbers. Fat basis imports are reduced on weaker imports of cheese and butterfat products, but imports of milk protein products support a higher skim-solids basis import forecast. Fat basis exports are lowered on weaker sales of whole milk powder (WMP), but skim-solids basis exports are raised as weaker WMP is more than offset by higher sales of a number of skim-based products. Ending stock forecasts are raised on both a fat and skim-solids basis, reflecting current large supplies and lower expected domestic use.
Dairy products price forecasts for cheese, butter, nonfat dry milk, and whey are lowered as both domestic and international supplies are large. As a result both Class III and Class IV price forecasts are reduced from last month. The all milk price for 2017 is lowered to $17.40-$17.90 per cwt.
COTTON: The 2016/17 U.S. cotton supply and demand forecasts show higher exports and lower ending stocks relative to last month. Production and domestic mill use are unchanged. The export forecast is raised 800,000 bales to 14.0 million, based on strong export sales during March. This would be the fourth-largest volume ever for U.S. exports, accounting for nearly 40 percent of world trade. Ending stocks are now forecast at 3.7 million bales, equivalent to 21 percent of total disappearance. The marketing year price received by producers is projected to average between 67 and 69 cents per pound, a reduction of 1 cent at the upper end of the range.
The 2016/17 world cotton forecasts include higher production and ending stocks. Higher production estimates for China and Brazil are only partly offset by a slightly smaller crop in Australia. Lower expected exports for India, Australia, and Uzbekistan largely offset increases for the United States, Brazil, and Greece. World ending stocks are now projected at 90.9 million bales, about 400,000 bales higher than forecast a month earlier.
Want to know what I think for tomorrow and going forward?

The markets covered daily are 2017 & 2018 Soybeans and Corn.

My numbers are sent before the night session begins. (via your email)
Find out why my subscribers keep renewing this service for years.

Howard Tyllas Daily Numbers and Hedge Ideas is designed to help you plan your hedging strategies, and speculators for day or longer term trading.
Howard Tyllas Daily Numbers and Hedge Ideas $279.00 monthly
Howard Tyllas
Put yourself in a position to make money, use the daily numbers service!
Email:[email protected]

http://www.futuresflight.com/
Tel.1-312-823-9189,1-702-405-7245