Published on:
17:19PM May 10, 2017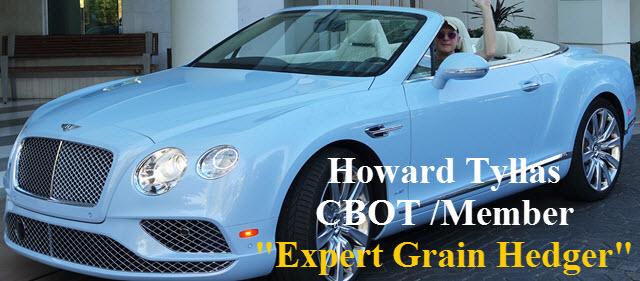 Howard Tyllas Daily Numbers and Hedge Ideas 1 week trial offer for $50
Attention Corn & Soybean Producers:
One week trial offer for $50 on learning about the best way to hedge. In my opinion my strategy is the best I have seen since I became a member in 1976 trading corn and soybeans for my own account.

Are you tired of listening to the same BULL ****, and services that do not have a plan if the market goes down instead? Hedge means to take risk off the table, and my service has all producers 100% hedged and they do have most of the upside unhedged (if we can rally for whatever reason). Hedge with a Pro and option expert who has been trading grains for 40 years.
WHEAT: U.S. wheat supplies for 2017/18 are projected down 9 percent from 2016/17 on lower production, which is partially offset by higher beginning stocks. All wheat production for 2017/18 is projected at 1,820 million bushels, down nearly 500 million bushels from the prior year. The year-to-year decline is due to a sharp reduction in planted area and projected lower yields. The all wheat yield is projected at 47.2 bushels per acre, down 10 percent from last year's record. The first survey-based forecast for 2017/18 winter wheat production is down sharply with the lowest harvested area in more than a century and lower yields. Winter wheat benefited from diminishing drought conditions in the Plains and Midwest. However, a late April snow storm affected large portions of the Hard Red Winter wheat belt, especially western Kansas. Combined spring wheat and Durum production for 2017/18 is projected to decline 10 percent on lower area and a return to trend yields.
Total use for 2017/18 is projected down 2 percent on lower exports and feed and residual use. Exports are projected at 1.0 billion bushels, down 35 million from the previous year's revised level but above the five-year average. The EU is expected to regain export market share following last year's small crop and quality problems. U.S. feed and residual use is projected down 20 million bushels on lower supplies. U.S. ending stocks are projected to decline 245 million bushels to 914 million, the lowest in three years. The season-average farm price is projected at $3.85 to $4.65 per bushel. The mid-point of this range is up $0.35 from the previous year's low level.
Global wheat supplies are projected to decline fractionally as higher beginning stocks are more than offset by a production decline following last year's record. Total wheat production is projected at 737.8 million tons, the second highest total on record. Global wheat consumption is projected down slightly from last year's record with reduced feed and residual usage partially offset by increased food use. Global imports are expected to be a record for the fifth consecutive year. Global ending stocks are projected at a record 258.3 million tons, up 2.9 million from 2016/17.
COARSE GRAINS: The U.S. feed-grain outlook for 2017/18 is for lower production, domestic use, exports and ending stocks. The corn crop is projected at 14.1 billion bushels, down from last year's record high with a lower forecast area and yield. The yield projection of 170.7 bushels per acre is based on a weather-adjusted trend assuming normal planting progress and summer weather, estimated using the 1988-2016 time period. The yield model includes a downward stochastic adjustment to account for the asymmetric response of yield to July precipitation. The smaller corn crop is partly offset by the largest projected beginning stocks since 1988/89, leaving total corn supplies down from a year ago but still the second highest on record.
Total U.S. corn use in 2017/18 is forecast to decline 2 percent from a year ago as a slight increase in domestic use is more than offset by lower exports. Food, seed, and industrial (FSI) use is projected to rise 80 million bushels to 7.0 billion due to increased use of corn to produce ethanol for fuel and expected growth in non-ethanol FSI. Corn used to produce ethanol is up 50 million bushels, reflecting expectations of gasoline consumption growth, reduced sorghum used to produce ethanol, higher expected blending and continued global ethanol import demand. Projected feed and residual use declines as a smaller crop and increased use of ethanol by-products more than offsets growth in grain consuming animal units. U.S. corn exports are down 350 million bushels, as a 1.0-billion-bushel year-over-year increase in the combined corn exports of Brazil and Argentina during 2016/17 (local marketing years beginning in March 2017 and ending February 2018) is expected to cut into the 2017/18 U.S. shipping season. With total supply falling faster than use, 2017/18 U.S. ending stocks of corn are down 185 million bushels. The season-average farm price is projected at $3.00 to $3.80 per bushel, unchanged at the midpoint from 2016/17.
The global coarse grain outlook for 2017/18 is for lower production, increased use and sharply reduced ending stocks. Corn production is forecast down from a year ago, with the largest declines in China and the United States. Partly offsetting are larger crops projected for the EU and Canada. Global corn use is up 9 million tons (1 percent), while global corn imports are projected to increase 7 million tons. Notable increases in corn imports include Vietnam, Egypt, the EU, Saudi Arabia, Mexico and Iran. Global corn ending stocks are down from last year's record high and if realized would be the lowest since 2013/14. The drop largely reflects forecast declines for China and the United States.
For China, total corn supply is down 14 million tons in 2017/18, based on projected declines in beginning stocks and production. Area is reduced based on planting intentions published by the National Bureau of Statistics. On the demand side, feed and residual use is expected to increase based on continued relatively low internal market prices, efforts by the government to promote use of domestic supplies and reduced imports of corn substitutes. Projected FSI use is higher based on expectations of growth in domestic use and exports of corn-based industrial products.
RICE: U.S. 2017/18 all rice production is forecast at 201.0 million cwt, down 23.1 million from the previous year, all on a large reduction in long grain acreage as indicated by the NASS Prospective Plantings survey issued March 31. The forecast 2017/18 yields are based on long-term historical trends and are higher for long grain but slightly lower for combined medium- and short-grain. Total 2017/18 rice supplies are forecast to decrease 7 percent from the previous year to 273.1 million cwt, primarily on the reduction in long grain.
U.S. 2017/18 total use is projected at 235.0 million cwt, down 4 percent from last year with both domestic and residual use and exports projected lower. Long-grain exports are projected at 76.0 million cwt, down 3.0 million from 2016/17 on reduced exportable supplies. Combined medium- and short-grain exports are projected at 34.0 million cwt, down 1 million on increased export competition from Australia and Egypt. All rice 2017/18 ending stocks are projected at 38.1 million cwt, down 21 percent from last year. Long-grain stocks are projected at 20.7 million cwt, down 8 million from 2016/17, while combined medium- and short-grain are projected 2 million cwt lower at 14.6 million. The 2017/18 all rice season-average farm price is projected at $10.70 to $11.70/cwt, up $0.80 from the previous year's revised midpoint.
Total 2017/18 global supplies are at 599.9 million tons, up 2.6 million from 2016/17, based on larger carry-in stocks. World 2017/18 rice production is projected at 481.3 million tons, down fractionally from last year's record output. Total world rice consumption is projected at a record 480.1 million tons, up from the revised 2016/17 level of 478.7 million. Global exports are projected at 42.2 million tons, up 0.8 million from 2016/17. Thailand and India are expected to be the leading rice exporters for 2017/18, both at 10.0 million tons. World 2017/18 ending stocks are projected at 119.8 million tons, up marginally from 2016/17. China continues to hold the majority of global rice stocks as its growing production and large imports continue to outpace consumption.
OILSEEDS: The 2017/18 outlook for U.S. soybeans is for higher supplies, crush, exports, and ending stocks. The soybean crop is projected at 4,255 million bushels, down 52 million from last year's record crop with a forecast lower trend yield more than offsetting higher harvested area. With sharply higher beginning stocks, soybean supplies are projected at 4,715 million bushels, up 4 percent from 2016/17.
The U.S. soybean crush for 2017/18 is projected at 1,950 million bushels, up 25 million from the revised 2016/17 forecast. Domestic soybean meal disappearance is forecast to increase with expected gains in U.S. meat production. U.S. soybean meal exports are forecast at 12.4 million short tons, leaving the U.S share of global trade slightly lower than in 2016/17. With increased supplies and lower projected prices, U.S. soybean exports are forecast at 2,150 million bushels, up 100 million from the revised 2016/17 projection. Despite sharply higher beginning stocks in South America this fall, a smaller projected harvest in early 2018 leaves 2017/18 total supplies almost unchanged from 2016/17, limiting projected gains for South American soybean exports. With forecast global soybean import growth of 5 percent, the U.S. soybean export share is projected at 39 percent, up slightly from 2016/17 and near the 5-year average. U.S. ending stocks for 2017/18 are projected at 480 million bushels, up 45 million from the revised 2016/17 forecast. The 2017/18 U.S. season-average soybean price range is forecast at $8.30 to $10.30 per bushel compared with $9.55 per bushel in 2016/17. Soybean meal prices are forecast at $295 to $335 per short ton, compared with $320 per ton for 2016/17. Soybean oil prices are forecast at 30.0 to 34.0 cents per pound compared with 31.75 cents for 2016/17.
The 2017/18 global oilseed supply and demand forecasts include higher production, crush, and exports compared to last year. Global oilseed production is projected at 572.1 million tons, up 6.0 million from 2016/17. Growth in rapeseed, cottonseed, peanut, sunflowerseed, copra, and palm kernel is partly offset by lower soybean production. Soybean production is projected down 3.4 million tons to 344.7 million mainly on declines from last year's records for the United States, Brazil, and Paraguay as yields return to trend levels. Conversely, soybean production is forecast up for Canada, China, Bolivia, and Ukraine. Rapeseed production is projected to increase 6 percent to 72.8 million with increases for Canada, the EU, Ukraine, and India.
Global oilseed crush is forecast to increase 17 million tons to 486.0 million in 2017/18 driven by higher demand for protein meals and oils. Global protein meal consumption is projected to expand 4 percent in 2017/18. China's soybean meal equivalent consumption is expected to grow at 5 percent, similar to last year but below the prior 5-year average. Global vegetable oil consumption is projected at 189.0 million tons, up 5.4 million led by increases for India and China. Soy oil production gains are expected for China and palm oil production gains for Indonesia and Malaysia.
Global soybean exports are projected at 149.6 million tons, up 5.0 million from 2016/17. Imports are expected to grow for China, Egypt, Vietnam, and the EU. Lower global production has led to a 1.3-million-ton decrease in soybean stocks, particularly in Brazil and Argentina where stocks are expected to decline by 2.6 million tons combined. Partially offsetting are higher stocks in the United States and Canada.
SUGAR: U.S. fiscal year 2016/17 beet sugar production is decreased 64,000 short tons, raw value (STRV) based on lower expected sucrose recovery. Cane sugar production in Texas is reduced by 2,795 STRV based on final processor reporting. TRQ imports entering under Free Trade Agreements are increased by 2,555 STRV. Deliveries for human consumption are increased by 100,000 STRV based on pace to date. Ending stocks for 2016/17 are estimated at 1.477 million STRV.
Sugar production for 2017/18 is projected at 8.700 million STRV, the sum of beet sugar production of 4.950 million and cane sugar production of 3.750 million. Imports for 2017/18 are projected at 3.858 million STRV and are comprised of TRQ imports of 1.373 million; re-export imports of 175,000; imports from Mexico of 2.301 million; and high-tier tariff imports of 10,000. Projected 2017/18 TRQ imports of specialty sugar include only the WTO minimum quantity because any additional quantities have not been announced by the Secretary of Agriculture. Exports for 2017/18 are projected at 25,000 STRV. Deliveries for human consumption are expected to increase 1.0 percent year-over-year to 12.322 million STRV. Ending stocks for 2017/18 are projected residually at 1.534 million, implying an ending stocks-to-use ratio of 12.3 percent.
For 2016/17, Mexico sugar exports to non-U.S. destinations are reduced by 58,919 metric tons (MT) to 110,000 based on pace to date. Product re-export deliveries under the IMMEX program are increased 60,000 MT to 390,000 to match the total now estimated by Mexico authorities for 2015/16. Ending stocks are estimated residually at 1.342 million MT, an increase of 48,919 over last month. For 2017/18, Mexico sugar production is projected at 6.225 million MT based on a sugarcane crop of 55.000 million and a recovery of about 11.3 percent. Combined per capita consumption of sugar and HFCS for 2017/18 is projected the same as for 2016/17. With flat HFCS consumption, sugar deliveries for human consumption for 2017/18 are projected at 4.528 million. Exports to the United States are based on U.S. Needs as defined in the Suspension Agreements but, assuming additionally, that U.S. specialty sugar imports will be set at the same level as initially established for 2016/17.
LIVESTOCK, POULTRY, AND DAIRY: Total red meat and poultry production for 2018 is projected higher than 2017 on increased livestock and poultry production. Cattle placements during second half 2017 and early 2018 are forecast higher; these cattle will be slaughtered during 2018, supporting higher beef production. Carcass weights are expected to be higher. Pork production is forecast higher on expected increased farrowings and continued gains in sow productivity. Higher broiler and egg production reflects expanded production in response to moderate feed prices and relatively strong 2017 prices. Turkey production is forecast higher as demand strengthens.
Total red meat and poultry production for 2017 is reduced from the previous month on lower beef, pork and broiler production. Beef and pork production is reduced on lighter expected cattle and hog carcass weights. Broiler production is lowered on lower forecast second-quarter production. Turkey production is raised on higher first-quarter slaughter data. The 2017 egg production forecast is reduced on lower first-quarter table egg production and lower expected hatching production for the remainder of the year.
For 2018, larger beef supplies and lower prices are expected to support stronger U.S. beef exports. Beef imports are forecast higher as supplies of domestic processing-grade beef remain relatively tight and supplies of beef increase in key exporting countries. Pork exports are forecast to increase as expanding supplies and competitive prices support demand for U.S. pork. U.S. pork imports are forecast to decline as domestic supplies are expected to pressure prices. Broiler and turkey exports are forecast higher on expected continued gains in foreign demand.
The 2017 beef and pork export forecasts are raised as demand is expected to remain strong. The beef import forecast is raised on recent trade data for the first quarter, but pork imports are reduced. Changes to the 2017 poultry and egg trade forecast reflect first-quarter trade data.
Cattle and hog prices for 2018 are forecast to decline relative to 2017 as both cattle and hog supplies are expected to increase. Turkey and egg prices are forecast to increase in 2018 on increased demand. The 2018 broiler price is forecast lower, as production increases and supplies of competing meats are higher.
The 2017 cattle and hog price forecasts are raised on recent price strength and expectations that demand will remain relatively firm through the year. The broiler price forecast is increased as second quarter prices are raised due to recent price strength. Turkey and egg prices are forecast lower for the remainder of the year as relatively large supplies pressure prices.
Milk production for 2018 is forecast higher on stronger milk prices and moderate feed prices. Commercial exports on fat and skim-solids bases are forecast higher on stronger global demand. Fat basis imports are forecast modestly higher in 2018 while skim-solids basis imports are forecast lower relative to 2017. Cheese and non-fat dry milk prices are forecast higher than 2017, but butter and whey prices are forecast lower. The increase in the Class III price reflects higher forecast cheese prices which more than offset lower whey prices. The Class IV price is higher as the higher non-fat dry milk price more than offset lower butter prices. The all milk price is forecast at $17.55 to $18.55 per cwt for 2018.
Forecast milk production in 2017 is lowered from the previous month on slower growth in milk per cow. Fat basis imports are lowered from the previous month while skim-solids basis imports are increased. Commercial exports are forecast higher for both fat and skim-solids bases. Non-fat dry milk price forecasts are raised from last month while butter is lower. Cheese and whey prices are unchanged. The Class III price is unchanged while the Class IV is higher than the previous month. The milk price is forecast at $17.35 to $17.85 per cwt.
NOTE: U.S. dairy import, export, and stock estimates are adjusted to reflect changes in fat basis and skim-solids basis conversions and changes in the products used for the aggregate stocks estimates. Historical revisions will be available after 1:00pm EDT at https://www.usda.gov/oce/commodity/wasde/historical.htm. Documentation of the changes is available at https://www.ers.usda.gov/data-products/dairy-data/documentation/
COTTON: A projected 2017/18 U.S. cotton crop of 19.2 million bales is expected to sharply increase next season's ending stocks. Production is anticipated to rise 12 percent from 2016/17, based on 12.2 million planted acres as indicated in Prospective Plantings, combined with below-average abandonment ( due to relatively favorable moisture ( and average yields. Domestic mill use is projected higher at 3.4 million bales, while exports are expected to fall to 14.0 million, as competitors' supplies grow. Ending stocks are projected at 5.0 million bales, or 29 percent of total use. The preliminary range for the marketing year average price received by producers is 54.0 to 74.0 cents per pound.
For 2016/17, U.S. cotton production is reduced marginally from last month. The export forecast is increased to 14.5 million bales, reflecting higher-than-anticipated export sales to date, with ending stocks lowered accordingly.
The world 2017/18 cotton projections show a decline in stocks of 2.4 million bales, as consumption exceeds production for the third consecutive season. Global production is expected to rise nearly 7 percent, despite marginally lower average yields, as area rebounds to its highest level in 3 years. Production is forecast to rise in all major producing countries, led by the United States (2.0 million bales higher) and India (1.5 million bales higher). Global consumption is projected to rise 2.3 percent, as a growing world economy drives mill use higher around the world. Projected world trade is raised slightly from 2016/17, as import-oriented consumers such as Vietnam and Bangladesh are accounting for a larger share of world consumption. Ending stocks are projected at 87.1 million bales, 75 percent of world consumption. Falling China stocks exceed the projected global decline while stocks outside of China rise for the second consecutive year. Despite the projected decrease, China stocks are still equivalent to more than 100 percent of China's total disappearance.
For 2016/17, world production is reduced marginally from last month, while consumption is raised slightly. Ending stocks lowered 1.4 million bales. Consumption and imports are slightly higher in China, and ending stocks are lower in India, the United States, and China.
Want to know what I think for tomorrow and going forward?

The markets covered daily are 2017 & 2018 Soybeans and Corn.

My numbers are sent before the night session begins. (via your email)
Find out why my subscribers keep renewing this service for years.

Howard Tyllas Daily Numbers and Hedge Ideas is designed to help you plan your hedging strategies, and speculators for day or longer term trading.
Howard Tyllas Daily Numbers and Hedge Ideas $279.00 monthly
Howard Tyllas
Put yourself in a position to make money, use the daily numbers service!
Email:[email protected]

http://www.futuresflight.com/
Tel.1-312-823-9189,1-702-405-7245