Published on:
16:44PM Aug 10, 2017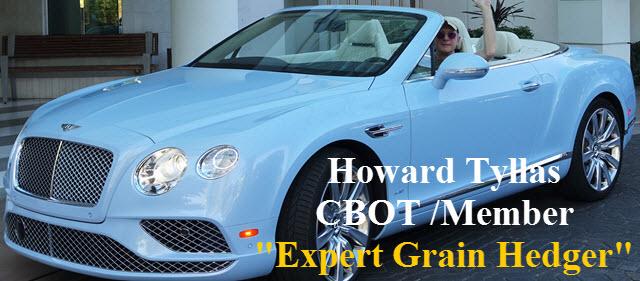 Howard Tyllas Daily Numbers and Hedge Ideas 1 week trial offer for $50
Attention Corn & Soybean Producers:
One week trial offer for $50 on learning about the best way to hedge. In myopinionmy strategy is the best I have seen since I became a member in 1976 trading corn and soybeans for my own account.

Are you tired of listening to the same BULL ****, and services that do not have a plan if the market goes down instead? Hedge means to take risk off the table, and my service has all producers 100% hedged and they do have most of the upside unhedged (if we can rally for whatever reason). Hedge with a Pro and option expert who has been trading grains for 40 years.
WHEAT: Projected 2017/18 U.S. wheat supplies are decreased this month on lower production, down 21 million bushels to 1,739 million. The August NASS production forecasts for durum and other spring wheat indicated a significant decline compared to last year, primarily due to continued severe drought conditions affecting the Northern Plains. Partially offsetting this decrease is higher winter wheat production, on increased yields, with most of the production increase for white wheat. Food use estimates for both 2016/17 and 2017/18 are reduced, based primarily on the August 1, NASS Flour Milling Products report. The other wheat usage categories for 2017/18 are unchanged this month. Projected 2017/18 ending stocks are decreased 5 million bushels to 933 million. The 2017/18 season-average farm price is unchanged at the midpoint of $4.80 per bushel and the projected range remains at $4.40 to $5.20.
Global 2017/18 wheat supplies increased significantly, primarily on an 8.6-million-ton production increase in the Former Soviet Union (FSU). Russian production is a record 77.5 million tons, surpassing last year's record by 5.0 million. Winter wheat yields are forecast higher for both Russia and Ukraine, based mainly on harvest results to date. Additionally, spring wheat conditions have remained very favorable for both Russia and Kazakhstan, resulting in higher production forecasts. Canadian wheat production is reduced 1.9 million tons to 26.5 million on the increasing intensification of drought conditions in major production areas of the Prairie Provinces. The increased FSU production more than offsets reduced production forecasts in Canada, EU, and U.S., raising 2017/18 global production by more than 5.0 million tons to 743.2 million.
Foreign 2017/18 trade is increased on higher exports for Russia, Ukraine, and Kazakhstan more than offsetting reductions in Canada and EU. Projected imports are raised for several countries, led by Indonesia and Nigeria. Total world consumption is projected higher, primarily on greater usage by Russia, Indonesia, and Nigeria. Projected global ending stocks are 4.1 million tons higher this month at 264.7 million, which is a new record.
COARSE GRAINS: This month's 2017/18 U.S. corn outlook is for lower supplies, reduced feed and residual use and exports, and a decline in ending stocks. Corn production is forecast at 14.2 billion bushels, down 102 million from the July projection. The season's first survey-based corn yield forecast, at 169.5 bushels per acre, is 1.2 bushels lower than last month's trend-based projection. This month's Crop Production report indicates that South Dakota, Iowa, Minnesota, and Illinois are forecast to have yields below a year ago. The projected yield for Indiana is unchanged relative to last year, while Nebraska and Ohio are forecast higher. Sorghum production is forecast 13 million bushels higher with the forecast yield 2.6 bushels per acre above last month's projection.
Projected feed and residual use for 2017/18 is lowered 25 million bushels on a smaller crop. Exports are forecast down 25 million bushels, reflecting the increased competitiveness of supplies in Argentina and Brazil and the low level of new-crop outstanding sales. With supplies falling faster than use, ending stocks are reduced 52 million bushels. The projected range for the season-average corn price received by producers is unchanged at $2.90 to $3.70 per bushel.
This month's 2017/18 foreign coarse grain outlook is for virtually unchanged production, lower trade, and greater stocks relative to last month. EU corn and barley production are reduced. Canada corn production is down on lower projected harvested area. Corn and barley production forecasts are raised for Russia based on higher corn area and favorable growing conditions for barley. Ukraine corn production is unchanged as a reduction in projected yield is offset by increased area. For 2016/17, corn production is increased for Brazil based on second crop corn harvest results to date.
Major global corn grain trade changes for 2017/18 include corn export reductions for the EU, Serbia, and Canada. More than offsetting are increases for Ukraine and Russia. Brazil's corn exports are raised for 2016/17 based on record-high shipments observed for the local marketing year beginning in March 2017. Corn imports for 2017/18 are raised, mostly reflecting increases for the EU and Iran. Foreign corn ending stocks are raised from last month. Historical revisions are made to corn stock estimates for Ukraine to better reflect statistics published by the government.
RICE: Total U.S. rice supplies are lowered 5.0 million cwt from last month due to a smaller crop and a slight reduction in beginning stocks. The 2017/18 U.S. rice production forecast is lowered 4.8 million cwt to 186.5 million based on the first survey-based yield forecast of the 2017/18 season. Long-grain production is lowered nearly 4.0 million cwt and combined medium- and short-grain production is down almost 0.9 million cwt. This is the smallest all rice crop since 2011/12. At 7,513 pounds per acre, the 2017/18 yield is down 194 pounds from the previous projection. Partly offsetting the reduction in supplies is a 2.5 million cwt reduction in domestic and residual use. All rice ending stocks are lowered 2.5 million cwt to 30.0 million, the lowest in a decade. The 2017/18 all rice season-average farm price is raised $0.40 per cwt at the midpoint to a range of $12.20 to $13.20. Prices for all rice classes are raised this month.
The 2017/18 global supplies are lowered fractionally with decreased production more than offsetting higher beginning stocks. This remains the second largest global crop on record. Foreign production is lowered 0.9 million tons on reductions for Bangladesh and Sri Lanka. Global consumption for 2017/18 is lowered 0.6 million tons with the largest reduction for Bangladesh. Global exports are raised 0.5 million tons primarily on India. The 2017/18 global ending stocks are raised 0.4 million tons to 122.9 million.
OILSEEDS: U.S. oilseed production for 2017/18 is projected at 130.9 million tons, up 3.9 million from last month mainly due to higher soybean production. Soybean production is forecast at 4,381 million bushels, up 121 million on higher yields. Harvested area is forecast at 88.7 million acres, unchanged from July. The first survey-based soybean yield forecast of 49.4 bushels per acre is 1.4 bushels above last month but 2.7 below last year's record. With higher production and lower beginning stocks, soybean supplies for 2017/18 are projected at 4,777 million bushels, up 2 percent from last month. U.S. soybean exports are raised 75 million bushels to 2,225 million on increased supplies and lower prices. Crush is reduced on lower global soybean meal import demand. Soybean ending stocks are projected at 475 million bushels, up 15 million from last month.
The U.S. season-average soybean price for 2017/18 is forecast at $8.45 to $10.15 per bushel, down 10 cents at the midpoint. The soybean meal price forecast of $295 to $335 per short ton is down $5.00 at the midpoint. The soybean oil price is forecast at 31 to 35 cents per pound, up 1 cent on both ends of the range.
U.S. changes for 2016/17 include higher exports, lower crush, and lower ending stocks. Soybean exports are raised 50 million bushels to 2,150 million on outstanding export sales and shipments through July. With lower crush only partly offsetting higher exports, ending stocks are projected at 370 million bushels, down 40 million from last month.
Global oilseed production for 2017/18 is projected at 576.7 million tons, up 2.8 million, mainly on a 2.3-million-ton increase for soybean production. The higher U.S. forecast was partly offset with a 1.5-million-ton reduction for India based on the latest government planting data indicating lower harvested area. Soybean and canola production is projected down for Canada, where hot and dry weather conditions in the Canadian Prairies lowered yield prospects for both crops, and excessive rainfall in eastern Canada led to a lower soybean harvested area estimate. Other changes include increased sunflowerseed production for Russia, increased rapeseed production for the EU, and lower peanut production for India.
Global soybean exports for 2017/18 are up 1.5 million tons as higher U.S. exports are partly offset by lower Argentina shipments. Beginning stocks for 2017/18 are raised based on lower crush and exports for Argentina for 2016/17. Coupled with higher production, 2017/18 soybean ending stocks are increased 4.3 million tons to 97.8 million.
SUGAR: U.S. beet sugar production for the 2017/18 August-July crop year is increased by 89,500 short tons, raw value (STRV) to 5.131 million based on area and sugarbeet yield forecasts made by NASS in Crop Production report. Early-season production occurring in August and September is projected to constitute 10.7 percent of the total. Revised fiscal 2016/17 production of 4.998 million STRV incorporates the updated early season production. The projection for fiscal 2017/18 is 5.068 million STRV, up 80,000 from last month. Although NASS forecasts reduced area harvested for both Florida and Louisiana sugarcane, forecast yields in both states are up strongly over last year. Florida cane sugar production for 2017/18 is increased by 126,000 STRV to 2.126 million and Louisiana is increased by 26,000 STRV to 1.626 million.
USDA increased the 2016/17 raw sugar tariff-rate quota (TRQ) by 269,724 STRV and extended the time under which the sugar can enter by an additional month to October 31, in the 2017/18 fiscal year. The Office of the U.S. Trade Representative allocated this amount and reallocated existing, but yet unshipped, raw sugar TRQ among supplying countries. It is estimated that an additional 148,470 STRV of TRQ raw sugar will enter in 2016/17 and 161,499 STRV in 2017/18. Sugar imported from Mexico is projected to increase by 103,932 STRV in 2016/17 after the Commerce Department increased the 2016/17 Export Limit but is reduced by nearly that same amount in 2017/18 due to lower beginning stocks in Mexico. Re-export imports of 25,000 STRV previously estimated to enter in 2016/17 are now projected to enter in 2017/18. High-tier tariff imports for 2016/17 are reduced to 10,000 STRV, based on the pace to date.
Mexico 2016/17 sugar imports and deliveries for consumption are up fractionally based on the pace to date. Deliveries in 2017/18 are increased marginally to keep sweetener consumption per capita the same as in 2016/17. Exports to the United States in 2016/17 are increased by 88,949 MT to match the Export Limit increase made by the Commerce Department. These adjustments for 2016/17 imply a reduction in ending stocks of 86,577 MT. Exports to the United States for 2017/18 are residually projected at 1.466 million MT, an amount 94,091 lower than projected last month.
LIVESTOCK, POULTRY, AND DAIRY: The forecast for total meat production in 2017 is raised from last month, as increases in commercial beef and broiler production more than offset declines in pork and turkey production. The increase in beef production reflects relatively large cattle placements in the second quarter which will likely impact fourth quarter cattle slaughter. Second quarter broiler production is raised slightly based on June production data, but no change is made to the outlying quarters. Pork production is reduced on lower expected slaughter in the third quarter. Forecast turkey production is reduced on a slower-than-expected recovery in demand and relatively poor returns to producers. Egg production is increased modestly on recent hatchery data. For 2018, the beef production forecast is raised from the previous month, as expected higher placements in late 2017 and early 2018 result in higher steer and heifer slaughter. Pork, poultry, and egg production forecasts for 2018 are unchanged from the previous month.
For 2017, beef imports are raised, as higher-than-expected shipments of lean processing beef from Oceania in June are expected to carry into the third quarter. The beef export forecast is lowered from last month on recent trade data and an expected slowdown in global demand for the remainder of 2017. Pork imports are raised slightly on recent trade data. The second quarter pork export forecast is adjusted for June data, but the forecast for the remainder of the year is unchanged. The broiler export forecast is reduced on weak foreign demand. Turkey exports are adjusted to reflect June data. For 2018, the beef import forecast is unchanged from the previous month while exports are lowered slightly. Pork, poultry, and egg trade forecasts are unchanged from the previous month.
Fed cattle prices are reduced in 2017 and 2018 as current prices have weakened and larger expected supplies of fed cattle are expected to pressure prices. Hog price forecasts are raised for 2017 and 2018 on continued strength in demand. The annual broiler price forecast for 2017 is raised, but the price forecast for 2018 is unchanged. The turkey price forecasts for 2017 and 2018 are lowered on slow recovery in demand. The egg price forecast for 2017 is raised, but no changes are made to the 2018 price forecast.
The milk production forecasts for 2017 and 2018 are reduced from the previous month as slow growth in milk per cow more than offsets increases in dairy cow numbers. For 2017, fat basis exports are raised from the previous month on higher butter and anhydrous milk fat shipments. Fat basis imports are unchanged. The skim-solid basis export forecast for 2017 is lowered on weaker than expected whey sales. The import forecast is unchanged. For 2018, fat basis exports are raised on stronger shipments of a number of dairy products. Fat basis imports are lowered slightly. Skim-solid basis exports are raised on expected stronger sales of nonfat dry milk (NDM) and other dairy products while imports are unchanged from last month.
Butter and cheese price forecasts are raised for 2017 and 2018 as demand strength is expected to carry into 2018. The 2017 and 2018 NDM and whey price forecasts are reduced from the previous month on weak demand. The 2017 Class III price forecast is unchanged at the midpoint, but the 2018 price is lowered as lower whey prices more than offset higher cheese prices. Class IV price forecasts for 2017 and 2018 are raised as stronger forecast butter prices more than offset lower NDM prices. The all milk price is raised to $17.80 to $18.00 per cwt for 2017, but is unchanged at $18.00 to $19.00 per cwt for 2018.
COTTON: The first survey of U.S. 2017 crop production indicates a crop of 20.5 million bales, 1.5 million above last month and the largest production in 11 years. The larger crop is partially offset by lower beginning stocks which are reduced 400,000 bales to 2.8 million due to an increase in final 2016/17 exports. Domestic mill use for 2017/18 is lowered 50,000 bales, but exports are raised 700,000 based on the larger supply and strong early-season commitments. Ending stocks are now projected at 5.8 million bales which, if realized, would be the largest since 2008/09. The forecast range for the marketing year average price received by producers of 55 to 67 cents per pound is narrowed 1 cent on each end, with the midpoint unchanged at 61 cents.
Sharply larger production is raising this month's 2017/18 global stock forecasts. World production is increased 1.9 million bales, as higher production in the United States, China, and Benin is partially offset by a reduction for Turkey. The forecast for China's crop is raised 500,000 bales mainly on higher area. World consumption for 2017/18 is forecast 375,000 bales higher this month, largely due to a 500,000-bale increase for China. At 3.3 percent, growth in world cotton consumption in 2017/18 is projected at its highest rate in 5 years. World 2017/18 ending stocks are now projected at 90.1 million bales, an increase of 1.4 million from the July forecast, and 100,000 above 2016/17.
Want to know what I think for tomorrow and going forward?

The markets covered daily are 2017 & 2018 Soybeans and Corn.

My numbers are sent before the night session begins. (via your email)
Find out why my subscribers keep renewing this service for years.

Howard Tyllas Daily Numbers and Hedge Ideas is designed to help you plan your hedgingstrategies,and speculators for day or longer term trading.
Howard Tyllas Daily Numbers and Hedge Ideas $279.00 monthly
Howard Tyllas
Put yourself in a position to make money, use the daily numbers service!
Email:[email protected]

http://www.futuresflight.com/
Tel.1-312-823-9189,1-702-405-7245