Published on:
14:52PM Aug 21, 2012
The drought has done the marketing for grain farmers this year. All-time highs were printed in November soybeans today, while December corn is within an earshot of the highs at $8.49. There is no carry in either market, meaning that the nearby contracts are trading above the deferred contracts. The soybean market especially is indicating that the crop should be sold as soon as possible; the November soybean contract is now trading more than $2.00 per bushel higher than the July '13 contract. On-farm storage allows producers the flexibility to hold onto grain in anticipation of more favorable markets. While the "top" in these markets may have not yet been seen, we believe there is an extraordinary amount of risk in storing corn or soybean production that has yet to be priced.
November '12 vs. July '13 Soybean Chart (daily)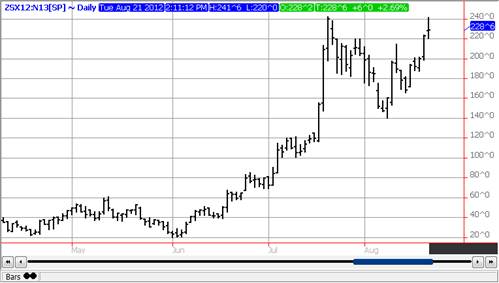 We prefer selling corn and soybeans out of the field this year. If you'd like to maintain ownership, re-own your sales using the cheaper deferred contracts. CALL options are probably the best bet for re-ownership, as we'd prefer to not own futures at the all-time highs for any reason. Risk management is the most important part of navigating these uncharted waters. By selling grain off the combine and re-owning using CALL options, you will have taken the risk out of the cash market and moved it into a limited-risk position in the futures market. Limiting risk is the most important part of marketing in any year, especially an unprecedented one such as this.

Risk Disclaimer: Trading in futures products entails significant risks of loss which must be understood prior to trading and may not be appropriate for all investors. Please contact your account representative for more information on these risks. Past performance of actual trades or strategies cited herein is not necessarily indicative of future performance.