Published on:
07:22AM Aug 28, 2014
Producers in the No. 1 dairy state push for innovation, technology to protect water quality.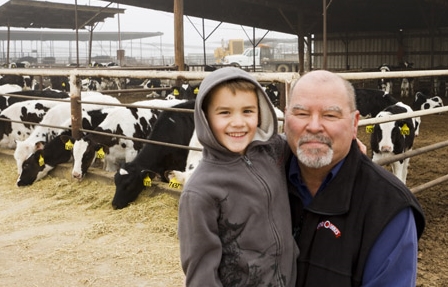 Dairy producer Tom Barcellos and grandson Kadin Kidder at the Barcellos dairy near Tulare, Calif.
---
Source: Dairy CARES
"Water is as important as the ground we stand on, for everything and everyone around here, as far as you can see and farther – our farms, our towns, our entire way of life," says California dairy farmer Tom Barcellos, who milks 800 cows and raises corn and alfalfa on the same farm where he was born 57 years ago, near Porterville in Tulare County.
"I do what I can to protect the water we have and use it responsibly, not only because it's the right thing to do, it also makes economic sense," Barcellos says. "Everyone in this valley deserves clean drinking water, and all of us are responsible for working together to make sure that we have it. We inherited this valley and its water resources from the previous generations, and the responsibilities and challenges that come with that. I take those responsibilities very seriously. I want to do my part to make sure we can be proud of what we pass on to my grandkids and their neighbors and communities."
Connecting past and future is not theoretical for Barcellos, a third-generation dairy farmer. His father, Tony, still lives on the farm, while his seven-year-old grandson, Kadin, has already taken to helping out around the dairy (just one of the five grandchildren for Tom Barcellos and his wife of 37 years, Felomena).
Besides implementing careful water protection measures on his own dairy, Barcellos takes time off the farm to serve on the board of directors of his irrigation district and to lead a non-profit coalition of dairy farmers in a regional groundwater quality monitoring effort.
While Barcellos' commitment to and knowledge of water issues is impressive, he is not alone. Water protection efforts on dairies across California have grown by leaps and bounds:
Since 2007, Central Valley dairies have operated under the strictest water quality protection regulations in the nation.
More than 1,275 Central Valley dairies now participate in the nation's largest cooperative groundwater monitoring effort.
Dairies, individually and through their associations, invest millions of dollars each year in implementation of improved management practices and research to enhance water quality protection.

Managing nature's fertilizer—manure
California dairy cows produce nutritious milk for millions of consumers, and manure is a natural by-product. Farmers put it to good use, recycling it as a natural fertilizer and soil builder.
Like commercial fertilizers, manure must be carefully managed and California dairy farmers are leading the way. In 2007, the Central Valley became the first region of the U.S. where all dairies use nutrient management plans, which are designed to protect groundwater. Farmers routinely test manure, plant tissues, and soil and irrigation water to assure safe application, maximum efficiency and groundwater protection.
Continuous push for improvement. Dairy farmers across California continue to push for further innovation, trying new methods and equipment to improve their manure management and water quality protection. Ray Gene Veldhuis is exploring improved water management technology at his dairy near Winton, Calif.
"We've been making our farm available for testing of different water treatment technologies that will allow us to use our manure and water even more efficiently, and perhaps also create renewable energy. That would be a win-win," Veldhuis says. "We haven't got it all figured out yet, but we are trying to look ahead."
Dairy associations are also working hard to help dairy farmers move forward. Western United Dairymen assists its members in identifying and applying for grant programs for on-farm projects that generate environmental benefits and improve management. The association recently completed testing new technology that helps better evaluate performance of manure water storage ponds on dairies.
"California dairy farmers have always been innovators and they are eager for cost-effective management options," says Michael Marsh, the association's CEO. "We are working to make sure they get the help and support they need."