Published on:
10:40AM Oct 18, 2016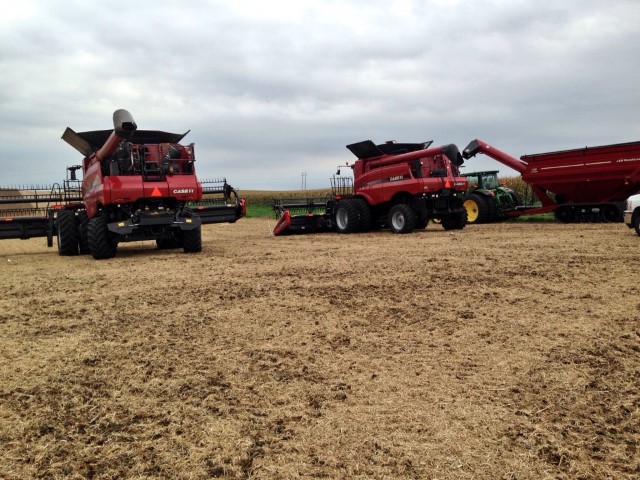 Good Morning! Paul Georgy with the early morning commentary for October 18, 2016
Grain markets are higher on continued short covering as demand stories bring some excitement. Outside markets are all higher in risk on trade.
Our next Ag Leaders Monthly Webinar is scheduled for the 25th at 8:00 pm CT. Our guest this month is Dr. Micheal Cordonnier who will discuss his outlook on South American Agriculture. Register Here 
NOPA Crush came to 129.405 million yesterday, over the 127.694 trade estimate. This number was 2.1% over last year. It was lower than where we need to be given USDA's current 3.4% estimate for the whole Sep – Aug marketing year. Crush margins are currently $0.79/bushel vs. last year's $1.00/bushel.
Malaysian October palm oil production rates are running under analyst expectations. In addition, the monsoon season is starting and the Johor province is seeing heavier than normal rains. This has pushed the third month out contract to six month highs. There is a strong correlation between palm oil and soybean oil which is helping support the soy-complex overall.
USDA's Argentine attache reports that the government will delay the reduction of soybean export taxes until 2018. It was also reported that 2016/17 soybean area harvested was revised down to 19.3 million hectares due to greater competition from corn and sunflower crops.
US Harvest was reported at 46% for corn (49% was the trade average estimate). Soybeans were reported 62% complete (right on the average estimate). Winter wheat plantings were reported at 72% complete vs. the 75% estimate.
Weekly export inspections had wheat at 450,613 tonnes, corn 875,808, and soybeans at 2,508,997. The soybean number was a nice surprise.
Weather forecasts look to give farmers an opportunity to continue to harvest corn with only minor setbacks seen. South America's outlook should also be favorable for the start of the growing season with rains seen across much of the major growing areas.
Funds were buyers of 9,000 soybeans, 2,000 wheat, 1,000 soymeal, and 7,000 soyoil contracts in yesterday's trade. They were estimated to be neutral in corn.
Macro traders will monitor the CPI and Core CPI reports at 7:30 CT this morning. The 9:00 AM Housing Market Index will also be in focus.
Cattle prices are being hit partially by higher beef production but mostly by artificial pressure caused by excess meat at the end user/retail level.
Showlist numbers had cattle counts down another 6,000 head this week. This is the third week in a row of declining showlist numbers.
The hurricane last week left anywhere from 140,000 - 200,000 head still need to be processed in the hog industry. As these market ready hogs in the Southeast are likely to be kept in the Southeast it may take more than "7 to 10 days" to get this situation cleaned up. The market, however, has yet to pay much attention to these "extra" numbers.
Dressed beef values were mixed with choice up .69 and select down .59. The CME Feeder Index is 121.92. Pork cutout value is up .61.
If you have any questions on any of our content, give us a call at 800-262-7538 or service@allendale-inc.com