Published on:
10:50AM Apr 10, 2019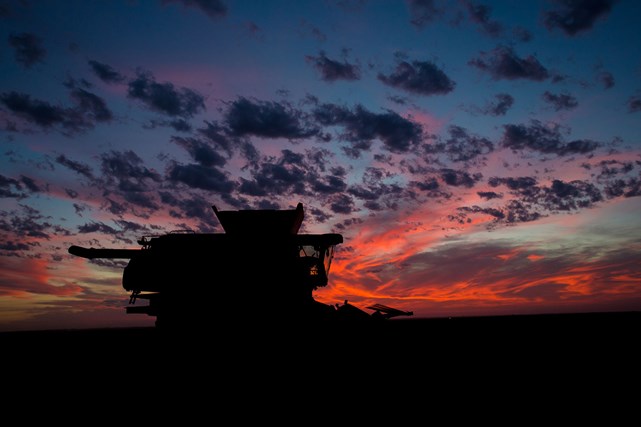 Good Morning from Allendale, Inc. with the early morning commentary for April 10, 2019.
Grain markets are mixed with corn up 3/4, soybeans down 3/4, and wheat down 1. With the USDA report out of the way for the month, attention will turn back to weather forecasts and trade headlines.
Supply and Demand numbers were updated by USDA yesterday. US corn ending stocks were reported at 2.035 billion bushels, above the average estimate of 1.991 billion. Soybeans were little changed at .895 billion bushels, just below the 898 estimate. Wheat ending stocks at 1.087 billion bushels, slightly higher than the 1.072 estimate.
World numbers had corn at 314.0 million tonnes (Brazil was lowered to 94.5 mt), soybeans were slightly changed to 107.4 mt (Argentina was raised to 47.0 and Brazil raised to 117.0). World wheat stocks were raised to 275.6 million tonnes.
World Weather, Inc. noted "An impressive winter-like storm will bear down on Nebraska, Colorado and Kansas Wednesday into Thursday producing rain, snow and strong wind speeds. The storm will snarl traffic, stress livestock and drop temperatures notably lower than those of the past couple of days and those expected today and Wednesday. The environment will raise many concerns, but one issue that need not be worried about is over the condition of winter wheat in the region."
Sonny Perdue reports that talks with China about reducing the tariff on US ethanol positive, but not done yet. "There have been conversations with China on reducing that tariff on ethanol, which would obviously be good for our domestic corn industry. While things look positive, it's never over till it's over with the Chinese."
China's Ministry of Commerce is set to review its anti-dumping tariffs on imports from the United States of distillers grains (DDGS), an animal feed ingredient, according to a document issued by the China Alcoholic Drinks Association. (Reuters)
FranceAgriMer raised its estimate of the 2018/19 French wheat exports outside the EU to 9.7 million tonnes, up from the 9.5 estimate last month. Ending stocks were kept at 2.4 mt, however, as the increased exports were offset by reduced feed use.
Japan's weather bureau predicts that the El Nino weather pattern will continue, and gives an 80% chance that it will last into the summer for the northern hemisphere.
Managed money funds were estimated sellers of 500 corn, 2,000 soybeans, and 6,000 wheat in yesterday's trade. They were neutral in soymeal, and buyers of 4,000 soyoil.
The global economy is slowing more than expected and a sharp downturn could require world leaders to coordinate stimulus measures, the International Monetary Fund said on Tuesday as it cut its forecast for world economic growth this year. (Reuters)
USDA's monthly supply/demand report showed minimal changes for their 2019 beef balance sheet. Production was lowered minimally from the March report, 20 million lbs. to now 27.280 billion. That is 1.5% over last year.
USDA cut its 2019 pork production forecast by 105 million pounds. Now at 27.325 billion, it is 3.8% over last year. For the current Q2 they forecast a 3.6% year over year increase. For Q3, they see a 6.0% year/year increase.
South Africa has detected an outbreak of African swine fever on a farm in North West province, the Paris-based World Organisation for Animal Health (OIE) said on Wednesday, citing a report from the South African agriculture ministry. (Reuters)
China's ag minister stated that African swine fever situation is under control and that new cases of the disease are slowing. He added that pork production is stable as well. The comments fueled limit down trade yesterday, and any updates out of China will be watched closely.
Dressed Beef Values were lower with choice down .35 and select down 2.08. The CME feeder index is 143.50. Pork cut-out values were down .18.