Published on:
10:14AM Sep 23, 2016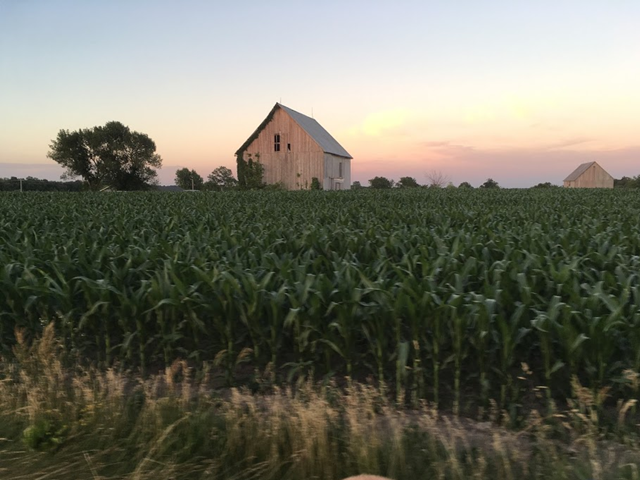 Good Morning! Paul Georgy with the early morning commentary for September 23, 2016
Grain markets are lower on the last trading day of the week. Crude oil is also lower ahead of this afternoon's Baker Hughes rig count data.
Join us Tuesday September 27th at 8:00 PM CT for a cash rents outlook with University of Illinois Professor Gary Schnitkey. Register here. We'll ask Professor Schnitkey for his take on where rents are headed and how futures markets could be impacted. We'll also have Rich Nelson on hand for estimates and expectations of the September 30th USDA Grain Stocks report.
Weather forecasts continue to call for a wet weekend that will delay harvest in some areas. October outlook is for bouts of rain which will make harvest a challenge for producers across the Midwest.
Weekly export sales for the week of September 8th to 15 th were released yesterday. Corn export sales totaled 921,903 metric tonnes (all 2016/17). This was just over the 700,000 - 900,000 trade estimate. USDA's goal for the year, at 2.175 billion bushels, would be a record. It would be 14% over last year and 36% over the five year average.
Soybean sales totaled 875,724 metric tonnes (all 2016/17), under the 900,000 - 1,200,000 trade expectation. USDA's whole-year goal is 1.985 billion bushels, like corn, a new record. That would be 2% over last year and 22% over the five year average.
Wheat export sales were reported at 560,982 tonnes. That was over the 300,000 - 500,000 expectation. USDA's goal for the year is a moderate 950 million bushels, 23% over last year's low level and 3% under the five year average.
Cargill was forced to close a grain facility in Cedar Rapids, IA and is no longer accepting deliveries of corn after heavy rains have pushed through the area and caused flooding concerns.
Egypt's state grain buying agency announced that it will pull back it's wheat ergot tolerance from zero to the international standard of 0.05%. This was expected after it was forced to cancel another tender due to no interest from suppliers. Following the ergot decision, it was announced that Egypt bought 240,000 tonnes of Russian wheat.
Chinese grain auctions resulted in the sale of 184,535 tonnes of state reserved corn overnight. The corn sold was from the 2014 crop and sold at an average price of $236.75 per tonne. 42,812 tonnes of 2013 corn were also sold.
China's Customs Ministry released their August soybean import number breakdown. Of the 7.671 million tonnes of imports 4.956 came from Brazil, 1.909 million came from Argentina, 423,000 came from Uruguay, and only 364,003 from the US (4.7%). The remainder came from Russia and Canada.
Funds were estimated net sellers of 6,700 corn, 1,000 wheat, and 2,000 soymeal contracts in yesterday's trade. They were net buyers of 1,000 soybean, and 3,500 soyoil contracts. Weekly fund trade data will be released by the CFTC at 2:30 PM CT today.
Macro and outside market traders will be light on report data today. The September flash manufacturing PMI will be released at 8:45 this morning, while the Baker Hughes oil rig count data is due at 12:00 CT.
USDA's Cattle on Feed report is out today at 2:00 PM. On-feed as of Sep 1 is estimated to be at 101.2%, Placed is expected to be at 112.9%, and Marketed is expected to be 117.2% of a year ago. August had 2 more weekdays than last year which has a significant impact on the percentage. Cold Storage is also due today at 2:00. We see pork stocks at 619.790, and beef stocks at 467.897 million pounds.
Cash Cattle traded in Nebraska yesterday at 173, up from 170 last week. Bids are 108 and offers 115 elsewhere.
Dressed beef values were mixed with choice up .20 and select down .16. The CME Feeder Index is 136.11. Pork cutout value is down 1.45.
If you have any questions on any of our content, give us a call at 800-262-7538 or service@allendale-inc.com