Published on:
10:48AM Sep 30, 2016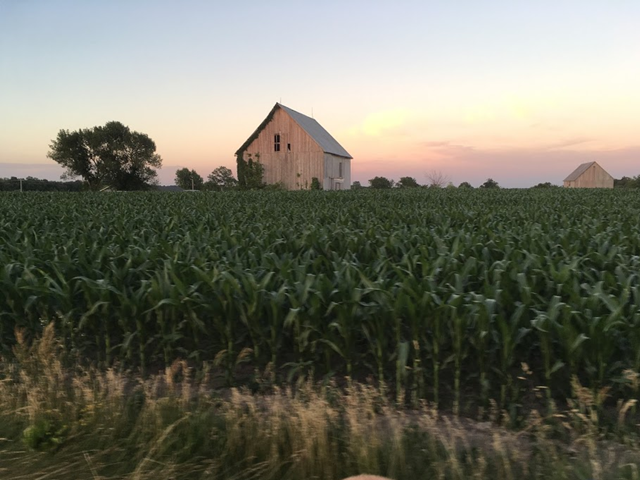 Good Morning! Paul Georgy with the early morning commentary for September 30, 2016
Grain markets are slightly lower, trading in a narrow range ahead of USDA's Quarterly Stocks report. The US Dollar is higher and crude oil lower. Stock indices slide on Deutsche Bank woes.
Quarterly Stocks Report will be released at 11:00 am CT today. Trade average estimate for September 1 corn stocks is 1.754 billion bushel, soybean stocks of .201 billion bushel and wheat 2.402 billion bushel. The USDA will also provide an estimate for the 2015 soybean production which could be the wild card in the data.
Soybean yields keep coming in from producers in South Dakota and North Dakota where aph yields are 35 bushel per acre and actual yields are 52 plus. Corn harvest in south Central Indiana is improving. Current corn quality is better than early corn a producer said. Yields are running well over 200 bushels per acre in his fields.
Technical traders are looking at this week's lows as support in the grain complex. A monthly close below those levels could trigger further selling pressure.
First notice day for CME October soyoil and soymeal contracts is today.
Russia's winter grain sowing for the 2017 crop has benefited from favorable weather so far this year. They are estimated to have 64% of the winter seedings completed.
Atlanta Federal Reserve President Dennis Lockhart said he supported the U.S. central bank's decision to leave interest rates unchanged at its policy meeting earlier this month and that he expected the Fed would raise interest rates "before long".
Marco market traders will be watching the results of the September US Consumer sentiment index, August personal income and spending and the September Chicago PMI reports today.
USDA said transactions at the weekly auction, called the Fed Cattle Exchange, will be included in USDA reports that companies such as Cargill Inc and Tyson Foods Inc use to determine how much they should pay farmers for an increasing percentage of animals sold. (Reuters)
Hogs and Pigs Report is expected to show herd expansion according to trade average estimates. All hogs as of September 1st is estimated at 101.2%, Kept for breeding 100.5%, and Kept for market 101.3%. The report will be released at 2:00 PM CT today.
Cash cattle trade appears to be done for the week at 103 to 104. Product values continue to struggle as meat supplies are plentiful. A bright spot is the retailers are featuring or lower the price of beef which is encouraging consumer demand. Packer margins are deep in the black which is providing a huge incentive for them to slaughter as many as possible. The positive is when the cycle changes cattle prices are likely to jump sharply. However, feedlots will have to get current and stay current on marketings to change the attitude.
Live Cattle futures are suggesting a possible double bottom on the charts but a trade below 101.55 in the December contract which could activate more selling as we close out the month of September.
Lean hog futures are oversold and have been for more than half the month of September. December lean hog futures are down 10.55 since the close of business on August 31. When will this market turn?
Dressed beef values were lower with choice down .98 and select down 1.00. The CME Feeder Index is 134.88. Pork cutout value is down 1.12.
If you have any questions on any of our content, give us a call at 800-262-7538 or [email protected]