Published on:
10:42AM Oct 12, 2016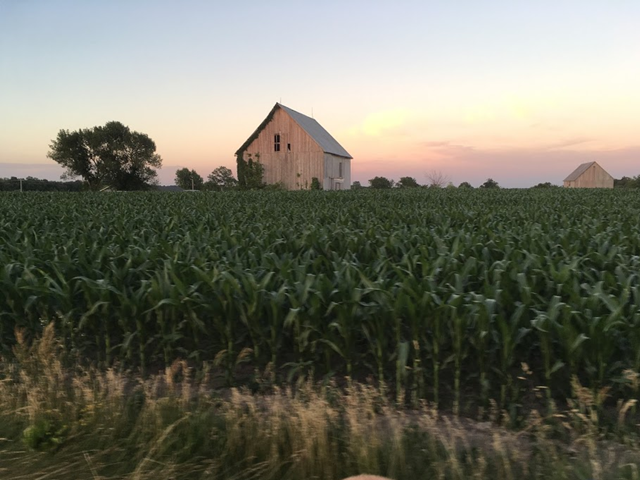 Good Morning! Paul Georgy with the early morning commentary for October 12, 2016
Grain markets are quietly mixed waiting for the USDA report. The US Dollar is higher while stock indices are lower on follow through from yesterday.
Traders are expecting soybean yields will be raised from 50.6 bpa last month to 51.5 on today's USDA report. Production is seen increasing from 4.201 billion bushel to 4.286. Ending stocks may increase from 365 to 413 million bushel.
Corn yields are estimated by the trade to decline to 173.5 bpa (Sep USDA 174.4). Production is pegged at 15.060 billion bushels (Sep USDA 15.093). Trade is expecting USDA to increase corn acreage, which could impact total production and carryover stocks.
Harvest progress for corn this week was 34% compared to 38% average. Soybean harvest was 44% which was below the 48% trade was expecting. Winter wheat seedings were 59% very close to the 60% average.
Funds were estimate to have been net buyers of 6,500 corn contracts, 1,500 soybeans, 3,000 wheat, and 2,000 soymeal contracts on Tuesday. They were estimated to have been net sellers of 4,000 soyoil contracts.
Buenos Aires Grains Exchange estimates Argentine corn planting at 27% complete vs 22% last week and 17% last year. Brazil's soybean planting this week is estimated at 10% complete versus 5% average. Brazil 1st crop corn planting is 38% compared to 48% last year.
Feed wheat values continue competitive pricing as Canadian supplies are cheaper than Ukraine prices.
Ukraine wheat planting could drop by 500,000 hectares this year due to heavy rain slowing down planting progress.
Macro traders are looking toward Friday as several key data sets will be released at 7:30: Business Inventories, Initial Jobless Claims and PPI. Bets also have increased that Fed will raise rates in December signaling strength in the US Dollar and weakness in the stock indices.
API Energy stocks will be released this afternoon and EIA energy stocks will be released at 9:30 am CT on Thursday due to the holiday last Monday.
Cash cattle trade is at a standstill with most feedlots asking 105, last week cattle traded at an average price of 102. Production this week should be less than last week due to plant hours being cut. This could support a firmer product trade.
Supplies of beef, pork and poultry are plentiful and expected to increase as we move toward the end of 2016. The competition for the consumer's dollar will increase as we approach the specialty cut demand for thanksgiving and Christmas.
Livestock futures discount to current cash values should provide support while technical trend is down with layers of resistance before changing trend.
Dressed beef values were lower with choice down .82 and select down 2.11. The CME Feeder Index is 127.33. Pork cutout value is down .90.
If you have any questions on any of our content, give us a call at 800-262-7538 or [email protected]