Published on:
10:36AM Apr 05, 2017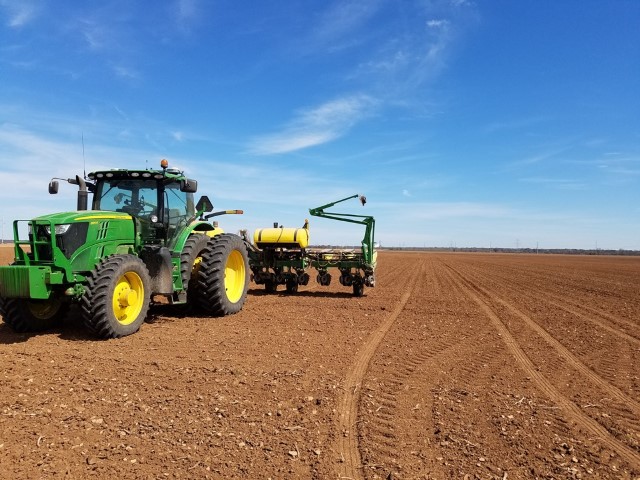 Good Morning! Paul Georgy with the early morning commentary for April 5, 2017.
Grain markets are higher due to bargain hunting.  Soybeans bounce from August 2016 lows as news of larger South American crops is expected. Outside markets are range bound in narrow trading ranges.
Weather is not a factor yet but traders are getting concerned about the wet and cold conditions in the Midwest.
Trade analysts are increasing Brazil's crop production. Celeres has raised their estimate of Brazil's soybeans to 113.8 mmt compared to 109.65 mmt they had expected in early March. They held Brazil's corn production estimate at 97.5 mmt. INTL FC Stone on Tuesday raised its projection for the Brazilian 2016/17 soybean crop to 111.6 mmt from previous estimate of 109.07 mmt.
Goldman Roll starts on Friday and will continue through next Thursday. The fund will be rolling out of long positions in the nearby contracts to more deferred contracts.
DDG exports during February were 27% greater than a year ago with Mexico, Turkey, and Thailand the largest buyers.
Ethanol exports year to date are 69% greater than same period a year ago with Brazil, Canada and India the largest buyers.
US southern farmers are planting corn at twice the pace of last year in Louisiana and are two weeks ahead in Texas this could put US corn harvests in competition with peak exports from South America.
Funds were thought to have been net sellers of 10,500 corn contracts on Tuesday. They sold 3,000 soybeans and bought 1,000 soymeal and 500 wheat.
March ADP employment report has trade expecting a solid increase of 195,000, adding to the strong 298,000 gain seen in February.
Brazil's chicken export during March showed a drop of 4% due to the corruption scandal and banning of import from several countries.
Brazilian Agriculture Ministry has authorized three meat processors to resume exports after an audit concluded there were no irregularities at their facilities.
Live cattle futures open interest is near record levels of 398,748 contracts. As of Mondays, close CME open interest was 394,372 contracts.
Fed Cattle Exchange auction has 3,572 cattle committed. Trade will be using this auction as a guideline for this week's country trade. Early indications packer would like to buy cattle a couple dollar lower this week.
June cattle futures closed below chart support of $110.00 and the 20-day moving average 0f $109.98 the 20-day moving average which could create some nervous long liquidation.
Cash hog prices continue to drift lower as supplies remain abundant. Consumers have plenty of meat to choose from at the retail counter.
June lean hog futures are testing support set back in December of 2016 at $71.75. Technical analysis is suggesting pork complex is oversold however fundamentals news is heavy.
Dressed beef values were lower with choice down 1.74 and select down .96. The CME Feeder Index is 133.30. Pork cutout value is down .39.
If you have any questions on any of our content, give us a call at 800-262-7538 or service@allendale-inc.com