Published on:
10:39AM Oct 11, 2016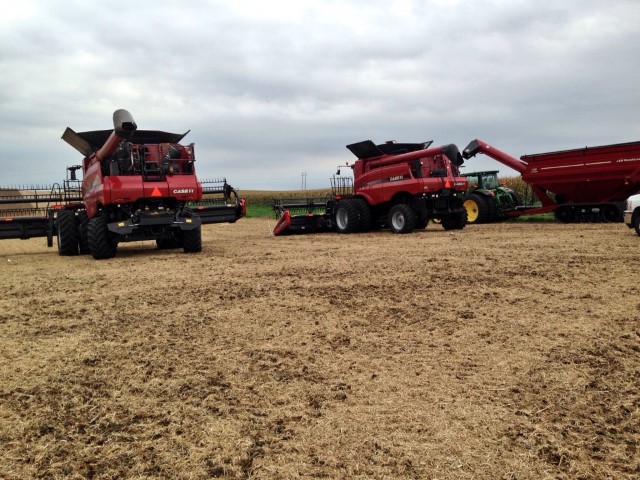 Good Morning! Paul Georgy with the early morning commentary for October 11, 2016
Grain markets are mixed as traders position ahead of tomorrow's USDA Supply and Demand report.
A Reuters newswire poll estimates that soybean yields will be raised from 50.6 bpa last month to 51.5 on tomorrow's report. Production is seen increasing from 4.201 billion to 4.286. Ending stocks may increase from 365 million bushels to 413.
Corn yields are estimated at 173.5 bpa (Sep USDA 174.4) by the same Reuter's poll. Production was pegged at 15.060 billion bushels (Sep USDA 15.093). While ending stocks may fall from 2.384 billion to 2.359.
Traders expect wheat ending stocks to be raised from 1.100 billion to 1.153. This October report will show the revised 2016 production that was posted on the September 30 Small Grains Summary which surprised many be lowering production.
Crop progress will be released today at 3:00 PM CT, delayed one day due to yesterday's Columbus Day holiday. Early estimates have traders expecting to see soybean harvest near 50% and corn near 35% to 37% complete. An average analyst estimate will be released later this morning.
Brazil has authorized the import of up to 1 million tonnes of GMO corn by the end of the year with no import tariff. This move was made to help rebuild domestic corn supplies. Last year, they brought in 2.5 mt. In most normal years their whole-year import is under 1 mt.
The Malaysian Palm Oil Board estimates palm oil stocks at 1.55 million tonnes, 5.7% over the previous month.
Kazakhstan's deputy agriculture minister suggested a total grain crop of up to 21.0 - 21.5 million tonnes. That would be over the 18.7 from last year. Harvest was pegged at 99% complete.
Funds were buyers in most commodities yesterday. Traders estimate that managed money bought 8,000 corn contracts, 1,500 soybeans, 5,000 wheat, and 4,000 soyoil. They were sellers of 2,000 soymeal.
Economic traders have another light report day today, but will wait for the jobless claims, PPI, and retail sales reports later this week for more direction on the overall health of the US economy, and the next interest rate hike.
Chinese authorities have reported the finding of new bird flu cases at poultry farms in two separate provinces. Authorities suggest the current outbreak is in control after the culling of hundreds of thousands of birds. The strain found was the H5N6 variant.
Hog slaughter numbers were lower than first thought yesterday after Smithfield closed three plants due to flooding in the Southeast. That brought the day's run down from what should have been 438,000 head to 385,000.
Cattle Showlist numbers were down 16,000 head for the week. That is the second week in a row of lower numbers as last week was down 17,000. This might suggest lower supplies for October and November.
Volatility continues to be a major theme in the cattle markets. Limit down closes were reported for October and December live cattle futures yesterday. There is not a nice story to go along with this break, though some are suggesting it could be due to Hurricane Matthew.
Dressed beef values were higher with choice up .93 and select up .35. The CME Feeder Index is 126.95. Pork cutout value is down .33.
If you have any questions on any of our content, give us a call at 800-262-7538 or [email protected]