Published on:
15:17PM Mar 29, 2019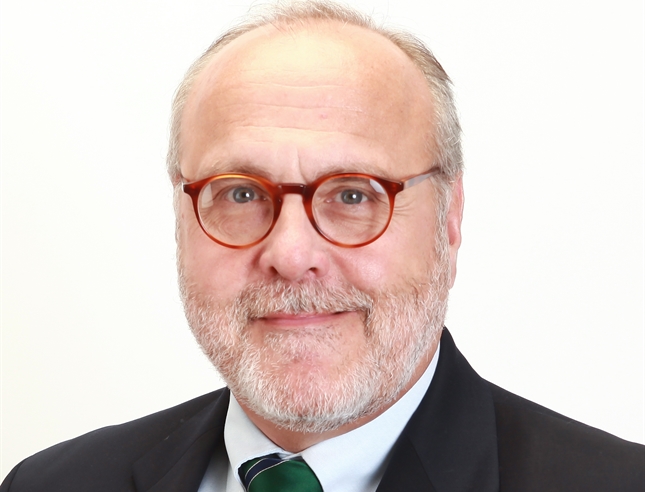 Not only are we soon to complete another week of trade, but today will also wrap up another month and the first quarter of 2019 as well.  While doubtful, I recognize that the USDA reports later today could unveil some type of surprise but barring that, for the week at current levels May corn is down 6-cents, May beans down 13-cents and July wheat is losing 3 ½ cents. 
To keep all this market noise in perspective though, I believe it is helpful to look at the monthly corn/wheat/bean combination chart.  Here we find prices for these three commodities up slightly for the month, but overall, we have nothing more than a continuation of a broad sideways pattern that we have been contained within for a little over four years now.  I will maintain that this is the fashion in which commodity markets establish bottoms, but probably the most encouraging thing that can be said at this point is that we are much closer to the lows than the highs and downside potential for the group should be limited.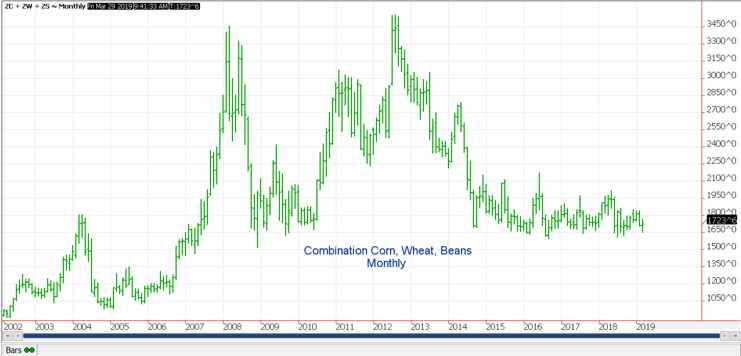 Reports from Beijing sound cautiously encouraging but still no official word that a deal has been finalized this week.  Negotiators continue to work today, and there should be some type of update issued before the weekend.
To keep everyone entertained in the meantime, we do have the Grain Stocks and Prospective Planting reports coming our way and once again, here are the trade estimates; Corn acreage is expected to come in at 91.3 million acres, beans at 86.2 and wheat 46.9. March 1st corn stocks are estimated to sit at 8.32 billion, beans at 2.70 billion and wheat at 1.55 billion. As should be expected with the recent and disastrous flooding in Nebraska and surrounding states, the planting figures will be somewhat of a moot point when released, but they will still provide the base numbers from which to work. 
The problems in China, these past months concerning the trade tariff war as well as the African Swine Fever disaster, have not only created an impact at the farm level here but also for commercial interests that deal there.  Cargill has reported earnings for its 3rd quarter, and revenue was down 4%, with those issues in China cited as a significant drag.  Granted, they still generated $26.9 billion of revenue and for the first nine months of their fiscal year have recorded adjusted earnings of $2.34 billion but that is the worst showing they have posted in three years.