Published on:
14:42PM May 14, 2019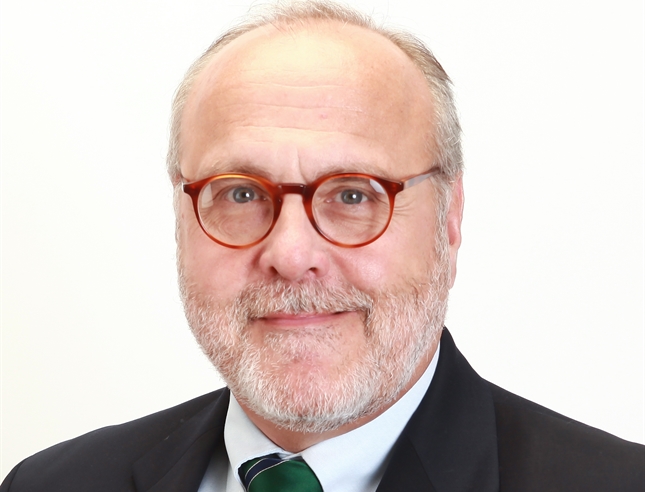 It seems for months bulls have been pressed against the ropes round after round, forced into little more than holding a desperate defensive position believing that the bear would eventually grow tired from the relentless attack.  The problem was, between rounds the bears seemed to have an endless supply of an energy drink delivered to the ring either from trade negotiators or the USDA and came back out at the sound of the bell refreshed and ready to take advantage of its weary opponent.  Yesterday appeared to be one more round of the same, and during the early minutes, a left hook was delivered to the chin of the bull sending it down to its knees, and more than a few believed, ready to drop all the way to the mat for the final count.  Maybe it was the sound of the crowd shouting encouragement to this underdog and perhaps it was the fact that the bear had grown so overconfident in its dominance that it began to drop it guard just a bit, but whatever it was, the bull rallied, figuratively and literally and began to charge once again.  In the case of the corn and wheat markets, this culminated with an outside higher reversal day, and have now followed up that performance with a gap higher, just to show they are serious. While I am not sure if this will inspire the script for the next Rocky movie, (Would that be Rocky XXI?) but I do believe it is a signal that we had extended this break to unrealistic levels and it is now time to try and balance that out again. I would not go so far as to say we are ready for a bull market anytime soon in the grains, but at least will become more responsive to other factors at hand right now besides the latest volley in the trade war. While I realize it is just Tuesday and I do not want to count the chickens just yet, if this coming Friday, July corn closes above 3.68 ¼, we would have a very solid reversal signal on weekly charts.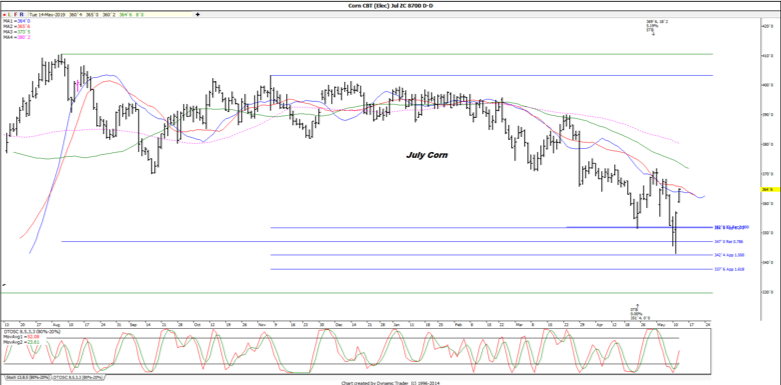 Of course, one of those factors is the lateness in planting progress, which the trade was reminded of again yesterday and I am sure contributed to the gap higher this morning.  As a quick review, corn planting gained just 7% for the week and stood at 30% versus a normal 66%.  Emergence was 10% vs. 29% on average.  While everyone knows or at least assumes we can plant a lot of acreage in a very short time period, the reality is that 70% of the corn crop will be planted after the 10thof May.  While of less concern, bean planting is well of pace at 9% compared to 29% on average but regardless, bean futures are witnessing one of the best single day advances in months and would appear to be poised for at least a technical corrective bounce.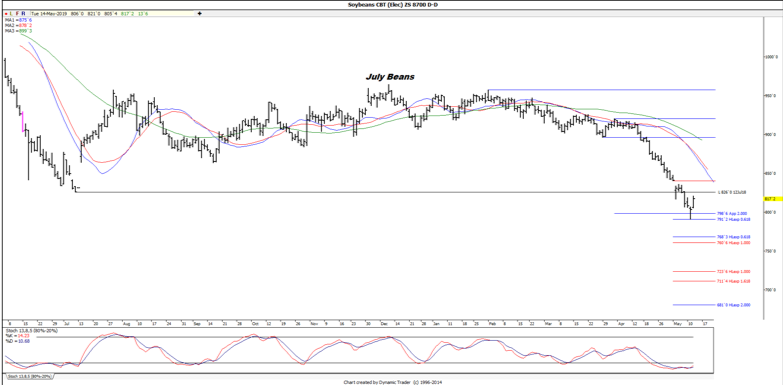 While it is difficult to say if this contributed to the strength we have uncovered, as you are undoubtedly aware, yesterday afternoon President Trump stated that the administration is planning a $15 billion aid package for farmers to try and soften the blow from the trade war. There are no details as to what form this may take but psychologically this could signal to the bears that farmers need not make desperation sales.  Granted, the assistance is appreciated and deserved as the U.S farmer has once again been used as a tool of other purposed but as I have commented numerous times in the past, the impact of trade war and the like, lingers far longer than a year or so as global investments are made to insure less dependence on U.S. Ag.  
The Brazilian bean harvest is 98% complete and the safrinha corn harvest moving along well with solid yields reported.  The USDA has the bean crop pegged at 117 MMT which the same as Dr. Cordonnier's estimate. This would be the second largest crop on record.  AgRural and Conab are both lower than this figure with estimates of 115.3 MMT and 114.3 MMT respectively.   For corn, the USDA is now projecting a crop of 100 MMT ( 4), Dr. Cordonnier is at 97 MMT, AgRural at 99.2 MMT and Conab at 95.2 MMT.  Looking at Argentina, bean harvest is now estimated to be 67.4% complete.  USDA pegs the crop at 56 MMT, Dr. Cordonnier has it at 56 and the Buenos Aires Grain Exchange 55 MMT.  Corn is estimated to be 32.2% harvested with estimates of 49 MMT from the USDA and Dr. Cordonnier and the Exchange at 48 MMT.  Looking at the combined total for these two nations, we have a total bean production of 173 MMT, up 8.2% from the previous year, and corn production of 149 MMT, 30.7%.  Regardless had there been a trade war or not, we would be facing stiff competition from South America.  
As a final note today, equity markets have rebounded this morning as well but suffered quite a heavy trade war terror washout yesterday.  I am sure that the White House has taken note of this as well.  While we have a few weeks left, I would point out that the S&P 500 has now posted an outside lower monthly range.  If we have not recovered and closed above 2841 on the last trading day of the month, it would be a negative omen for the stock market.