Published on:
21:36PM Jun 19, 2019
To say that the grain and soy markets are experiencing a correction lower would seem to be an overstatement but for the second day in a row, we find prices struggling, or maybe better phrased, unable to sustain strength.  It is difficult to view this as anything more than markets taking a moment to catch their breath and an opportunity to assess the overall situation.  Such action is both necessary and healthy as it tempers some of the emotionalism that is a part of any significant move.  It is interesting to note that when the action is viewed on a combination corn-wheat-bean chart, this six week advance has done little more than move us from the lowest levels we have reached since the recession lows in 2008, back to the not quite the upper side of the trading range we have been stuck in since late 2014 and do not even get me started on the CRB Index.  It continues to wallow around within striking distance of the what have been the lows for the past 3-years.  This is not a general commodity advance that is attracting investment money back to this sector, and as such, should be viewed as a short-term event.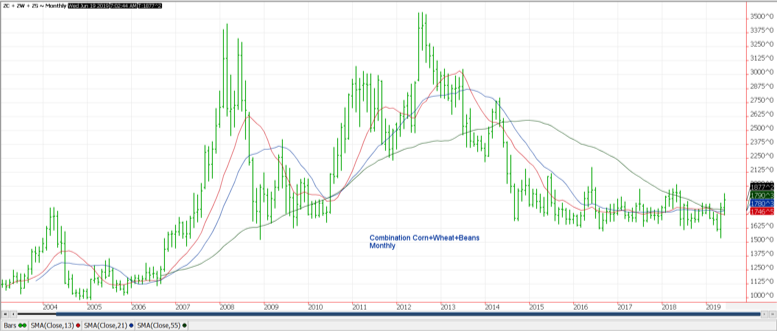 With weather concerns pushed slightly aside, for now, naturally the markets attention turns to news concerning trade wars and trade deals, and there is a twinkle of optimism.  It is confirmed that President Trump and President Xi will meet together at the G20 summit, which has at least tempered the most recent threat to increase tariffs again. I am not going to suggest this will move us any closer to a resolution concerning the ongoing trade tariff war, as we have had those hopes dashed more than once over the past 15 months, but it would seem to be a step in the right direction.  
There also seem to be renewed interest in Washington to finally ratify the US-Mexico-Canada (USMCA) trade agreement. As seems so typical in Washington, the White House blames Congress for the delay in passing the agreement, and Congress blames the White House, but it would appear that outside pressure is increasing move forward.  The President of the American Farm Bureau has stated that failure to move on this agreement, will then postpone progress on any deals with Japan or the EU.  He also suggested that there could be a need for a third round of federal aid next year.  
As long as we are on the topic of Washington, the FOMC will wrap up its June meeting today with Chairman Powell holding a press conference this afternoon.  Few believe the Fed will cut rate this morning but anticipate at least one if not two rate cuts later this year as already evidenced in the 10-year notes that have rallied to the highest level (inverse relationship) since September of 2017. Obviously, this is not enough to satisfy the President as he has once again stepped up his criticism of Chairman Powell and now hinted that he may somehow demote him.  As I have commented in our weekly letter, such rhetoric sets a bad precedence as it threatens what should be the Fed's independence from political influence and casts a shadow over their motivation when decisions are made. The fact that the European Central Bank recently commented they are prepared to act and cut interest rates if there was an "absence of improvement"  in the EU economy further upset the President who suggested they were would make such a move to intentionally pressure the Euro against the Dollar to gain a competitive advantage in the export market.