Published on:
04:46AM Jul 05, 2019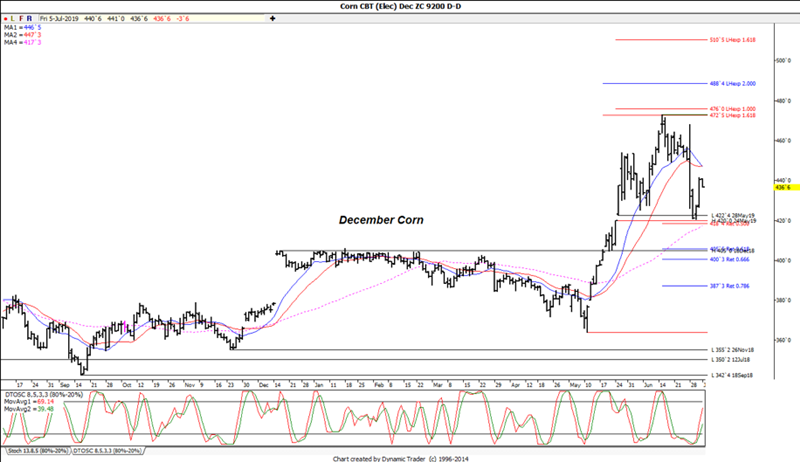 Corn was undoubtedly the highlight on Wednesday as traders shook off the post-acreage report blues and pushed sharply higher in front of the 4th of July break.  While we have not recouped all of the losses suffered last Friday, were we to have closed out the week at that point, December futures would have gained 8 ½ cents.  Wheat and beans did not do bad either, but at this point, both remain lower for the week, with December wheat down 12-cents and November beans down 15-cents. While acreage question will continue to be debated for the next six weeks as the USDA re-surveys producers, the weather should be the dominate the attention of the trade as we see if conditions are favorable enough to actually allow these crops to develop and reach maturity this year.
Yesterday, I traveled the length of Indiana, the same route I have taken over the Memorial Day weekend and was somewhat surprised by the number of fields that were indeed planted in the Northern part of the state.  Granted, windshield observations are not necessarily a reliable guide, but understandably, crop development was well behind normal, and if I have to make a guess, I would say there was a fair amount corn acreage that was forced to shift to beans.  The closer I came to Indianapolis and further south, the complexion changed rather dramatically though, and the number of unplanted or extremely late-planted bean fields increased significantly. 
Export sales have been released this morning, and none of the figures were particularly inspiring.  Beans recorded the largest total of any with 867,600 MT or 31.88 million bushels.  The trade was expecting a number between 600k and 1.2 MMT and was aware that China had made purchases in advance of the Trump/Xi meeting last weekend.  In fact, China accounted for 70% of the total with purchases of 607,300 MT.  Mexico was the second-largest buyer at 66.6k MT and then came the Netherlands with 63.9k.  It should be pointed out as well that export sales of soy meal set a marketing-year low.  Wheat sales came in towards the low end of expectations (250k to 750k MT) at 276,500 MT or 10.16 million bushels.  Nigeria was the top purchaser with 99.1k MT, followed by Taiwan at 82.6k and then Mexico with 59.5k.  Corn was the most disappointing though coming in at just 175,600 MT or 6.91 million bushels. The low-end estimate was 200k. Mexico was the top purchaser with 74.3k MT, followed by Japan at 53.3k and then Canada with 24.3k. We actually sold just as much corn for the 2019/2020 crop year with sales of 156,300 MT. 
The extreme heat in Europe finally appears to be taking its toll on some crops there, but for wheat and winter barley, with harvest already begun, the impact should be muted.  AgriMer dropped the winter barley 2% to 73% good/excellent but backed the spring barley down from 86% to 76% and reduced soft wheat from 80% to 75%.