Published on:
21:36PM Jun 20, 2019
The "cooling off" timeout continues in the grain and bean markets as prices dipped a bit lower in the overnight session before showing signs of stabilizing once again.  Funds were the largest sellers yesterday, which could be partially attributed to a reaction to an overheated market, but for some, I suspect there may be a belief that we have factored in the late planting into their models and have sufficiently adjusted the prices accordingly.  With what we know today, it may be difficult to argue with that assessment, taking into consideration that we entered this growing season with rather comfortable to even in the case of beans, burdensome supplies. Now if it was September 20th instead of June 20th, it may be easy to get on board with such rationale, but when we do not even have a great handle on what acreage has been planted, let alone what kind of weather the balance of the growing season has in store for us, it would be foolhardy to believe the bulls have already exhausted their supply of ammo, or that there will not be additional scares.  We should have at least a slightly better grasp on one of these unknowns come the 28th as the USDA will release the acreage report but no doubt this figure will come with at least a mental footnote attached for many due to this problem plagued spring.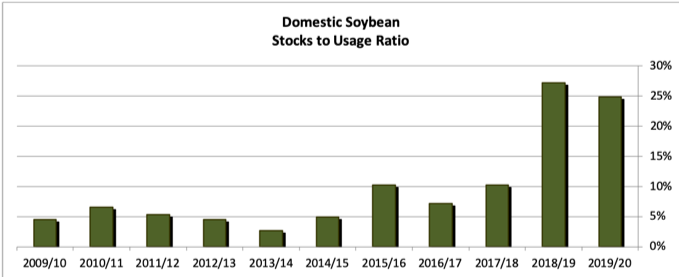 It has been confirmed by the Chinese ministry, that in addition to President Trump and President Xi meeting at the G20 summit late next week, U.S. and Chinese official will be holding trade talks.  At this point they do not appear to be making any real positive comments about what could develop, which is probably all for the better at this stage. 
The House Financial Services Committee's subcommittee (that is a mouthful) has been listening to comments on the cost of the tariff war and yesterday, Ronnie Russell, a Missouri farmer and board member of the American Soybean Association was there yesterday to speak.  After verbalizing the stress that they tariffs have forced upon farmers and rural America, he implored the administration to wrap up not only the trade battle with China but also finally enact the U.S.-Mexico-Canada trade agreement. Quoting from his remarks, "Long term what farmers and rural communities need is predictability and certainty, which only comes through maintaining and opening new markets where we can sell our products." Information was also presented from the group; Tariffs Hurt the Heartland, which is comprised of more than 150 different organization, with data showing that Americans have already paid more than an additional $22 in higher costs directly related to the tariffs.  If anything, I suspect that number is light.  
Weekly export sales have been released this morning with only beans providing any kind of encouraging news.  For the week ending June 13th, we sold 571,500 MT or 21 million bushels of beans. The top purchasers were unknown destinations with 141.4k MT, followed by Egypt taking 110k and the Netherlands at 82.6k. In addition to this, in the daily reporting system, the USDA announced sales of 189,000 MT to unknown destinations, of which 126,000 will be this crop year.  Unfortunately, the same cannot be said for corn as we posted sales of just 38,400 MT or 1.51 million bushels.  There were sales of 107.5k MT to Japan, 9.3k to Honduras and 8.1k to the French West Indies but reductions of 115,700 MT from several different buyers. There were sales of 360.8k MT for the 2019/20 crop year though and in the daily system this morning, an additional sale of 122,000 MT of corn to Mexico.  52k of this is for the current year and the balance for next. Wheat sales were better than old crop corn, which is not something we can say very often but regardless, were not inspiring at 187,600 MT or 6.89 million bushels. Algeria was the top purchaser with 59.9k MT, followed by Yemen at 58.4k and then Japan with 38.7k.  
Corn and bean trade did firm up into the morning break, and I suspect we could see stabilization now into the weekend.  Look for trade estimates for the acreage and grain stocks report to begin surfacing next week.