Published on:
14:53PM May 29, 2019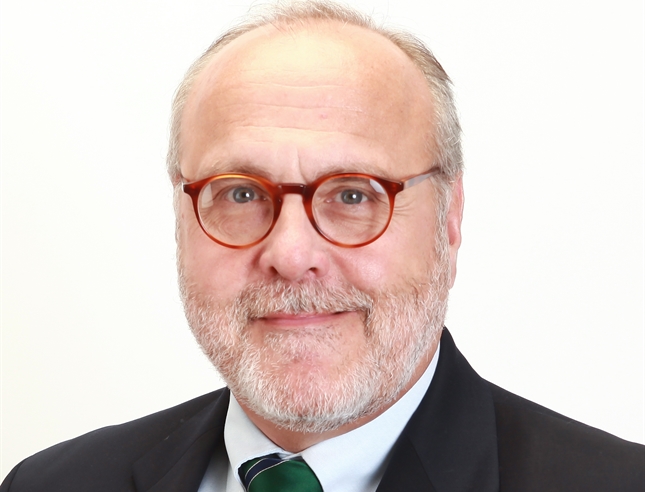 Even though the corn planting progress report came in within the range of estimates, and maybe even a bit to the upper end at 58%, it functioned as just another reminder of the ongoing perils of planting this year and corn price leapt higher in the overnight trade once again.  Using the original acreage projections, this would suggest that there are nearly 39 million acres yet to have seeds planted.  The three largest states would be Illinois with just under 7.3 million, South Dakota with 4.5 million and Indiana with 4.29 million. With prevented planting dates now past or looming in the immediate future, the discussion should begin to focus on what lay fallow with prevent plant coverage and of course, what may shift over to beans.  When it comes to the two I states, one has to suspect that, weather permitting they will continue to plant some of the intended corn acreages even with declining levels of coverage after June 5th, but in points north the shorter growing seasons calls that into question.  Of course, even beyond all of this, considering the majority of the acreage will have been planted after the idealized 10th of May and in many, many regions the seed has been sitting in soppy soils, any ideas of a trendline or better yield would seem improbable.  Do understand, my intention here is not to build up the hype anymore that it has already, particularly seeing that corn prices are pressing up against the upper range of trade for the past five years, but it is challenging to think we will witness anything more than quick corrective and possibly volatile breaks until we have reached out to get a look at the pollination period in July. Weather markets are always a challenge because we are contending with the unpredictability of mother nature, and this one has shaped up to be one for the record books.  I guess I can be thankful that I lost most of my hair years ago and this summer would appear certain to take the rest of it.
The bean market has been the beneficiary of the "risk-off" attitude that has overtaken the grain markets, but we need to be realistic in that there is nothing fundamentally positive that is happening for this market, regardless if we are 37% behind the average planting pace or not.  Do note that November futures did gap higher overnight, making this the 2nd gap from the bottom and if this hold, provides us with upside targets as high as the 9.53 to 9.68 zone.  At this time I have to believe if this turns into reality, it would be a technical gift that should not past up on, particularly for those who have to plant additional beans and considering there is supposed to be an extra check coming from Uncle Sam later this year. We have all heard the old proverb that warns us against looking a gift horse in the mouth.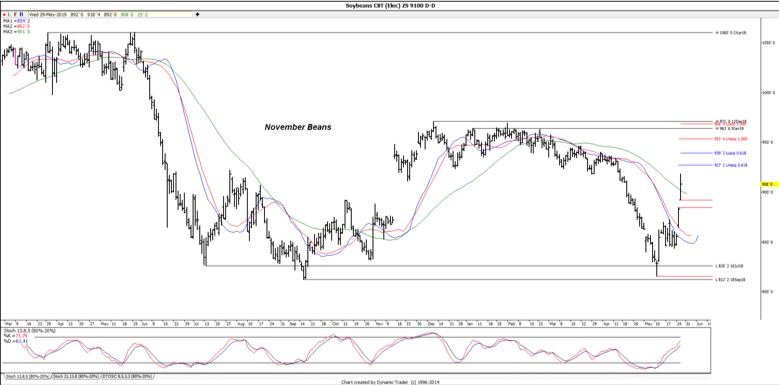 While the wet weather here is unquestionably the only topic markets are zeroed in on, we should not forget there are other things at work behind the headline.  This recent advance in price, as well as a weak Real, has been a real boon for Brazilian farmers and they have been taking advantage of it.  I have spoken with groups of farmers from this country on more than one occasion and have always been struck by the fact that they appear to operate or should I say market with the mindset that when you are offered the opportunity to lock in a good return, you take it.  During the month of May, Brazil has already exported 908,400 MT or 35.77 million bushels, which is double the amount shipped in April.  What makes this even a bit more unusual, this is the time of year they are normally pushing beans out of their ports. 
Finally, you may have thought we heard the last of the African Swine Fever stories, but that is not the case.  Another case has been confirmed in the Yunnan province of China.  This particular farm was quite small, but of course, confirms once again that this could be a problem that will require years to eradicate. Obviously, the hog markets here have come to believe that the potential 30% reduction in the size of the Chinese heard will ultimately have little impact on our prices as yesterday, nearby futures pushed down to the lowest point traded since early March. The fact that there would appear to be little promising in the horizon for a U.S./Chinese trade deal and that the poor weather here is hurting demand has encouraged the selling, but I would consider this little more than a technical correction in the larger picture.