Published on:
21:36PM Jun 21, 2019
At 10:54 CDT this morning, we here in the northern hemisphere will mark the official entry into summer, more commonly referred to as the Summer Solstice or the days with the more hours of sunlight.  Just to give you a little refresher, the word solstice is derived from the Latin solstitium, which literally means Sun (sol), Stopped (stitium), as it appears that the sun stops in the sky.  If you reside far enough north on the globe, this is also the day of the midnight sun, and a number of Scandinavian countries hold 24-hour celebrations (you probably would too if you had nine months of winter) called Midsummer Madness in Sweden and the Midsummer Crazies in Norway.  Astonishingly enough, it has taken me this long this morning to segue into the real topic at hand, and that is the Summer Crazies in the grain and soy trade.  After experiencing the brief midweek corrective swoon, providing a reminder to would-be-bears, that we are a long way from making a crop, prices snapped back higher with a vengeance yesterday, but surprisingly enough, as it stands right now, only beans are trading higher for the week.  Were we to close at the morning break, November beans would be up 12-cents, December corn down 3 ½-cents and December wheat down 13-cents. Not that this is terribly alarming or that it signals that we have exhausted the advance, but maybe it is a warning for would-be-bulls as well, as traditionally weather rallies are short lived. This current one is now 5-weeks old and is showing more than a few grey hairs.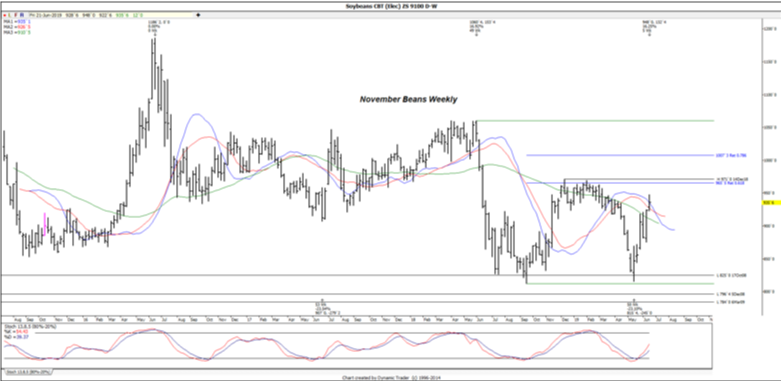 There is no question that the planting issues in the spring of 2019 are an anomaly, and certainly nothing I can recall witnessing in the 40 years I have spent working in commodity markets but that does not change the fact that we will reach a point where price has compensated for the production losses, and we cannot lose sight of the fact that through the process, we will lose demand as well, which seems to be evidenced via the corn sales as of late. I do not believe we are there yet, but over the next couple weeks, as we learn more about acreage and begin to get a peek at late summer weather, it could become increasingly difficult to maintain the bull story.  For a producer with crops that are 1/3 the size that they normally are, or not planted at all, that can be a hard pill to swallow, but that is when it becomes paramount to detach yourself from the emotional side of marketing and focus on what the market is telling you. 
Looking around the globe, crop conditions continue to look solid in Europe. AgriMer, from France, lowered the condition rating for corn 1% this week but it still stands at 81% good/excellent. The winter barley crop was increased 1% and stood at 75% good/excellent, and the spring barley is rated 87% good/excellent.  They left wheat ratings unchanged at 80% good/excellent.  While it seems not to have been a market mover as of yet, Canada has continued to suffer from dry conditions this spring.  Saskatchewan reports that topsoil is rated 2% surplus, 37% adequate, 40% short, and 21% very short.  Quite a departure from the upper Midwest.  On Wednesday of next week, Stats Canada will publish acreage estimates. In the Southern Hemisphere, the Buenos Aires Grain Exchange reports that corn harvest in now 44.2% complete and bean harvest 99.1%.  Winter wheat planting is 49.7% complete and winter barely 18.8%.  
Last but not least as we prepare to wrap up this week, even though the Fed did not lower rates this week, the dovish tone the expressed in post-meeting comments and the belief that they will soon do so was enough to stimulate buying in equities once again. The S&P 500 has pushed right back against the peak set in May. By no means is this a boon for commodities, which has been reflected in various broad-based commodity indexes, but it has put pressure on the dollar.  While we have not quite slipped over the edge just yet, we sit on the cusp, and it may not take much of a push to send it tumbling lower.