Published on:
13:41PM May 06, 2019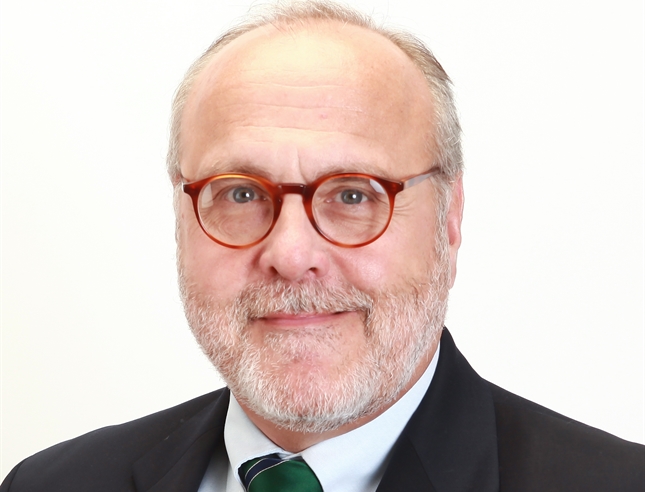 Obviously, no one saw that coming.  After warm and fuzzy comments from trade negotiators from both the U.S. and China and I believe the hope that a deal would be wrapped up in Washington this week, President Trump dashed those sentiments with a pair of tweets over the weekend.  On Sunday he proposed raising the already extra 10% tariff $200 billion of Chinese good to 25% as well and then floated the threat of imposing some type of duty on an additional $325 billion in goods.  He followed all this up this morning by saying "The United States has been losing for many years, 600 to 800 Dollars a year on Trade. With China, we lose 500 Billion Dollars. Sorry, we're not going to be doing that anymore!" Granted, this could be little more than his style of bluffing ahead of what was scheduled for the resumption of negotiations this Wednesday buy, of course, markets do not know that, and they responded according.  In the case of the grains, it would seem we have a classic example of two steps forward and one giant step back, while for beans, we never had the step forward, so this is just a big leap (gap) backward.  The break this morning pushed spot futures right down against the lows recorded in 2018, so in theory, we have not moved into new lows for the "trade war era," but certainly there is no guarantee that we have not.  We already have weekly indicators into the oversold realm but still pointing lower but for me, the most disconcerting element in the picture is the weekly gap. If left unchecked, it provides us measuring targets of 7.65 and 7.26.  The soybean market has not ventured into that realm since 2007.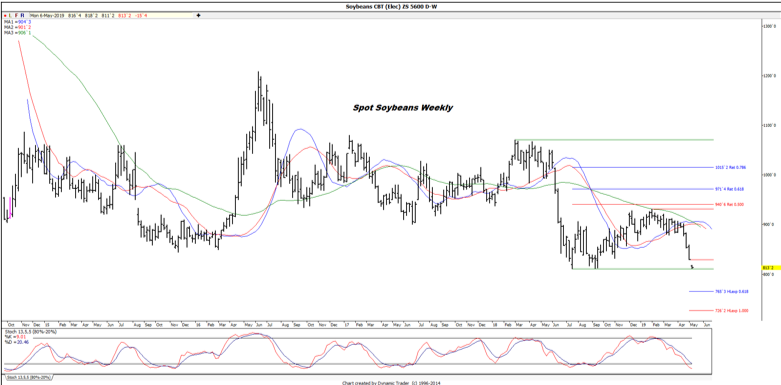 Unfortunately, this story overshadows anything else in the news this morning, but I suspect the next weather story is not far behind.  Planting progress will be released this afternoon, and I have yet even to see any trade estimates for where that may come in.  No doubt some regions made good progress this past week, particularly west of the Mississippi River, but the weather forecast for the balance of this week would seem to promise more delays ahead.  Of course, that would not be supportive for beans.
Safras Mercado updated production forecasts for Brazil over the weekend.  They now expect a total corn crop of 101.76 MMT and beans of 117.9. The USDA currently stands at 96 MMT corn and 117 MMT beans.
Of course, on Friday of this week, we will have productions reports to mull over from the USDA as well. I have yet to see any trade surveys released but expect them to filter in later today.  
Macros are providing no help either this morning.  Energies and metals are lower and the dollar higher.  Obviously, the equity markets did not appreciate the weekend tweets either as we have hefty selling there this morning as well.