Published on:
13:48PM May 31, 2019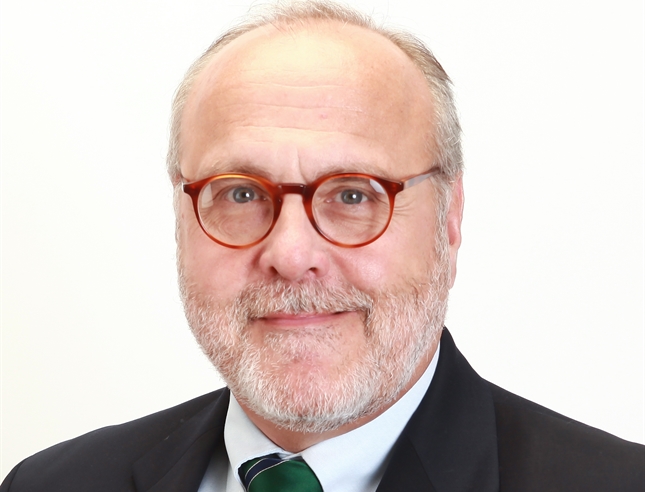 After the posting somewhat troubling price action and closes on Wednesday in the grain and soy markets, the bears were being to lick their chops, believing the opponent was tired enough that it may be time to pounce on them once again.  In turn, yesterday they were provided with a wakeup call and delivered the message that there is far too much uncertainty surrounding crop year 2019 to think they can wrest control of anything just. Prices have softened some again overnight, driven by all things more tariff talk, but this time directed against Mexico but regardless, if we closed right now, it will have been not only an impressive rally for the week but the month as well.  As it stands this morning, July corn is up $.95 and should post the highest monthly close since May of 2014, July wheat is up $.79 and is recording an outside higher monthly reversal, and while understandably less enthusiastic, July beans are still set to gain $.31 for the month. We should never lose sight of the fact that the job of the market it to disseminate the information at hand and attempt to come up with a price that reflects what happens on a global scale.  Sometimes that means pressing prices down far enough to stimulate demand and discourage production, and currently, we have just the opposite at work.  While the corn planting window is closing a bit more each day, and while the market cannot change the weather, through the economic incentive of higher prices, it is trying to keep it propped up a bit longer. We all know there is a limit to even this, but for the next couple weeks at least, I suspect it will want to provide that economic incentive to keep the corn planters running wherever possible.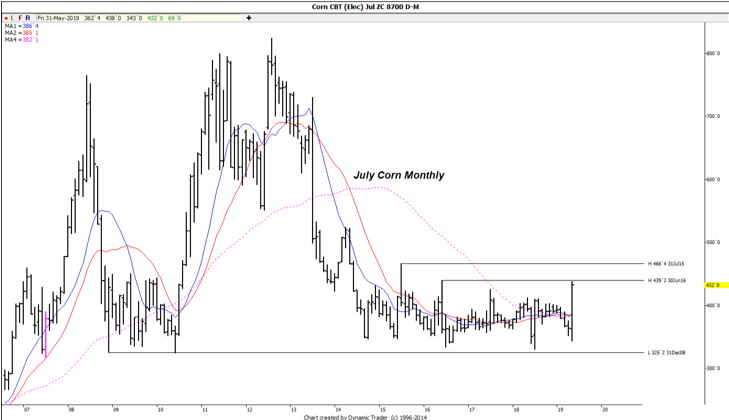 Further complicating the decision this year is the potential for the Market Facilitation Payments, MFP this year.  While that actual breakdown of this payment will not be known until we have moved past all the prevent plant dates, one factor is known; an eligible crop needs to be planted to qualify for the payment.  If you have elected not to plant and take the insurance payment, you will not receive MFP.  Needless to say, the planting updates next week will set a critical reference point as to the potential for acreage this year.   
My journey this week continued across western Illinois, the width of Missouri and then north into Iowa and I have to see anything that would resemble normal for this time of year.  With the exception of one lone planter trying to mud things in over in Indiana this past Monday, I have seen absolutely zero planters moving.  I will cut back east across Iowa this afternoon.  Last week it was estimated that these four states still had over 17 million acreages of corn to plant, and it will be interesting to see just how much was accomplished. 
The corn market has another friendly item in the works as reportedly as early as today, the Trump administration will announce that it is lifting the ban on the year summer sales of 15% blend ethanol nationwide. As expected, the energy industry has already stated that they will immediately file suit against such a move. 
Weekly export sales were released this morning, and we find a notable improvement in corn. For the week ending May 23rd, we sold 906,800 MT or 35.7 million bushels.  This was 94% above the 4-week average.  Take note that 78% of this total was attributed to Japan with 713,200 MT, with the next best sale to Mexico with 184.7k MT and then Colombia at 147.8k.  Unknown destination canceled 203.2k MT this week.  It will be interesting to see what Mexico does moving forward now that President Trump has ordered an increase in tariffs on imports from that country beginning next month.  Bean sales slipped a bit from last week but still came in 92% above the 4-week average at 455,800 MT or 16.75 million bushels.  China was the top purchaser with 135.7k MT, followed by Spain with 57k and then the Netherlands at 56.8k.  The was a marked increase in wheat sales and at 153,000 MT or 5.62 million bushels, which was 63% above the 4-week average.  Of course, realistically, that speaks to how poor these sales have been as of late.  New crop sales were solid though coming in at 411,800 MT or 15.13 million bushels. Finally, pork sales we quite solid with a total of 54,700 MT.  Of this, China purchased a total of 39,100 MT or 71.4% of the total.