Published on:
15:33PM Mar 28, 2019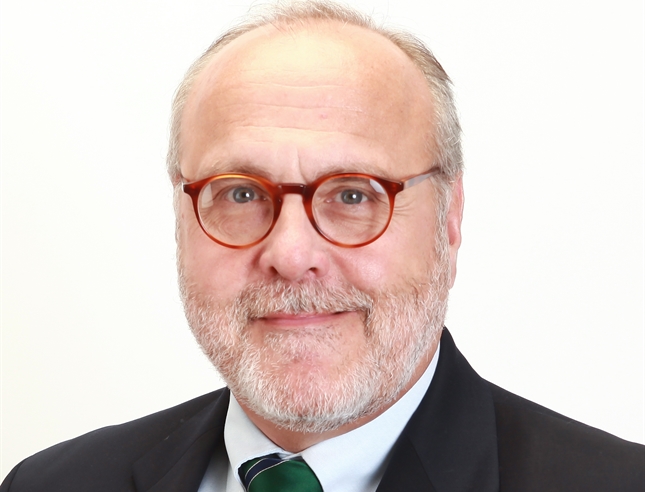 Barely a week ago, it appeared that hedge funds were on the wrong side of the ledger and with concerns about the cold and wet early spring was going to be enough to show them the "error of their ways" in the grain and soy markets. Obviously, all it did was give them an opportunity to add to shorts.   Be that as it may, looking at the calendar, I continue to believe they will have a difficult time pressing prices and possibly with the exception of beans, we should remain contained within existing trading ranges.  
It has been a little while since we have looked at the CRB Index and it is worth pointing out that over the past couple weeks, it has rallied to the highest levels traded since late last year.  Thus far we have been stopped by the 55-week moving average, which also capped the index last October but the weekly MACD has turned positive once again so bulls should have some wind at their backs.  Even if we do extend higher that would not assure buying in the grain/soy markets but should attract additional investment money.  Once again, we can site the old adage that a rising tide lifts all boats.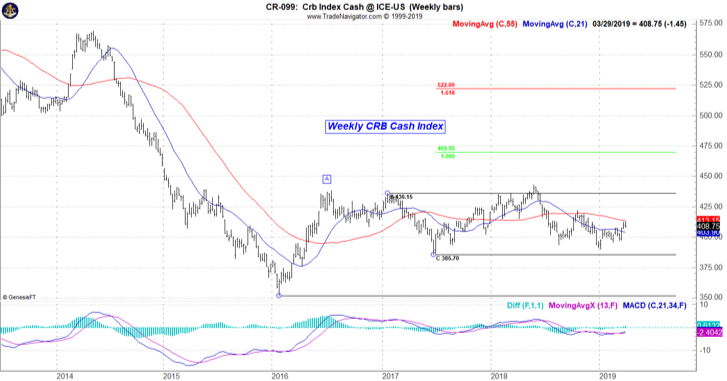 Speaking of boats, it would appear there are not going to be many boatloads of beans headed out of the U.S. if the weekly exports sales are to be the gauge.  For the week ending March 21st, we sold just 181,800 MT or 6.68 million bushels of beans.  This is 52% below the previous week and 85% below the 4-week average.  The top purchaser was Egypt with 123.67k MT, followed by the Netherlands at 82.4k and then South Korea with 63.5k.  There were reductions of 259,900 MT from Unknown destinations. Corn and wheat sales fared a bit better.  Corn came in toward the upper end of expectations with sales of 904,500 MT or 35.61 million bushels.   Of course, we were expecting the 300,000 MT sale to China which was the largest purchase for the week, and following that we had Japan with 228,800 MT and then Mexico with 191,500. Wheat sales were up 59% from the previous week and 15% above the 4-week average coming through at 475,700 MT or 17.48 million bushels.  Mexico was the best buyer with 153.3k MT, then Japan at 75.5k and finally Indonesia with 67k.  In the daily system, the USDA also reported a sale of 150k MT to Iraq this morning, but none of this appears to have inspired buying.  It is worth noting that in the pork export sales, China canceled 1,000 MT but Hong Kong did purchase 2,700 MT, but the overall sales at 21,500 MT were down 27% for the week. 
Reuters reported this morning that in the Shandong province of China, which is one of the largest pork producing regions, the breeding herd has dropped 41% in the past seven months due to the ASF.  This would appear to be a much larger cut than "official" number but sounds consistent with the estimates I have heard from private sources.  Do keep in mind that the issue has probably given them an opportunity to fill cold storage as when ASF is found on a farm, they simply go in and slaughter the entire facility but longer term, this could create a void.  I was told that in some commercial facilities, pits were being filled and chickens are now occupying the space as that will enable them to get meat to market quicker.  Would seem to be a fine plan as long as the next issue is not Avian Flu.  Of course, regardless if it is chickens or empty buildings, this does not paint a pretty picture for the demand for feedstuffs.