Published on:
21:36PM Jul 02, 2019
With summer temperature finally arrived and a little less frequent rainfall, many had anticipated improvements in the crop conditions, and we surprised to discover that was not the case.  Both corn and beans remain unchanged at 56% good/excellent and 54% good/excellent respectively.  That did provide a little support when trade commenced in the overnight hours, but the emphasis needs to be on the word little.  This morning, led by further weakness in wheat in response to solid yield reports coming from Kansas, we have slipped lower once again but certainly not with the intensity witnessed over the past couple sessions.  
We certainly could see prices slip a bit more as we move out through the July 4th break, but I do not believe we are staring at a significant washout from here.  Corn has already surrendered right at 50% of the weather inspired advance, wheat about 40% and beans so far 30%, and in each case, with more than enough production uncertainty yet ahead I suspect we will begin uncovering buying interest once again.  I am sure the more important question for most though will be, have I missed the peak? While none of us holds the final say in this matter, I believe that if you have not done so already, you need to be in a selling mode on the next rebound.  As exciting as this market was over the past seven or so weeks, in the grander scheme of things, as we did was to reach towards the upper end of this five-year-old trading range and have not experienced enough of a global production scare to carry us out of here.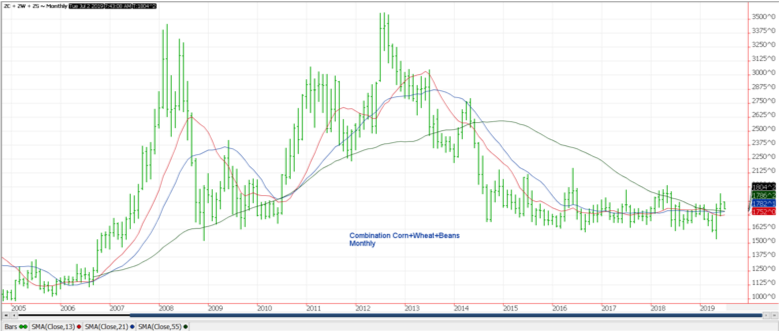 It would appear that all the investment bulls have run back over to the equity markets as the S&P 500 finally reached into new highs and new high closes this week, inspired by warm and fuzzy feeling about the re-start of trade negotiations between the U.S. and China.  This also provided an incentive for a boost in the Dollar, but I would suggest, this market could be the key to direction as we move into this second half of the year. As I noted the last weekend letter, you can attribute rising interest rates in 2018 for a decent portion of the dollar advance, and now that we are relatively confident the Fed will be reversing course on that in the months ahead, there is less reason to believe we can sustain these levels.  Now, as I commented in that letter, the Dollar could remain as the best-looking horse in the glue factory, but there could be several elements at work that could change that situation. Undoubtedly, lower interest rates could be one of these, but the ongoing and accelerated use of trade sanctions as a weapon appears to be accelerating the de-dollarization in global trade.  This is not to say that we will not remain as the global currency of choice for years to come, but there appear to be more and more nations intent on developing alternatives.  I believe the Dollar is already teetering on the edge of turning lower and if correct, it could be just the elixir commodity markets will need to reach out of this long-term slump.