Published on:
13:54PM Apr 04, 2016
www.thehueberreport.com/freetrial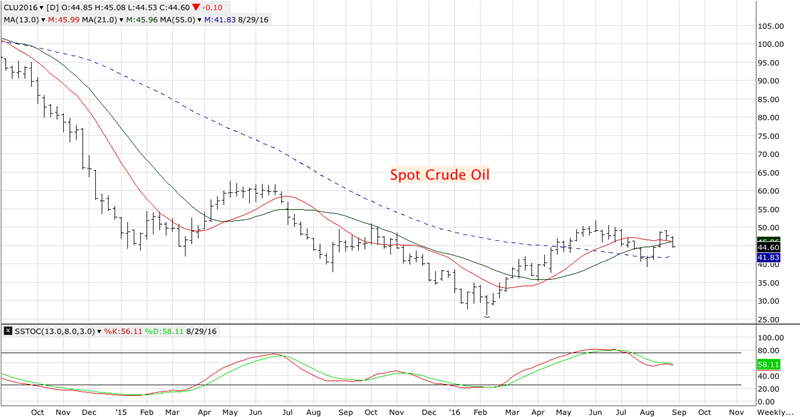 I am remiss to begin this new week and technically new quarter with dour news for commodity markets, but unfortunately, try as I might, it is difficult to find anything but this morning.  Not unexpectedly, corn is under pressure this, albeit somewhat minor, still suffering from aftershocks of the acreage earthquake last week followed by wheat, but bean bulls continue to slowly but surely march that market into higher highs for the year.  Most other commodities are mixed as well but with a seeming sluggish undertone that would appear to forebode possible troubles ahead.  As I have noted in previous letters, in spite of common investment wisdom, commodity markets were the top performer for the first quarter of 2016 but a quick look at the indexes would appear to suggest we may have already pulled about as much milk as we can from this cow for now.  The Goldman Sachs Commodity Index completed a 38.2% retracement of the entire 2015/2016 high to low range at mid-month but has now lost ground over the past couple week and we are very close to turning weekly indicators lower once again.  We have not confirmed a reaction high just yet but without a positive spark soon, it would appear to be a foregone conclusion.  It would reiterate, this is not to suggest that we are headed into the next major bear wave as there would should be to much risk laying on the immediate horizon nor would it mean that all commodities have to breakdown but at a minimum it should create headwinds and slow down or stop any flow of new money into the sector.  One factor to keep in consideration though is that a number of funds are seasonal traders and seasonally, this is not the time of year to throw money at the short side of commodities.  I also continue to believe that a possible counterbalance is the dollar which continues to teeter on the edge of breaking into new lows for the year again.
It would not appear that we should be expecting to see any immediate improvements in spring planting weather as the South continues to be drenched and snow and of rain moves across the upper Midwest again this week.  It would seem that there is no question that these conditions will be cutting into potential corn acreage in the South but after last week, it would appear that we have plenty of cushion.  State by state updates should be released this afternoon. 
Note that grain crush numbers for February were released last Friday and for the month we used 470.2 million bushels of corn.  While this number was down 4% from the previous month we were still 7% above the same month last year.  91.4% of the usage was for the production of alcohol. 
There is not even much on the economic calendar this week to look forward to. The minutes from the mid-March FOMC meeting will be released on Wednesday, which always holds the potential for a little excitement as someone could find a hidden clue somewhere and there are several regional bank presidents speaking at various events which always open the possibility for a mixed message.
While I have certainly not offered anything this morning that would give anyone much to look forward to at this point, I continue to maintain that for now at least the downside of markets is someone limited and likely short-lived but we will ultimately need to find a stimulus if we are to strike fear into the hearts of the bear once again.