Published on:
21:36PM Mar 21, 2019
While just about anyone with a direct connection to crop production might ask "what took so long?", it would appear there is a still growing recognition that we are going be faced with significant cuts on grain and possibly soy production in the United States this year. I have commented many times over the past few years, after multiple good crops, the farming capabilities today, combined with the technology in seed and other inputs, many had lulled themselves into the assumption that corn production was dialed into some type of auto-pilot and had become virtually bulletproof.  Whoops. We have all been warned about assuming things, and that should especially apply to anything that is dependent on a very volatile mother nature. Granted, no one has the definitive answer as to what size corn, let alone beans or wheat crops we will harvest this year and frost damage concerns would almost seem a "gimmie" this fall but it would appear this morning that we have already moved into the acceleration blow-off stage for this rally.  Corn has begun the week with a gap higher, making this the third gap since the rally party started in the latter part of May.  The theory holds that it takes three gaps to complete a move, and often after the third gap, you have entered an acceleration/blow-off phase.  We will, of course, have a planting/condition update released this afternoon, which if the progress is substantial, could let a little steam out of this rally. That said, there is nothing in the action just yet to suggest we are done, and seeing a 5 at the front end of the price of corn would not be a surprise.  I need to reiterate once again though that weather rallies are fast and furious by nature and tend to be short-lived and eventually we will have to contend with the demand destruction that comes in the wake of such a move.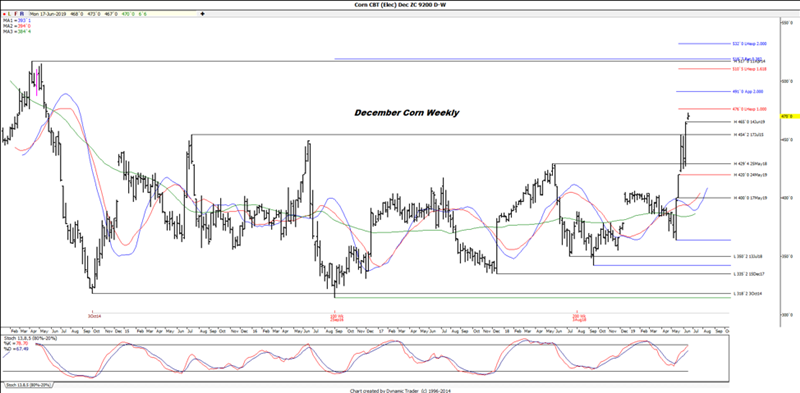 Interestingly enough, wet weather has now become an issue in a couple of other parts of the globe.  Heavy rains with hail southeastern France fell over the weekend has prompted the government to declare a natural disaster for crops.  At this point, I am unsure of what crops were specifically impacted or how wide an area.  India is also struggling with too much moisture as slow-moving monsoons across the central and western growing regions have pushed planting at least two weeks behind schedule.  
Other news is a bit sparse this morning, which probably does not matter at this time anyway.  We will see the NOPA crush data at 11:00 this morning and the trade is looking for a figure of around 162.4 million bushels.  This only news I read from China was that in the reserve auctions today 72% of the beans offered and 100% of the rapeseed oil were sold. 
There is nothing exciting lining up in the macros either but keep in mind that the FOMC does meeting this week.  While the majority do not appear to believe they will cut interest rates at this event, but if that surprised everyone and did, it could be enough to push the dollar over the edge.