Published on:
16:39PM Oct 25, 2016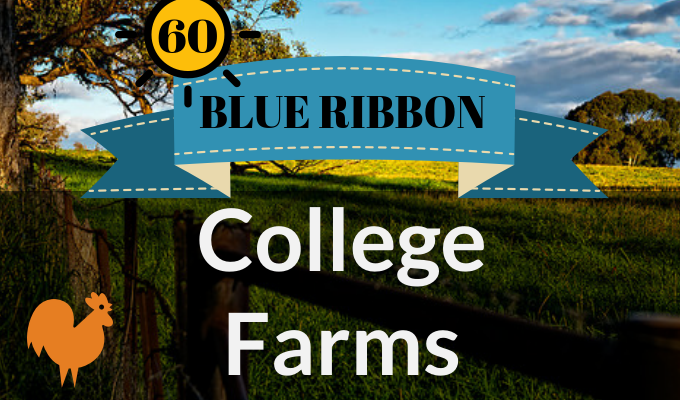 College rankings are fun. They're exciting. They put school pride to the test. They give us something to nitpick and opine and argue about. They put school pride to the test.
Consider the following list from www.onlinecollegeplan.com. The website recently put out its ranking of the top 60 "blue ribbon college farms," in honor of October being Farm to School Month.
Here's how Online College Plan scored each college farm:
Farm Size in Acres: 0 to 9-acres = 1 point; 10 to 49-acres = 2 points; 50 to 99-acres = 3 points; and 100-acres = 5 points
Crop Variety: 1 point per crop type
Sustainability-Related Degree Options = 5 points
If a tie occurred, alphabetical order was used to break it. Now, without further ado, here's the list. Do you agree with the results? Did the methodology squeeze any really good college farms off the list?
60. Carleton College (Northfield, MN)
59. Central Carolina Community College (Pittsboro, NC)
58. Colorado State University (Fort Collins, CO)
57. Fairhaven College of Western Washington University (Bellhaven, WA)
56. Iowa State University (Ames, IA)
55. Maharishi University of Management (Fairfield, IA)
54. Pennsylvania State University (State College, PA)
53. University of Maine - Orono (Orono, ME)
52. California State Polytechnic University - Pomona (Pomona, CA)
51. College of the Redwoods (Eureka, CA)
50. Oberlin College (Oberlin, OH)
49. Oregon State University (Corvallis, OR)
48. Prescott College (Prescott, AZ)
47. Rutgers University (New Brunswick, NJ)
46. University of California - Davis (Davis, CA)
45. University of Idaho (Moscow, ID)
44. University of Montana (Missoula, MT)
43. University of New Hampshire (Durham, NH)
42. Yale University (New Haven, CT)
41. Evergreen State College (Olympia, WA)
40. Middlebury College (Middlebury, VT)
39. New Mexico State University (Las Cruces, NM)
38. University of Minnesota - Twin Cities (Minneapolis, MN and St. Paul, MN)
37. University of Vermont (Burlington, VT)
36. Clemson University (Clemson, SC)
35. Dartmouth College (Hanover, NH)
34. Earlham College (Richmond, IN)
33. College of the Redwoods (Eureka, CA)
32. Lawrence University (Appleton, WI)
31. Northland College (Ashland, WI)
30. Rudolf Steiner College (Fair Oaks, CA)
29. Stanford University (Stanford, CA)
28. University of Wisconsin - Madison (Madison, WI)
27. Washington State University (Pullman, WA)
26. Bennington College (Bennington, VA)
25. College of the Atlantic (Bay Harbor, ME)
24. Cornell University (Ithaca, NY)
23. Ferrum College (Ferrum, VA)
22. Michigan State University (East Lansing, MI)
21. St. Olaf College (Northfield, MN)
20. University of California - Santa Cruz (Santa Cruz, CA)
19. Butte College (Oroville, CA)
18. Delaware Valley College (Doylestown, PA)
17. Slippery Rock University (Slippery Rock, PA)
16. Warren Wilson College (Swannanoa, NC)
15. Wilmington College (Wilmington, OH)
14. Wilson College (Chambersburg, PA)
13. California State University - Chico (Chico, CA)
12. Cerridwen Farm at Green Mountain College (Poultney, VT)
11. Sterling College (Craftsbury Common, VT)
10. Vassar College (Poughkeepsie, NY)
9. Berry College (Mount Berry, GA)
8. College of the Ozarks (Hollister, MO)
7. Hampshire College (Amherst, MA)
6. California State Polytechnic University - San Luis Obispo (San Luis Obispo, CA)
5. University of British Columbia (British Columbia, Canada)
4. Deep Springs College (Deep Springs, CA)
3. North Carolina State University (Raleigh, NC)
2. Berea College (Berea, KY)
1. Santa Rosa Junior College (Santa Rosa, CA)