Published on:
00:40AM Mar 25, 2015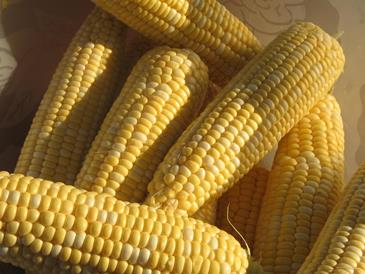 ~~TRADING COMMODITY FUTURES AND OPTIONS INVOLVES SUBSTANTIAL RISK OF LOSS AND MAY NOT BE SUITABLE FOR ALL INVESTORS. YOU SHOULD CAREFULLY CONSIDER WHETHER TRADING IS SUITABLE FOR YOU IN LIGHT OF YOUR CIRCUMSTANCES, KNOWLEDGE AND FINANCIAL RESOURCES.      
After a record corn crop in 2014 prices have fallen to levels that put producers profit margins in jeopardy.  To make matters worse many producers did not have the room to sore this bumper crop and were forced to sell at or near the lows of the market.  Producers are now very reluctant to sell corn bushels even now that corn has bounced off lows but cash requirements and storage limitations are pushing some guys to make some sales.  With the outlook for the upcoming growing season and the new crop balance sheet it may make sense to look at recapturing some upside potential on bushels that have been sold.
Recently a sharp drop in the US$ and a very slow pace to planting in the south have added strength to the corn market.  This could continue and with the average trade estimate at 88.9 million planted acres this year corn could be very sensitive to any further planting delays especially if it spreads to the heart of the Corn Belt.  With such low planted acreage estimates it may be the case that anything but a near perfect growing season could mean a tighter balance sheet next year.  So, the recent strength in corn could just be the tip of the iceberg if there were to be any weather issues.
The other consideration coming up is the March 31st USDA Quarterly Grain Stocks and Prospective Plantings report.  This report has a history of being a big market mover.  This same report in 2013 "found" an extra 400 million bushels of corn and sent markets sharply lower in the following three days.  As I look at the average trade estimates I think there could be a chance for a bullish surprise.
We have some complimentary 2015 commodity reference calendars available.  They are a little bigger than pocket sized and very useful if you follow markets.  You can sign up for yours here - http://www.zaner.com/offers/calendar.asp
In 2013 the USDA reported corn stocks almost 400 million bushels above expectations.  After the drought stricken crop of 2012 the thought was that corn stocks had been very low.  Where was all of this extra corn coming from after a less than ideal growing season.  One possibility is that the USDA was too low on yield, maybe things were not as bad as they seemed.  Another theory, and the one I favor, is that the USDA had been severely underestimating on farm storage and on the trek down form record high prices those bushels came to market.  In the case of the current situation the USDA may not get an accurate picture of on farm storage again and some bushels may get "lost" for the time being.  This is simply a theory, so take it with a grain of salt.
Either way, if the trade estimate of 88.9 million planted acres of corn proves to be accurate it will take a near perfect growing season to keep ending stocks from falling next year.  2014 was a record national average yield and a record production year for corn.  The last two times we set a national average yield record (2004, 2009) we followed up with a 12 bushel and acre decline the following growing season.  If that were the case this year it could drop ending stocks to levels much lower than the current year and possibly lower than the last two.  This could bring a heightened sense of concern on any weather issues this year and if we were to see a weather event that would cut production potential corn prices could need to go higher to slow the demand that has built up at lower prices.
If the higher corn price scenario does play out this year then the opportunity to capitalize on these higher prices will have been missed on bushels sold.  However, we are using some option strategies that will allow producers to recapture some of that potential again.  This is not without risk however, when buying an option you run the risk of that option expiring worthless and losing the premium paid (plus commission and fees).  Because of this we are using strategies that look to keep costs below ten cents per bushel.  Given the setup we have going into this growing season we think it may be worth the risk in the end.
Please give us a call if you would like more info on the strategies we are using or if you would like to set up an account to put a plan in action.  Ted Seifried - (312) 277-0113.
Feel free to give me a call or shoot me an email if you would like to talk about your marketing plan, the markets, weather, or just to visit.  Also, follow me on twitter @thetedspread if you like. 
May Corn Daily chart:
May Soybeans Daily chart:
May Wheat Daily chart:
All this means that speculators should be looking for opportunities and producers need to look to lock up some prices. Give me a call for some ideas. In particular, producers looking to hedge all or a portion of their production may be rather interested in some of the options / options-futures strategies that I am currently using.
In my mind there has to be a balance. Neither technical nor fundamental analysis alone is enough to be consistent. Please give me a call for a trade recommendation, and we can put together a trade strategy tailored to your needs. Be safe!
Ted Seifried (312) 277-0113 or [email protected]
Additional charts, studies, and more of my commentary can be found at: http://markethead.com/2.0/free_trial.asp?ap=tseifrie
Futures, options and forex trading is speculative in nature and involves substantial risk of loss.  This commentary should be conveyed as a solicitation for entry into derivitives transactions.  All known news and events have already been factored into the price of the underlying commodities discussed.  The limited risk characteristic of options refers to long options only; and refers to the amount of the loss, which is defined as premium paid on the option(s) plus commissions.
FOR CUSTOMERS TRADING OPTIONS, THESE FUTURES CHARTS ARE PRESENTED FOR INFORMATIONAL PURPOSES ONLY. THEY ARE INTENDED TO SHOW HOW INVESTING IN OPTIONS CAN DEPEND ON THE UNDERLYING FUTURES PRICES; SPECIFICALLY, WHETHER OR NOT AN OPTION PURCHASER IS BUYING AN IN-THE-MONEY, AT-THE-MONEY, OR OUT-OF-THE-MONEY OPTION. FURTHERMORE, THE PURCHASER WILL BE ABLE TO DETERMINE WHETHER OR NOT TO EXERCISE HIS RIGHT ON AN OPTION DEPENDING ON HOW THE OPTION'S STRIKE PRICE COMPARES TO THE UNDERLYING FUTURE'S PRICE. THE FUTURES CHARTS ARE NOT INTENDED TO IMPLY THAT OPTION PRICES MOVE IN TANDEM WITH FUTURES PRICES. IN FACT, OPTION PRICES MAY ONLY MOVE A FRACTION OF THE PRICE MOVE IN THE UNDERLYING FUTURES. IN SOME CASES, THE OPTION MAY NOT MOVE AT ALL OR EVEN MOVE IN THE OPPOSITE DIRECTION.