Published on:
23:50PM Apr 16, 2019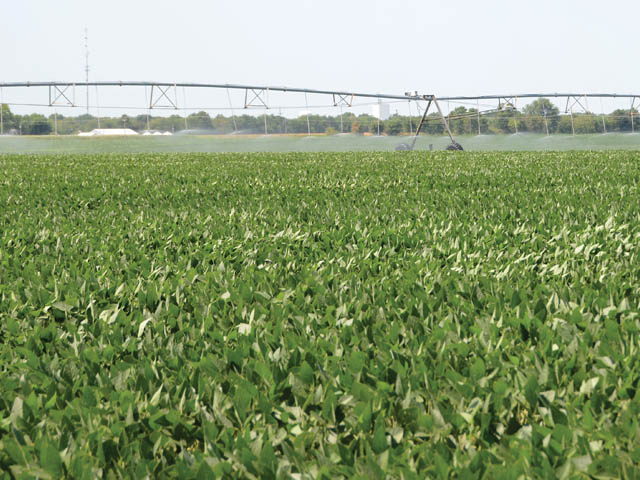 TRADING COMMODITY FUTURES AND OPTIONS INVOLVES SUBSTANTIAL RISK OF LOSS AND MAY NOT BE SUITABLE FOR ALL INVESTORS. YOU SHOULD CAREFULLY CONSIDER WHETHER TRADING IS SUITABLE FOR YOU IN LIGHT OF YOUR CIRCUMSTANCES, KNOWLEDGE AND FINANCIAL RESOURCES.
Soybeans were down over 10 cents on Tuesday, breaking back down toward recent lows. Funds were estimated to be aggressive sellers despite some mixed talk about a trade deal with China. The soybean chart now has an interesting set up. Where do beans go from here?
From a news standpoint there were some mixed reports about the trade deal. On one hand there were rumors that a trade deal could be announced as soon as Thursday, supposedly to help offset the impact of the Mueller report. I will believe it when I see it, and I think the trade feels the same way. The (maybe) more important news was a little more obscure. Late Monday the US approved a US$500 million sale of F-16 fighter jet training and maintenance to Taiwan. I cannot imagine this sits well with China who has warned the US about interfering with Taiwan.
Sign up for our Morning Ag Hedge newsletter! Sign up here: http://www.zaner.com/landing/ag_hedge_newsletter.asp
News aside, much of the selling on Tuesday seemed to be technical in nature. In 7 of the last 9 trading sessions soybeans had tried to break out of the near-term downtrend channel and failed. This could have led to fund selling into the stops below last week's low.
Tuesday's trade leaves a potential inverse head and shoulders formation on the chart. This could be a technical bottom if Tuesday's lows hold. However, if we have a decisive close below the March 29th (Quarterly Grain Stocks) low this could open the door to a new leg lower.
We have complimentary 2019 commodity reference calendars available. They are a little bigger than pocket sized and very useful if you follow markets. You can sign up for yours here - http://www.zaner.com/offers/calendar.asp (Shipping to the US only)
This is an interesting time of year for grains to be under pressure. It is also not typical for the funds to take large short positions into planting the US crop. A spark could cause the funds to cover their record short positions, but will we get that spark? It will be interesting to see where we go from here, and I'll hold my breath for that trade deal on Thursday.
Give us a call if you would like more info on the strategies we are using or if you would like to set up an account to put a plan in action.  Ted Seifried - (312) 277-0113.  Also, feel free to give me a call or shoot me an email if you would like to talk about your marketing plan, the markets, weather, or just to visit.  Find me on twitter - @thetedspread 
May Soybean Daily Chart:
Producers looking to hedge all or a portion of their production may be rather interested in some of the options / options-futures strategies that I am currently using.
In my mind there has to be a balance. Neither technical nor fundamental analysis alone is enough to be consistent. Please give me a call for a trade recommendation, and we can put together a trade strategy tailored to your needs. Be safe!
Ted Seifried (312) 277-0113 or [email protected]
Additional charts, studies, and more of my commentary can be found at: http://markethead.com/2.0/free_trial.asp?ap=tseifrie
FOR CUSTOMERS TRADING OPTIONS, THESE FUTURES CHARTS ARE PRESENTED FOR INFORMATIONAL PURPOSES ONLY. THEY ARE INTENDED TO SHOW HOW INVESTING IN OPTIONS CAN DEPEND ON THE UNDERLYING FUTURES PRICES; SPECIFICALLY, WHETHER OR NOT AN OPTION PURCHASER IS BUYING AN IN-THE-MONEY, AT-THE-MONEY, OR OUT-OF-THE-MONEY OPTION. FURTHERMORE, THE PURCHASER WILL BE ABLE TO DETERMINE WHETHER OR NOT TO EXERCISE HIS RIGHT ON AN OPTION DEPENDING ON HOW THE OPTION'S STRIKE PRICE COMPARES TO THE UNDERLYING FUTURE'S PRICE. THE FUTURES CHARTS ARE NOT INTENDED TO IMPLY THAT OPTION PRICES MOVE IN TANDEM WITH FUTURES PRICES. IN FACT, OPTION PRICES MAY ONLY MOVE A FRACTION OF THE PRICE MOVE IN THE UNDERLYING FUTURES. IN SOME CASES, THE OPTION MAY NOT MOVE AT ALL OR EVEN MOVE IN THE OPPOSITE DIRECTION.