Published on:
23:50PM Nov 02, 2017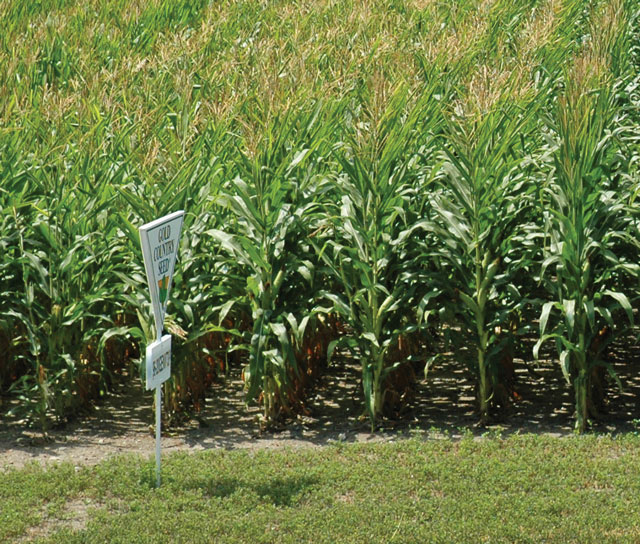 TRADING COMMODITY FUTURES AND OPTIONS INVOLVES SUBSTANTIAL RISK OF LOSS ANDMAY NOT BE SUITABLE FOR ALL INVESTORS. YOU SHOULD CAREFULLY CONSIDER WHETHER TRADING IS SUITABLE FOR YOU IN LIGHT OF YOUR CIRCUMSTANCES, KNOWLEDGE AND FINANCIAL RESOURCES.
On Thursday the December corn contract tested the 50-day moving average for only the second time since mid July. The last time corn did this if failed miserably. Now that we are a little further down the road will corn be able to get up and over or will it fail again?
The corn market has traded sideways in a tight range now for over 2 months. Any attempt to break out of the range either higher or lower has been quickly thwarted. Rising yield expectations and producer selling during harvest has held corn firmly in check to the upside, but the interesting thing is that corn has not yet extended losses to the downside. Either way corn has seen very little price movement in some time.
Sign up for our Morning Ag Hedge newsletter! Sign up here: http://www.zaner.com/landing/ag_hedge_newsletter.asp
This can mean a few things. For one, there is a large speculative short position in corn right now and with corn prices flat lining there might be some growing impatience in the bear camp. If positions are not making money and corn has failed to extend a leg lower the shorts may give up on pushing a large position. Secondly there have been a lot of volatility sellers. This means that traders have been selling options on both sides of the market and (successfully so far) collecting premium. This drives down the price of premium and can encourage these same traders to now sell more options to get the same money and could set up a bit of a powder keg if corn were to break out of the range.
Another thing that sideways markets do is flatten out moving averages. Moving averages are considered by many to be key support or resistance points on a chart. Generally the longer term a moving average is the more significance it holds. For corn the 50-day moving average has been a brick wall for some time. Since July corn has only tested the 50-day once before and it resulted in a reversal lower day. This was a big failure at an attempt to breakout to the upside.
Now however, corn is attempting to try again. On Thursday corn did briefly get over the 50-day moving average before backing off a bit. This was not a miserable failure like we saw last time however. Now that we are further along in the harvest there may be less producer selling to put pressure on corn prices so corn may have a better shot at successfully breaking key resistance. And, with the large speculative funds (who generally follow charts closely) holding a near record short position there could be significant short covering if corn can break through chart resistance.
The next few days could be interesting for corn. There is a USDA report coming out on the 9th of October that is mostly expected to be bearish. In the mean time however it seems that corn at least wants to attempt to break out of the range to the upside. We will see if it is successful or if it fails again and continues to trade the tight range.
We have complimentary 2017 commodity reference calendars available. They are a little bigger than pocket sized and very useful if you follow markets. You can sign up for yours here - http://www.zaner.com/offers/calendar.asp (Shipping to the US only)
Give us a call if you would like more info on the strategies we are using or if you would like to set up an account to put a plan in action. Ted Seifried - (312) 277-0113. Also, feel free to give me a call or shoot me an email if you would like to talk about your marketing plan, the markets, weather, or just to visit.Follow me on twitter @thetedspread if you like.
DecemberCorn Daily chart:
NovemberSoybeans Daily chart:
DecemberWheat Dailychart:
Producers looking to hedge all or a portion of their production may be rather interested in some of the options / options-futures strategies that I am currently using.
In my mind there has to be a balance. Neither technical nor fundamental analysis alone is enough to be consistent. Please give me a call for a trade recommendation, and we can put together a trade strategy tailored to your needs. Be safe!
Ted Seifried (312) 277-0113 or [email protected]
Additional charts, studies, and more of my commentary can be found at: http://markethead.com/2.0/free_trial.asp?ap=tseifrie
Futures, options and forex trading is speculative in nature and involves substantial risk of loss. This commentary should be conveyed as a solicitation for entry into derivitives transactions. All known news and events have already been factored into the price of the underlying commodities discussed. The limited risk characteristic of options refers to long options only; and refers to the amount of the loss, which is defined as premium paid on the option(s) plus commissions.
FOR CUSTOMERS TRADING OPTIONS, THESE FUTURES CHARTS ARE PRESENTED FOR INFORMATIONAL PURPOSES ONLY. THEY ARE INTENDED TO SHOW HOW INVESTING IN OPTIONS CAN DEPEND ON THE UNDERLYING FUTURES PRICES; SPECIFICALLY, WHETHER OR NOT AN OPTION PURCHASER IS BUYING AN IN-THE-MONEY, AT-THE-MONEY, OR OUT-OF-THE-MONEY OPTION. FURTHERMORE, THE PURCHASER WILL BE ABLE TO DETERMINE WHETHER OR NOT TO EXERCISE HIS RIGHT ON AN OPTION DEPENDING ON HOW THE OPTION'S STRIKE PRICE COMPARES TO THE UNDERLYING FUTURE'S PRICE. THE FUTURES CHARTS ARE NOT INTENDED TO IMPLY THAT OPTION PRICES MOVE IN TANDEM WITH FUTURES PRICES. IN FACT, OPTION PRICES MAY ONLY MOVE A FRACTION OF THE PRICE MOVE IN THE UNDERLYING FUTURES. IN SOME CASES, THE OPTION MAY NOT MOVE AT ALL OR EVEN MOVE IN THE OPPOSITE DIRECTION.