Published on:
01:05AM Dec 13, 2017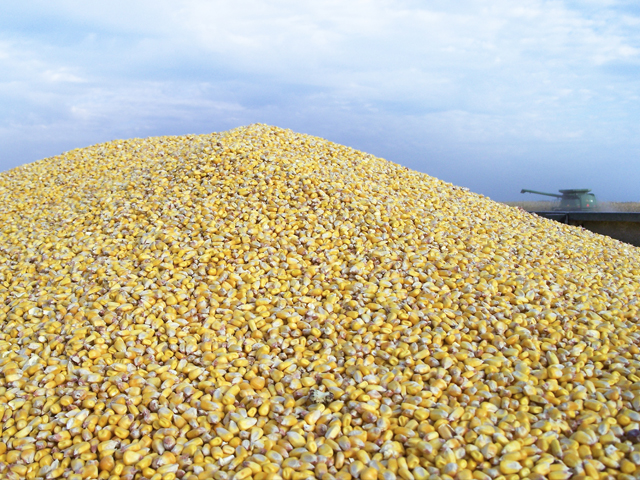 TRADING COMMODITY FUTURES AND OPTIONS INVOLVES SUBSTANTIAL RISK OF LOSS ANDMAY NOT BE SUITABLE FOR ALL INVESTORS. YOU SHOULD CAREFULLY CONSIDER WHETHER TRADING IS SUITABLE FOR YOU IN LIGHT OF YOUR CIRCUMSTANCES, KNOWLEDGE AND FINANCIAL RESOURCES.
The March corn contract posted an new contract low on a day the USDA released what was seen as a mildly friendly report. The initial reaction to the report was positive, but weakness in soybeans and wheat spilled over to the con market. What happened and what could this mean for corn going forward?
On Tuesday the USDA released the December World Agricultural Supply and Demand Estimates (WASDE) report. For corn it was a slightly bullish report with ending stocks coming in below trade estimates. The lower ending stocks number came from a 50 million bushel increase in corn used for ethanol while the USDA left export demand unchanged.
Sign up for our Morning Ag Hedge newsletter! Sign up here: http://www.zaner.com/landing/ag_hedge_newsletter.asp
The higher estimate for corn used for ethanol seemed likely as ethanol production has been significantly higher then what was needed on a weekly basis to hit the target the USDA estimated in the November report. The reasoning the USDA used was that China's recent large purchases of sorghum would take away some of the domestic ethanol feedstock supplies and that corn would be needed to fill the void. The USDA left exports unchanged however, and many analysts believe that current projections are too high as corn exports are running well behind levels needed to hit the USDA target.
The initial reaction to the report was positive for corn, at one point trading 4 cents higher on the day. Shortly after the report corn tested it's 20-day moving average which has been significant resistance lately. However, by the end of the day corn had reversed lower in an outside sweeping down day to close at new contract lows. This meltdown also shattered a potential inverse head and shoulders bottoming formation.
While the report was mildly friendly for corn is was slightly bearish for soybeans and wheat. Even so, soybeans and wheat tried to play along with corn initially with both going higher on the day. But, mid-day weather changed the tone dramatically. The mid-day weather forecast came out about an hour after the report and added more confidence for much needed rains in Argentina for the late10-14 day outlook. This weighed heavily on soybeans and ultimately too corn and wheat down as well.
Technically speaking, this was a difficult day for the grain complex with chart damage happening across the board. What posted yet another new contract low (but is getting very oversold in the near term). Soybeans broke key trend line support as did soybean meal. And, corn not only made new contract lows but had an outside sweeping reversal down day that may have shattered the hope of an near term bottoming formation.
Today did not bode well for any immediate strength in the grains. Unless the Argentinean forecast dries up dramatically there could be more downside follow through to come. It is a difficult time of year to be very bearish in the grains markets and South American (particularly Argentinean) weather will be key, but unless there are some real weather issues it could be a long winter for grain bulls.
Give us a call if you would like more info on the strategies we are using or if you would like to set up an account to put a plan in action. Ted Seifried - (312) 277-0113. Also, feel free to give me a call or shoot me an email if you would like to talk about your marketing plan, the markets, weather, or just to visit.Follow me on twitter @thetedspread if you like.
March Corn Daily chart:
JanuarySoybeans Daily chart:
MarchWheat Dailychart:
Producers looking to hedge all or a portion of their production may be rather interested in some of the options / options-futures strategies that I am currently using.
In my mind there has to be a balance. Neither technical nor fundamental analysis alone is enough to be consistent. Please give me a call for a trade recommendation, and we can put together a trade strategy tailored to your needs. Be safe!
Ted Seifried (312) 277-0113 or tseifried@zaner.com
Additional charts, studies, and more of my commentary can be found at: http://markethead.com/2.0/free_trial.asp?ap=tseifrie
Futures, options and forex trading is speculative in nature and involves substantial risk of loss. This commentary should be conveyed as a solicitation for entry into derivitives transactions. All known news and events have already been factored into the price of the underlying commodities discussed. The limited risk characteristic of options refers to long options only; and refers to the amount of the loss, which is defined as premium paid on the option(s) plus commissions.
FOR CUSTOMERS TRADING OPTIONS, THESE FUTURES CHARTS ARE PRESENTED FOR INFORMATIONAL PURPOSES ONLY. THEY ARE INTENDED TO SHOW HOW INVESTING IN OPTIONS CAN DEPEND ON THE UNDERLYING FUTURES PRICES; SPECIFICALLY, WHETHER OR NOT AN OPTION PURCHASER IS BUYING AN IN-THE-MONEY, AT-THE-MONEY, OR OUT-OF-THE-MONEY OPTION. FURTHERMORE, THE PURCHASER WILL BE ABLE TO DETERMINE WHETHER OR NOT TO EXERCISE HIS RIGHT ON AN OPTION DEPENDING ON HOW THE OPTION'S STRIKE PRICE COMPARES TO THE UNDERLYING FUTURE'S PRICE. THE FUTURES CHARTS ARE NOT INTENDED TO IMPLY THAT OPTION PRICES MOVE IN TANDEM WITH FUTURES PRICES. IN FACT, OPTION PRICES MAY ONLY MOVE A FRACTION OF THE PRICE MOVE IN THE UNDERLYING FUTURES. IN SOME CASES, THE OPTION MAY NOT MOVE AT ALL OR EVEN MOVE IN THE OPPOSITE DIRECTION.