Published on:
01:08AM Mar 08, 2017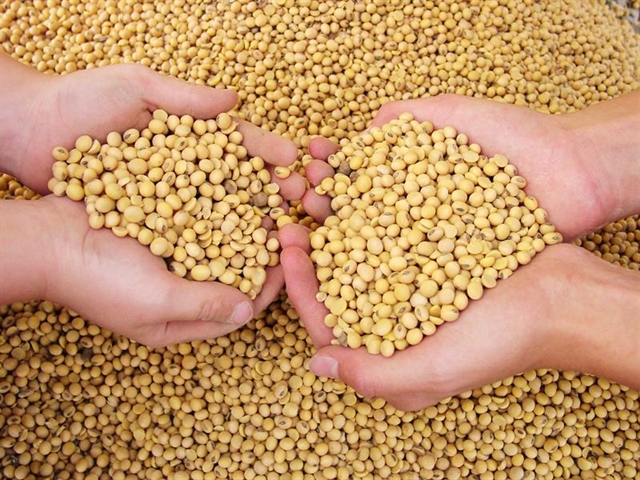 TRADING COMMODITY FUTURES AND OPTIONS INVOLVES SUBSTANTIAL RISK OF LOSS ANDMAY NOT BE SUITABLE FOR ALL INVESTORS. YOU SHOULD CAREFULLY CONSIDER WHETHER TRADING IS SUITABLE FOR YOU IN LIGHT OF YOUR CIRCUMSTANCES, KNOWLEDGE AND FINANCIAL RESOURCES.
The talk about a new deal on the Renewable Fuels Standard seem to have cooled off (for now) and soybeans have been under a bit of pressure falling back down toward the February lows. With estimates for the Brazilian crop inching higher and talk about big US acreage to come it is understandable that soybeans are now well off their highs. At this point will soybeans find support and bounce like they have many times before, or will soybeans push to new recent lows?
Soybean prices have been very resilient so far in 2017. The fundamental news appears to be more bearish than this time last year yet prices are trading well over a dollar higher. Currently the market is looking at a higher US ending stocks estimate, larger planted acreage to come and a large South American crop moving toward maturity. Buying interest of large speculators and the lack of selling interest from the South American producer have been supportive factors, but some of this may begin to change.
Sign up for our Morning Ag Hedge newsletter! Sign up here: http://www.zaner.com/landing/ag_hedge_newsletter.asp
The South American producer has been consistently behind the 5-year average pace of sales this year. This lack of sales could be a significant factor as to why prices are trading higher than what many had expected for this time of year. There are a number of factors contributing to this including the US$ - BRZ$ exchange and the strength in the market itself. But, the largest factor may be what happened last year.
Late season weather issues in both Brazil and Argentina hurt production late and many South American producers watched as the market went higher after they had made most of their sales. This could be keeping them from being too aggressive this year. However, with a weather forecast that look favorable for harvest next week selling could begin to pick up dramatically.
We also have the March USDA WASDE report coming up and estimates for the Brazilian crop continue to rise. The USDA began at a 102 mmt crop but has since risen their estimate to 104 mmt. Now however the trade is estimating the Brazilian crop in the 105-108 mmt range with some "whisper numbers" reaching as high as 111 mmt. If this is in line with the reality of the crop in Brazil it could take put pressure on the global soybean market.
The combination of higher estimates for the Brazilian soybean crop, estimates for a large increase in US planted acreage, and a potential increase in South American producer selling could weigh heavily on the soybean market in the near term. The question will be if the large speculators (funds) will want to continue to defend/build their long position or turn tail and run for the door. Other factors, such as RFS could play into the situation as well but without a bullish surprise soon soybeans could have a herd time bouncing back this time.
We have complimentary 2017 commodity reference calendars available. They are a little bigger than pocket sized and very useful if you follow markets. You can sign up for yours here - http://www.zaner.com/offers/calendar.asp (Shipping to the US only)
Give us a call if you would like more info on the strategies we are using or if you would like to set up an account to put a plan in action. Ted Seifried - (312) 277-0113. Also, feel free to give me a call or shoot me an email if you would like to talk about your marketing plan, the markets, weather, or just to visit.Follow me on twitter @thetedspread if you like.
MayCorn Daily chart:
MaySoybeans Daily chart:
MayWheat Dailychart:
Producers looking to hedge all or a portion of their production may be rather interested in some of the options / options-futures strategies that I am currently using.
In my mind there has to be a balance. Neither technical nor fundamental analysis alone is enough to be consistent. Please give me a call for a trade recommendation, and we can put together a trade strategy tailored to your needs. Be safe!
Ted Seifried (312) 277-0113 or tseifried@zaner.com
Additional charts, studies, and more of my commentary can be found at: http://markethead.com/2.0/free_trial.asp?ap=tseifrie
Futures, options and forex trading is speculative in nature and involves substantial risk of loss. This commentary should be conveyed as a solicitation for entry into derivitives transactions. All known news and events have already been factored into the price of the underlying commodities discussed. The limited risk characteristic of options refers to long options only; and refers to the amount of the loss, which is defined as premium paid on the option(s) plus commissions.
FOR CUSTOMERS TRADING OPTIONS, THESE FUTURES CHARTS ARE PRESENTED FOR INFORMATIONAL PURPOSES ONLY. THEY ARE INTENDED TO SHOW HOW INVESTING IN OPTIONS CAN DEPEND ON THE UNDERLYING FUTURES PRICES; SPECIFICALLY, WHETHER OR NOT AN OPTION PURCHASER IS BUYING AN IN-THE-MONEY, AT-THE-MONEY, OR OUT-OF-THE-MONEY OPTION. FURTHERMORE, THE PURCHASER WILL BE ABLE TO DETERMINE WHETHER OR NOT TO EXERCISE HIS RIGHT ON AN OPTION DEPENDING ON HOW THE OPTION'S STRIKE PRICE COMPARES TO THE UNDERLYING FUTURE'S PRICE. THE FUTURES CHARTS ARE NOT INTENDED TO IMPLY THAT OPTION PRICES MOVE IN TANDEM WITH FUTURES PRICES. IN FACT, OPTION PRICES MAY ONLY MOVE A FRACTION OF THE PRICE MOVE IN THE UNDERLYING FUTURES. IN SOME CASES, THE OPTION MAY NOT MOVE AT ALL OR EVEN MOVE IN THE OPPOSITE DIRECTION.