Published on:
00:40AM Nov 02, 2018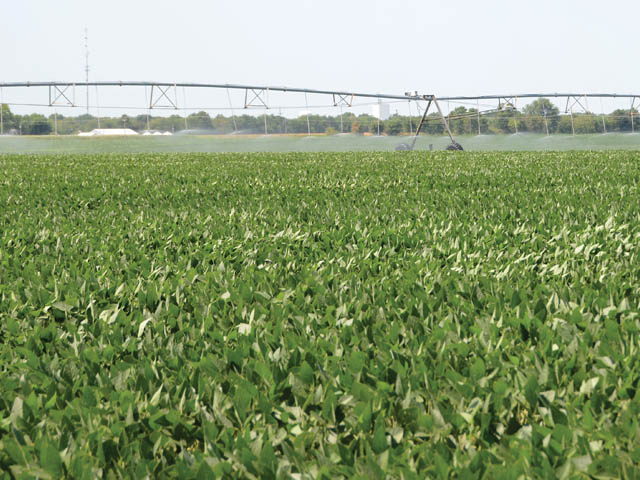 TRADING COMMODITY FUTURES AND OPTIONS INVOLVES SUBSTANTIAL RISK OF LOSS ANDMAY NOT BE SUITABLE FOR ALL INVESTORS. YOU SHOULD CAREFULLY CONSIDER WHETHER TRADING IS SUITABLE FOR YOU IN LIGHT OF YOUR CIRCUMSTANCES, KNOWLEDGE AND FINANCIAL RESOURCES.
Well, we figured it would happen sometime. Given how active President Trump is on social media and the current situation with China I suppose it was just a matter of time before a Trump tweet sent the soybean market for a loop. And now we have it, a tweet that sparked a sharp rally. But, will it last?
Thursday started as a pretty quiet day. Soybeans had been quietly lower in the night session and managed to poke above unchanged. Beans were up 2 cents when the tweet came out at 10:08 Eastern, and then rallied 26 cents in the following 10 minutes... Apparently social media is now a must for grains traders.
Sign up for our Morning Ag Hedge newsletter! Sign up here: http://www.zaner.com/landing/ag_hedge_newsletter.asp
Regardless of how President Trump's message was disseminated there was solid reason for soybeans to react the way they did. In the tweet Trump said that he has been talking with the Chinese President Xi about trade and that those discussions were "moving along nicely". Furthermore, he reaffirmed that there would be follow up meetings at the G-20 in Argentina at the end of the month. As far as coming to a deal with China this is the most encouraging talk we have heard from President Trump since the beginning of this trade dispute. And it comes at an interesting time.
As of last Sunday, the US soybean harvest was 72% complete. This means that we were roughly 80% harvested by the time markets opened on Thursday. So, the bulk of the pressure of farmers selling soybeans on harvest could be behind us. We also have the large speculators with more short positions than they usually have at this time of year. So not only does news like this cause some short covering, but there might also be a lack of producer selling on the other side of it.
The obvious question is - Will this strength hold? It is a very good question. As we have proven today the soybean market is hanging on the headlines, even tweets. Something new could come out tomorrow and crush this new-found optimism and soybean prices right along with it. But, if there isn't new news between now and the meeting I think the market could carry some of this optimism through the end of the month. The market makeup could be conducive to some strength and seasonality is usually higher between now and the end of the year.
Certainly, after a tweet driven 30 cent move there could be some fade. Soybeans may give back some of the initial gains, but over the next few weeks we may be able to grind higher on cautious optimism? Producers need to keep vigilant for selling opportunities as the outlook for next year is still very unclear. With harvest wrapping up it is easy to look toward the holidays and pay less attention to markets. This year that may be a costly habit. Keep an eye on the markets, and also apparently twitter.
We have complimentary 2018 commodity reference calendars available. They are a little bigger than pocket sized and very useful if you follow markets. You can sign up for yours here - http://www.zaner.com/offers/calendar.asp (Shipping to the US only)
Give us a call if you would like more info on the strategies we are using or if you would like to set up an account to put a plan in action.  Ted Seifried - (312) 277-0113.  Also, feel free to give me a call or shoot me an email if you would like to talk about your marketing plan, the markets, weather, or just to visit.  Find me on twitter - @thetedspread 
January Soybean Daily Chart:
Producers looking to hedge all or a portion of their production may be rather interested in some of the options / options-futures strategies that I am currently using.
In my mind there has to be a balance. Neither technical nor fundamental analysis alone is enough to be consistent. Please give me a call for a trade recommendation, and we can put together a trade strategy tailored to your needs. Be safe!
Ted Seifried (312) 277-0113 or [email protected]
Additional charts, studies, and more of my commentary can be found at: http://markethead.com/2.0/free_trial.asp?ap=tseifrie
FOR CUSTOMERS TRADING OPTIONS, THESE FUTURES CHARTS ARE PRESENTED FOR INFORMATIONAL PURPOSES ONLY. THEY ARE INTENDED TO SHOW HOW INVESTING IN OPTIONS CAN DEPEND ON THE UNDERLYING FUTURES PRICES; SPECIFICALLY, WHETHER OR NOT AN OPTION PURCHASER IS BUYING AN IN-THE-MONEY, AT-THE-MONEY, OR OUT-OF-THE-MONEY OPTION. FURTHERMORE, THE PURCHASER WILL BE ABLE TO DETERMINE WHETHER OR NOT TO EXERCISE HIS RIGHT ON AN OPTION DEPENDING ON HOW THE OPTION'S STRIKE PRICE COMPARES TO THE UNDERLYING FUTURE'S PRICE. THE FUTURES CHARTS ARE NOT INTENDED TO IMPLY THAT OPTION PRICES MOVE IN TANDEM WITH FUTURES PRICES. IN FACT, OPTION PRICES MAY ONLY MOVE A FRACTION OF THE PRICE MOVE IN THE UNDERLYING FUTURES. IN SOME CASES, THE OPTION MAY NOT MOVE AT ALL OR EVEN MOVE IN THE OPPOSITE DIRECTION.