Published on:
23:06PM Jun 09, 2015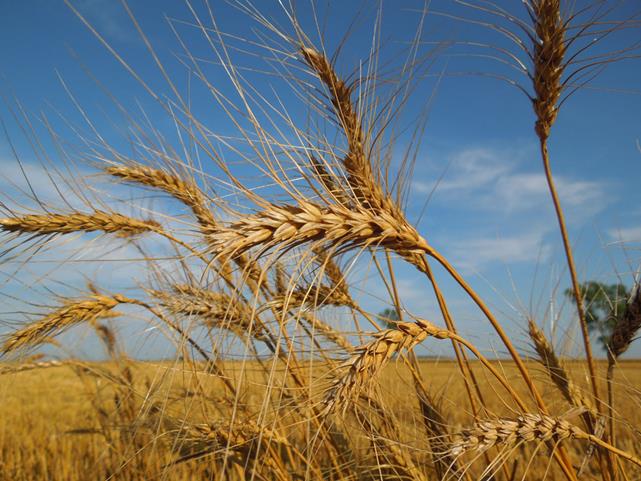 TRADING COMMODITY FUTURES AND OPTIONS INVOLVES SUBSTANTIAL RISK OF LOSS AND MAY NOT BE SUITABLE FOR ALL INVESTORS. YOU SHOULD CAREFULLY CONSIDER WHETHER TRADING IS SUITABLE FOR YOU IN LIGHT OF YOUR CIRCUMSTANCES, KNOWLEDGE AND FINANCIAL RESOURCES.       
July Chicago wheat is now over 70 cents off the low put in on May 5th and up almost 60 cents in the last 7 trade days.  Concerns over the global wheat crop along with a lower US$ have sparked fund short covering and speculative buying.  However, there is currently a lot of wheat in the world and US exports remain un-competitive.  How much further can wheat extend this rally?
The strength in wheat started with concerns that the heavy rains and cold temps in the US was hurting production and quality.  This triggered the large speculators, or funds, to trim their large short position.  Following up the US weather concerns we now have weather concerns in a large part of Russia's wheat belt as well as Australia.  El Nino could potentially have a large effect on Australia's wheat crop as they often see a significant drop in production during El Nino events.
The lower US$ has helped this wheat rally as well.  The idea at least is that a lower US$ could make US wheat more competitive on the global market.  However, this has been largely offset by higher US wheat prices.  Global prices have turned higher as well amidst the production concerns, but US values have been amongst the sharpest increases offsetting much of the benefit from the lower US$.  So far, US wheat export sales have not seen a dramatic increase.
From a fundamental standpoint wheat may have had a reason to see higher prices with global weather issues, but right now there is a lot of wheat in the world and the US winter wheat harvest is getting underway.  So there is a lot of wheat to be sold at higher prices and this could be a limiting factor for any continued rally.  This also might mean that wheat sellers could get aggressive on any sign of weakness.  Seasonally wheat has a tendency to trade lower the second half of June after an early price bump.
From a technical perspective wheat has broken some key resistance points and continues to look good on a chart.  Some have even made the argument that there is a head and shoulders bottoming formation being formed here.  While this is certainly possible there is still key resistance not far overhead.
We have some complimentary 2015 commodity reference calendars available.  They are a little bigger than pocket sized and very useful if you follow markets.  You can sign up for yours here - http://www.zaner.com/offers/calendar.asp
The key going forward may be fund activity.  Recently funds had built up a massive short position of around 137,000 contracts.  Recent strength I the market along with a changing technical outlook has caused the funds to have less of an appetite for being short wheat, at least for now.  If the funds continue to exit short positions it could extend this wheat rally further.  The next few days will be key to see what the funds want to do and if wheat will be able to break key resistance overhead.  If this key resistance in the 542-548 range is broken with conviction wheat could next target the double bottom low at 580 from late last year.
Sign up for our Morning Ag Hedge newsletter!  Sign up here: http://www.zaner.com/offers/?page=17  
Please give us a call if you would like more info on the strategies we are using or if you would like to set up an account to put a plan in action.  Ted Seifried - (312) 277-0113.  Also, feel free to give me a call or shoot me an email if you would like to talk about your marketing plan, the markets, weather, or just to visit.  Follow me on twitter @thetedspread if you like. 
July Corn Daily chart:
July Soybeans Daily chart:
July Wheat Daily chart:
Producers looking to hedge all or a portion of their production may be rather interested in some of the options / options-futures strategies that I am currently using.
In my mind there has to be a balance. Neither technical nor fundamental analysis alone is enough to be consistent. Please give me a call for a trade recommendation, and we can put together a trade strategy tailored to your needs. Be safe!
Ted Seifried (312) 277-0113 or [email protected]
Additional charts, studies, and more of my commentary can be found at: http://markethead.com/2.0/free_trial.asp?ap=tseifrie
Futures, options and forex trading is speculative in nature and involves substantial risk of loss.  This commentary should be conveyed as a solicitation for entry into derivitives transactions.  All known news and events have already been factored into the price of the underlying commodities discussed.  The limited risk characteristic of options refers to long options only; and refers to the amount of the loss, which is defined as premium paid on the option(s) plus commissions.
FOR CUSTOMERS TRADING OPTIONS, THESE FUTURES CHARTS ARE PRESENTED FOR INFORMATIONAL PURPOSES ONLY. THEY ARE INTENDED TO SHOW HOW INVESTING IN OPTIONS CAN DEPEND ON THE UNDERLYING FUTURES PRICES; SPECIFICALLY, WHETHER OR NOT AN OPTION PURCHASER IS BUYING AN IN-THE-MONEY, AT-THE-MONEY, OR OUT-OF-THE-MONEY OPTION. FURTHERMORE, THE PURCHASER WILL BE ABLE TO DETERMINE WHETHER OR NOT TO EXERCISE HIS RIGHT ON AN OPTION DEPENDING ON HOW THE OPTION'S STRIKE PRICE COMPARES TO THE UNDERLYING FUTURE'S PRICE. THE FUTURES CHARTS ARE NOT INTENDED TO IMPLY THAT OPTION PRICES MOVE IN TANDEM WITH FUTURES PRICES. IN FACT, OPTION PRICES MAY ONLY MOVE A FRACTION OF THE PRICE MOVE IN THE UNDERLYING FUTURES. IN SOME CASES, THE OPTION MAY NOT MOVE AT ALL OR EVEN MOVE IN THE OPPOSITE DIRECTION.